Apple unlikely to refresh iPhone SE in March 2017, analyst says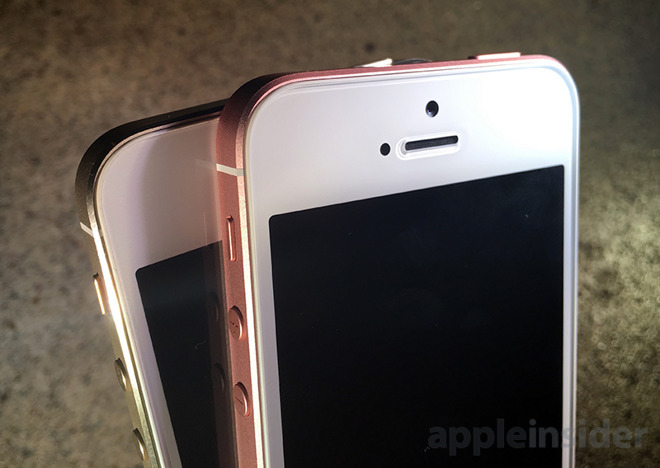 As Apple faces pressure to maintain high gross margins amidst flagging iPhone sales, well-connected analyst Ming-Chi Kuo suggests the company will not apply an annual refresh cycle to its affordable, small form-factor iPhone SE handset.
In a note to investors obtained by AppleInsider on Friday, Kuo says Apple will prolong iPhone SE's lifecycle beyond the usual one year rotation in a bid to boost gross margins and minimize cannibalization of high-end flagships like the iPhone 7.
Specifically, Kuo says a new iPhone SE model is unlikely to launch in the second fiscal quarter of 2017, which for Apple ends in March. The 4-inch iPhone variant debuted this year on March 31, leaving some to speculate that a next-generation version with updated internals would see release at roughly the same time in 2017. Kuo does not mention plans beyond the second quarter, meaning a refresh might land later in the year.
The supposed decision to hold off on an iPhone SE revamp owes in part to lower than expected gross margin guidance for the current first fiscal quarter of 2017. During Apple's most recent quarterly earning conference call, the company said it anticipates gross margins between 38 percent and 38.5 percent for the three-month period ending in December, below consensus of more than 39 percent and down from 40.1 percent in 2015.
Along with nixing an immediate iPhone SE update, Apple is taking other steps to goose profits.
In particular, the Cupertino tech giant has been putting pressure on component manufacturers to reduce prices, a measure that effectively reduces supply chain costs, Kuo says. Major suppliers of key components, like Samsung and TSMC, have bargaining power and are unlikely to be impacted by the belt-tightening, but smaller producers could see calls for price cuts arrive in November and December.
That being said, Samsung might raise prices for 3GB DRAM and 3D NAND flash as those components remain in short supply.
Kuo forecasts iPhone shipment volumes of 40 million to 50 million units for the current quarter, down year-over-year from 51.2 million units, on conservative sell-through for 4.7-inch iPhones and weakening demand in China. Looking ahead, he estimates total iPhone shipment volume to reach 35 million to 40 million units in the second quarter of 2017, down from 40.4 million units at the same time last year.