Pixelmator update brings Touch Bar support, tabs, P3 color, Universal Clipboard and more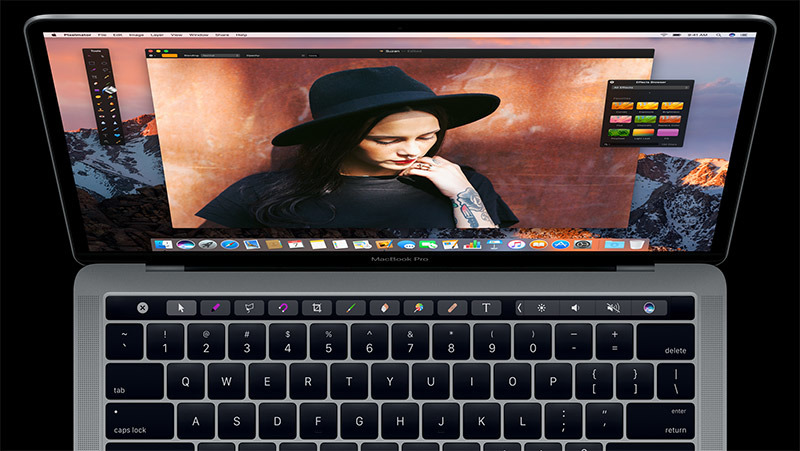 Popular image editing app Pixelmator was updated on Tuesday to take advantage of Apple's new MacBook Pro with Touch Bar, macOS Sierra features like Universal Clipboard, Deep Images (DCI-P3 color), and all-new features like an intelligent smart refine tool.
Pixelmator version 3.6 Cordillera is fully compatible with macOS Sierra, Apple's latest desktop operating system that features support for app tabs and Universal Clipboard. For example, tabs lets users open and edit multiple documents in a single window, while Universal Clipboard allows artists to quickly copy and paste between connected macOS and iOS devices.
Perhaps more importantly for power users, Pixelmator now comes with full Touch Bar compatibility. Owners of Apple's latest MacBook Pro with Touch Bar models, which began to arrive at customer doorsteps yesterday, have access to in-app controls normally hidden away in drop-down menus or tools palettes.
For example, users can change tools — paint brush, eraser, text and more — directly from the Touch Bar. Many tools have additional dynamic customization options like color swatches, opacity, font and brush size, and more. The Touch Bar toolset is completely customizable, meaning users can pick and choose which tools are close at hand.
On the topic of tools, today's update includes Smart Refine and Refine Selection assets that use advanced edge-detection algorithms to automatically detect object edges in a given image. A new feature allows users to dynamically edit a selection while the Refine Selection dialog is open.
Backend changes include support for Deep Images, Pixelmator's term for 16-bit images faithful to the DCI-P3 wide color gamut standard. For Apple's latest Macs with wide color displays, including the new MacBook Pro models, that means colors are more vibrant and true to life. Pixelmator notes 16-bit images also look better on standard displays as Deep Image dithering is applied to smooth gradients and remove banding. This same dithering is also applied when reducing image depth from 16 bits to 8 bits.
Finally, Pixelmator includes Quick Selection Tool enhancements like a live preview mode and faster, more accurate object selection capabilities.
Pixelmator version 3.6 is available as a free download for existing customers, while new users can purchase the app for $29.99 from the Mac App Store.