Apple invention integrates Siri into iMessage, aids in peer-to-peer financial transactions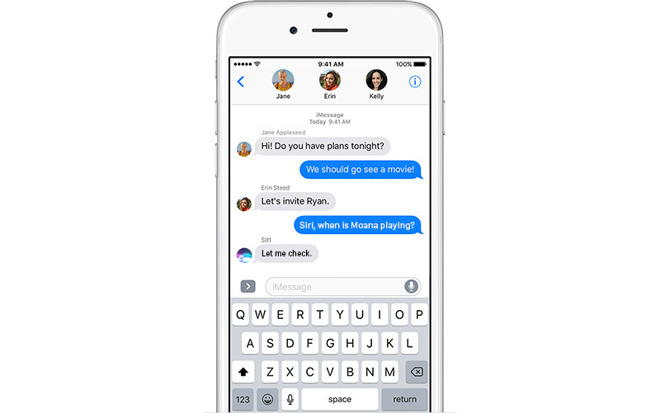 AppleInsider may earn an affiliate commission on purchases made through links on our site.
An Apple patent application published Thursday suggests the company is investigating the potential of integrating its Siri virtual assistant into Messages, with claims suggesting the feature might assist users with peer-to-peer payments.
As published by the U.S. Patent and Trademark Office, Apple's application for a "Virtual assistant in a communication session" grants iMessage users inline chat access to artificial intelligence software like Siri. In Messages, Siri would be able to automatically decipher incoming requests and complete tasks like scheduling appointments, providing navigation directions and retrieving movie times, among other functions.
In some embodiments, the implementation is similar to Google's incorporation of Google Assistant in the recently released Allo app. In particular, Apple's document notes users in chat sessions with two or more people can instantly access Siri by simply directing a message to the AI.
Using semantic analysis, the AI module detects that a user is invoking Siri and not another user. The message is parsed to suss out a potential task, which is subsequently carried out, if possible. Though detected messages are not displayed in the public chat feed, Siri is able to tap into data from iMessage participants to complete tasks.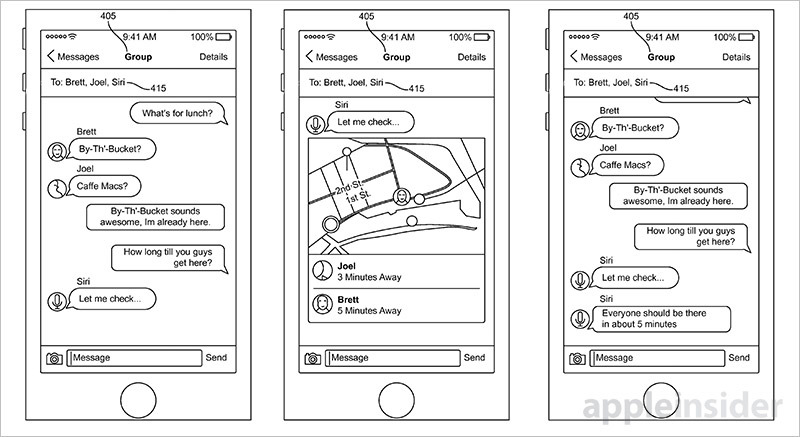 For example, a first user might enter, "Siri, help us schedule a meeting," into the chat window to schedule an in-person meeting with other members of the Messages session. The assistant detects the message, classifies it a task, cross-references open calendar dates from all chat participants and suggests an appropriate meeting day and time.
In some embodiments, members of a chat will be notified that a user is utilizing a virtual assistant. Those who are not also using Siri can choose whether they, too, would like to activate AI functionality. Additionally, Messages participants are able to approve or deny AI accesses to personal data during the communications session.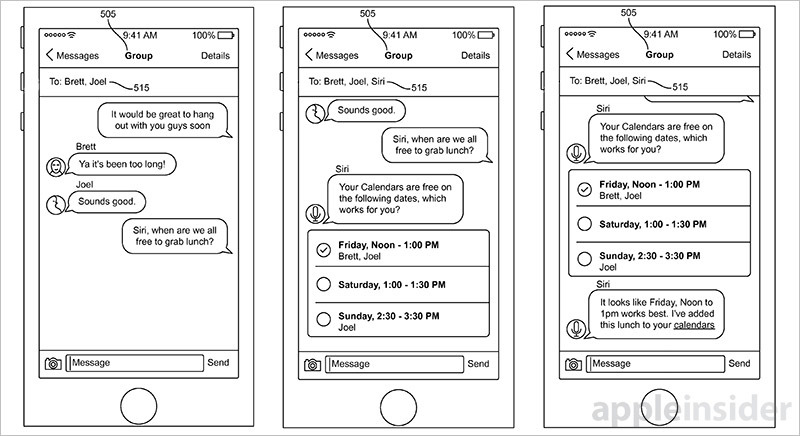 Other examples show Siri pulling data directly from an ongoing chat session. In one case, Siri is asked to schedule dinner for participants in an iMessage conversation. The assistant — with permission from chat members — accesses location data from each member and offers a selection of nearby restaurants as an in-chat poll. Participants then vote for a preferred time and place, and Siri schedules the reservation, adding the appointment to their respective calendars.
Interestingly, Apple's document makes specific mention of potential peer-to-peer payment functionality. In particular, the invention suggests an in-app virtual assistant can be used to facilitate financial transactions by determining which financial apps are available or utilized by each chat member. Payments are double checked and authorized via Touch ID.
A safe choice for would be to restrict payments Apple Pay, though such features are not currently offered by the fledgling service. Instead, the filing hands transfer duties over to third-party finance apps.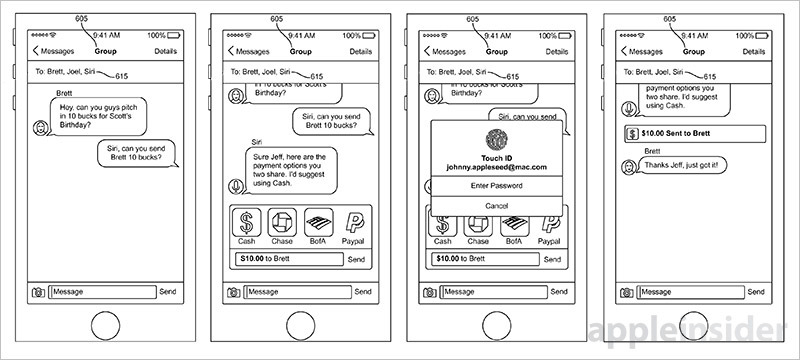 In-app access to virtual assistant software is not a new idea — companies like Slack have been doing it for some time. Apple arguably popularized AI assistants with Siri, but the company's ongoing quest for data privacy precluded most third-party apps from integrating services, thereby limiting its utility. It was only with the launch of iOS 10 in September that developers were granted access to Siri APIs.
As it applies to today's patent application, certain financial firms like PayPal already integrate Siri functionality, but are limited to Siri's dedicated software module.
Given Siri's quickly expanding ecosystem, it is plausible Apple might one day soon unite the worlds of chat, virtual assistants and payments into Messages, and perhaps beyond. Notably, Siri has been able to process typed commands for over two years, suggesting a jump to a text-based app like Messages would be a relatively straightforward transition. Still, whether the company intends to bring a consumer solution to market in the near term remains unknown.
Apple's patent application covering Siri integration for iMessage was first filed for in May 2015 and credits Mehul K. Sanghavi and Jeffrey P. Schwerdtfeger as its inventors.