Nest introduces camera streaming to Apple TV, 'instaclip' creation and sharing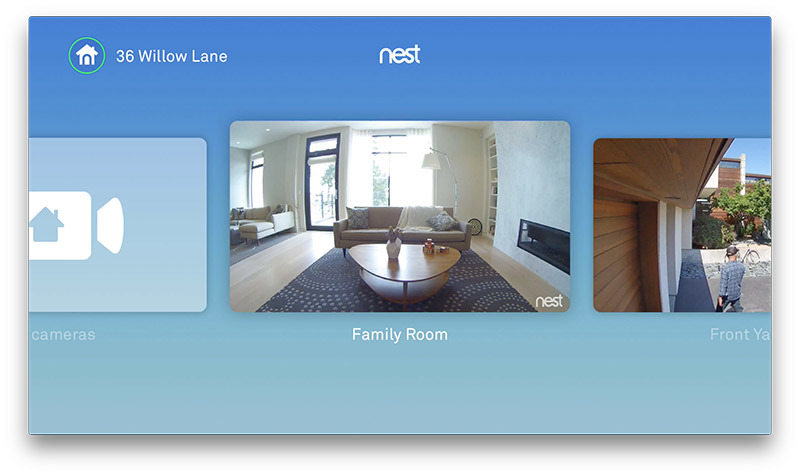 Alphabet's Nest this week rolled out an update to its app platform that allows owners to stream Nest Cam feeds directly to fourth-generation Apple TV units, while introducing a new video clip creation and sharing feature called "instaclip."
Nest is touting video clip creation and sharing, dubbed "instaclip," as the app update's main feature addition, but other improvements like activity notifications and a tweaked user interface also arrive for iOS 10 with Nest version 5.9.
As noted in a blog post on Thursday, instaclips can be used to capture and share impromptu holiday moments with friends and family. Powered by subscription service Nest Aware — a requirement for instaclips to work — the feature automatically detects potentially interesting action to create a short clip viewable in the Nest app.
Tapping on the "clip" icon generates a clip, while pressing and holding the same button lets users customize a clip's length. Instaclips can be uploaded to a customer's online archive, or stored on their iOS device for sharing.
In addition to instaclips, iOS users now get snapshots alongside activity alerts, a feature previously limited to Android devices. Those with Nest Aware are also receive short video clips viewable within a notification pane. The app also includes a new button that switches Nest Cam video feeds and history between fullscreen and portrait viewing modes without forcing users to rotate their iPhone.
Finally, fourth-generation Apple TV owners can download the new Nest tvOS app to access to live Nest Cam video feeds on the big screen. The app supports multiple homes linked to a single account, and is capable of displaying four live camera feeds on a single screen. Nest Aware customers also have access to history archives with activity indicators.
Nest on Thursday said Apple TV functionality was "coming soon," though the app and service appear to be live in the tvOS App Store.
Nest has yet to integrate HomeKit support into its product lineup, which would bring live video viewing and other functionality to Apple's home automation hub.
Nest for iOS and tvOS are free downloads from their respective App Stores.