Apple patents foldable iPhone with flexible display that can clip onto clothing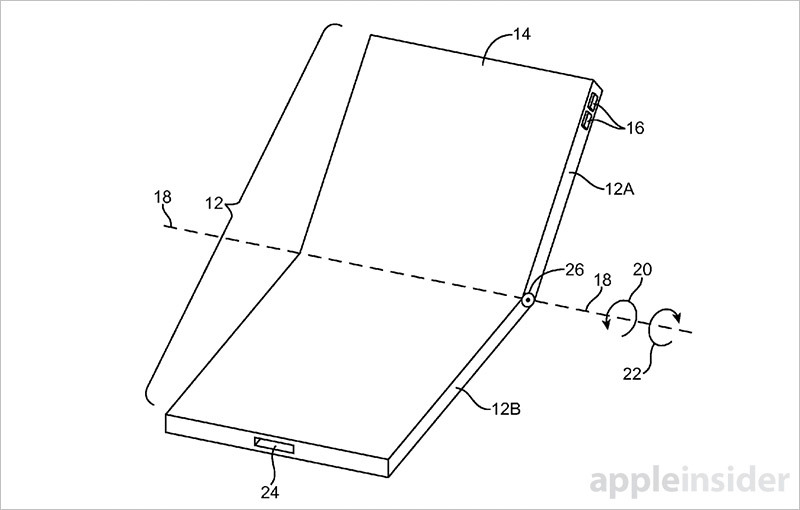 An Apple patent published Tuesday reveals the company has for years been actively investigating a hinged iPhone format, with designs calling for a flexible metal-backed OLED display capable of being folded in half.
As granted by the U.S. Patent and Trademark Office, Apple's U.S. Patent No. 9,504,170 for "Flexible display devices" describes an iPhone with a foldable full-screen display. Like clamshell cellphones popularized by Motorola in the 1990s, Apple's proposed design also folds in two when not in use for easy storage.
To achieve a foldable format, Apple's invention relies on a number of flexible components, the most important being an OLED display and metal support structure. For the latter, the document proposes nitinol, a nickel and titanium alloy known for its elasticity and unique shape memory abilities. Alternative embodiments involve flexible polymers.

In some examples, the foldable phone incorporates a chassis or device housing split into upper and lower sections, each containing processors, sensors and other typical smartphone circuitry. For example, an upper housing might include cameras, display controllers, speaker modules and light sensors, while the bottom portion holds microphones, CPU and GPU, vibrator and other necessary parts.
The two pieces are attached via a single- or multi-shaft hinge mechanism supporting rotational motion, allowing the two housing portions to move relative one another. Connections between upper and lower housing are accomplished through flexible printed circuit boards.
Installed over the two housing structures is the display. Interestingly, Apple's document notes the flexible screen can include extra material to accommodate two or more folding configurations.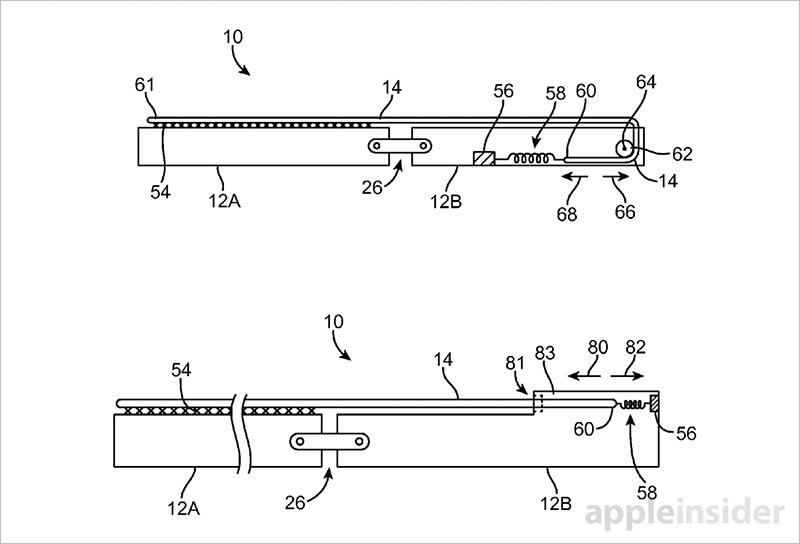 In one example, the proposed smartphone's screen folds over onto itself similar to an old clamshell cellphone, offering additional protection from the elements. An opposite configuration describes the display as facing outward after folding for easy operating access. In this second orientation, the device housing can include sawtooth detents at its distal ends for clipping onto a user's clothing.
Alternatively, the display can be made to retract within one or both housings. To alleviate stresses on the sensitive OLED component, Apple suggests tensioning members and rollers be employed for dispensing and retracting the display during hinge rotation.
The document goes on to detail two-hinge designs, cover glass and viewing angle considerations, and various alternative embodiments.

Considering iPhone's design progression over nearly ten years, it is unlikely that Apple will release a foldable format smartphone anytime soon. That being said, the technology outlined in today's invention might one day make its way into other product lines like MacBook or iPad.
In the near term, Apple is widely rumored to release an iPhone model with flexible OLED display in 2017, but the form factor is expected to remain faithful to the line's monolithic design.
Apple's foldable iPhone patent was first filed for in July 2014 and credits Fletcher R. Rothkopf, Andrew J. M. Janis and Teodor Dabov as its inventors.