Buyers' guide: Choosing the perfect MacBook model from Apple's numerous new offerings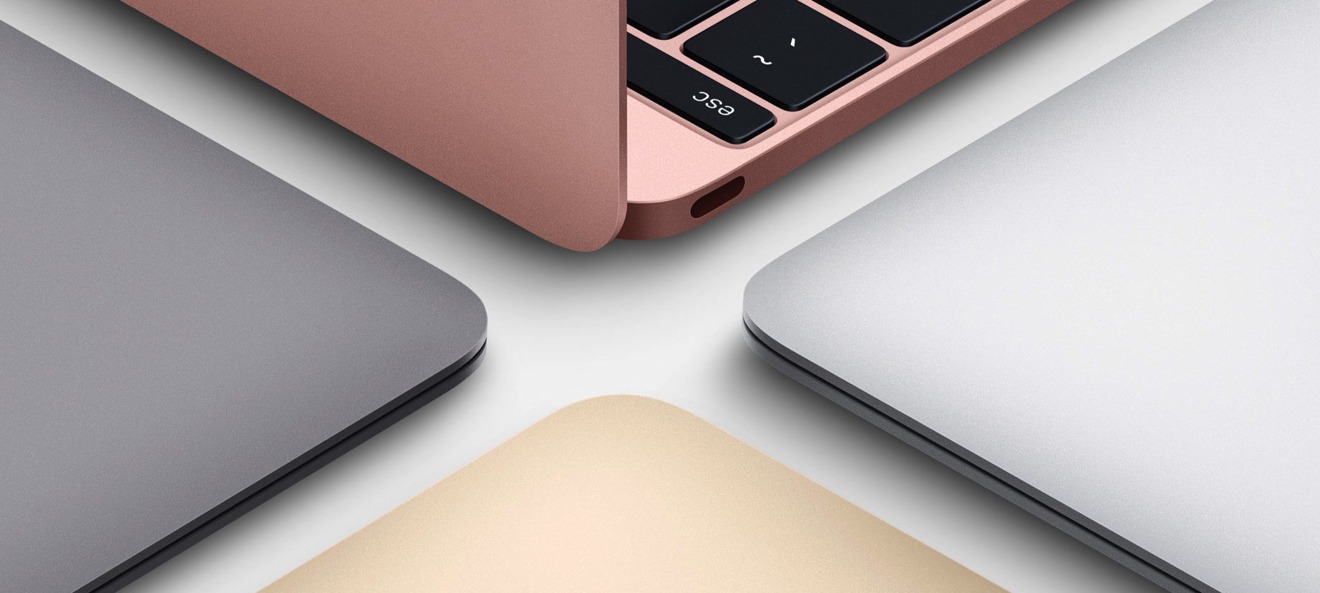 Apple has three distinct lines of laptop computers — MacBook Air, MacBook, and MacBook Pro — but the lines between them can be pretty hazy. If you're in the market for yourself, or somebody you know, AppleInsider can help if you know the answers to a few, basic questions.
When a business has a need, they decide on what they need to buy not only by looking at the budget first and last, but also honest assessment of use cases for the hardware. We're going to look at it the same way.
Part 1 - How much to spend?
Everybody wants a supercomputer that will run everything seamlessly for $200 with the best of everything. Everybody also knows that it's not possible. Going into the needs assessment honestly, with that in mind, makes for better choices.
Even so, a wide array of Apple gear can be disqualified just based on what you want to spend. Limited to under $1000 and still want new? There's really only one choice — the 13-inch MacBook Air.
Different classes of machines are intended for different needs, and different market segments.
Just a couple hundred dollars more than that opens up the ultra-slim 12-inch MacBook (2016 models start at $1,199 from authorized resellers). A few hundred more than that allows for a brand-new MacBook Pro purchase, scaling up to over $3,000 depending on configuration and inclusion of a Touch Bar.
Part 2 - What's the main job?
Different users have different use cases. A 45-year-old parent of four may be seeking something to communicate with, and play "World of Warcraft" on after-hours, but a 28-year old novelist may have zero interest in gaming at all. A 35-year old professional could be seeking 3D modeling, illustration, or the like, making the situation more complex.
Apple's 13-inch MacBook Air is the entry into the Apple ecosystem. While a very solid machine, and a tried-and-true design, the hardware is the least powerful of Apple's portable array.
The MacBook has about the same overall daily performance as the MacBook Air, but adds a 12-inch Retina-class screen, all housed in a thinner case than the MacBook Air.
If performance is an issue, or if you need the Wide Color display, the the 2016 MacBook Pro is the only way to go. The 13-inch 2016 MacBook Pro line have dual-core processors, with the heavy-hitter quad-core processors on the 15-inch MacBook Pro.
Part 3 - What are specific work needs?
Just about anything Apple makes can be used for general purpose web-surfing and communication, so a laptop choice isn't particularly bound by that. Other work tasks, like the aforementioned 3D modeling, or illustration does have requirements which are mostly dictated by the software needed for the application.
However, there are some mitigating factors. The MacBook Air is the only remaining new Apple laptop with legacy ports, like the rectangular USB-A connector, Thunderbolt 2, and a SD card reader which keep "dongle" purchases to a minimum.
The MacBook is the most sparse of the three Apple laptop families, with just the single USB 3.0 type-C port. Nearly any form of wired connectivity requires an adapter, or what is for now a special cable.

The MacBook Pro has either two or four Thunderbolt 3 ports, utilizing the USB-C form factor. This cuts down on the need for some form of dock or hub for multiple device connectivity, but amplifies any adapters that might be needed.
USB-C is the future, the same as USB was when the original iMac was released. As more companies shift to the new standard, the need for an adapter will lessen, somewhat.
Part 4 - What about that "after hours" thing?
All work and no... you get the idea. In the case of the 45-year-old parent, the MacBook Air or MacBook aren't going to cut it very well with modern titles. However, our novelist will be fine with either the MacBook Air.
The MacBook Air utilizes the Intel HD Graphics 6000 chipset. The display is 1440x900, but will support a 4K display externally though Mini DisplayPort. Game titles more than about four years old should play fine on the MacBook Air.
The MacBook has a built-in 12-inch Retina display, supported by the Intel HD Graphics 515 chipset. Despite the lower number than the MacBook Air, the GPU is better than the one on the MacBook. Similarly to the MacBook Air, games more than three years old will generally be fine.
Moving up to the MacBook Pro doesn't initially help that much. While faster, the 13-inch MacBook Pro line also relies on integrated graphical chipsets. As such, games about two years old will generally be okay.
The most modern titles are only practical on the MacBook Pro 15-inch model, and then really only on the Radeon Pro 455 or Radeon Pro 460-equipped systems.
There has been talk, and some movement as of late, regarding external GPU solutions for macOS, but nothing is really ready for prime time for general users at this time. Purchasers should make a decision based on an external, affordable, easy-to-use external GPU never becoming available for the mainstream user.
Part 5 - What about last year's model, or used?
Intel's recent "tick-tock-tock" CPU development has guaranteed that the already long-lived Apple hardware keeps its reputation. CPU performance has been relatively flat for the last few years, with the biggest improvements being in battery life and GPU technology both in integrated and discrete offerings.
If general communication is the name of the game, then anything Apple's made in the last four years will be just fine — but so will an iPad or iPhone.
From a used gear pricing standpoint, while a MacBook Air from 2013 is generally available for around $600, $400 less than the current MacBook Air, the 2013 15-inch Retina MacBook Pro has legacy ports, and is roughly 75% of the overall performance of the 2016 15-inch Retina MacBook Pro — and can be had for under $1,000.
If you're considering a used or previous year's model, the same evaluation process applies, just across a wider range of hardware. Different classes of machines are intended for different needs, and different market segments.
A gamer is still better suited with a discrete GPU — but a new machine with an integrated GPU may perform better than an older one with that separate GPU. Pure number-crunching is still best done on a quad-core machine. Larger screens are generally better for media consumption, and so forth.
Buy when you need!
Just like there's always something older, there's always something new coming. Apple hasn't updated its MacBook Pro hardware in a while, because there really hasn't been a compelling reason to do so.
Selection of hardware has always been complex, and there's no perfect solution for every need, even with a large budget.
Additional ways to save
No matter the budget, there are easy ways to save on Apple hardware. Many Apple authorized resellers only collect sales tax in certain states and offer steep discounts on previous-gen models.
B&H Photo, for instance, collects sales tax in NY only, while Adorama, another authorized Apple reseller, collects tax in NY and NJ. Adorama also offers AI readers exclusive discounts on a variety of Apple product lines, including 2016 MacBook Pros. For a full list of discounts on current and last-gen models, be sure to visit our Price Guides and dedicated Apple Deals section.