Apple single sign-on feature goes live with support from 9 pay TV providers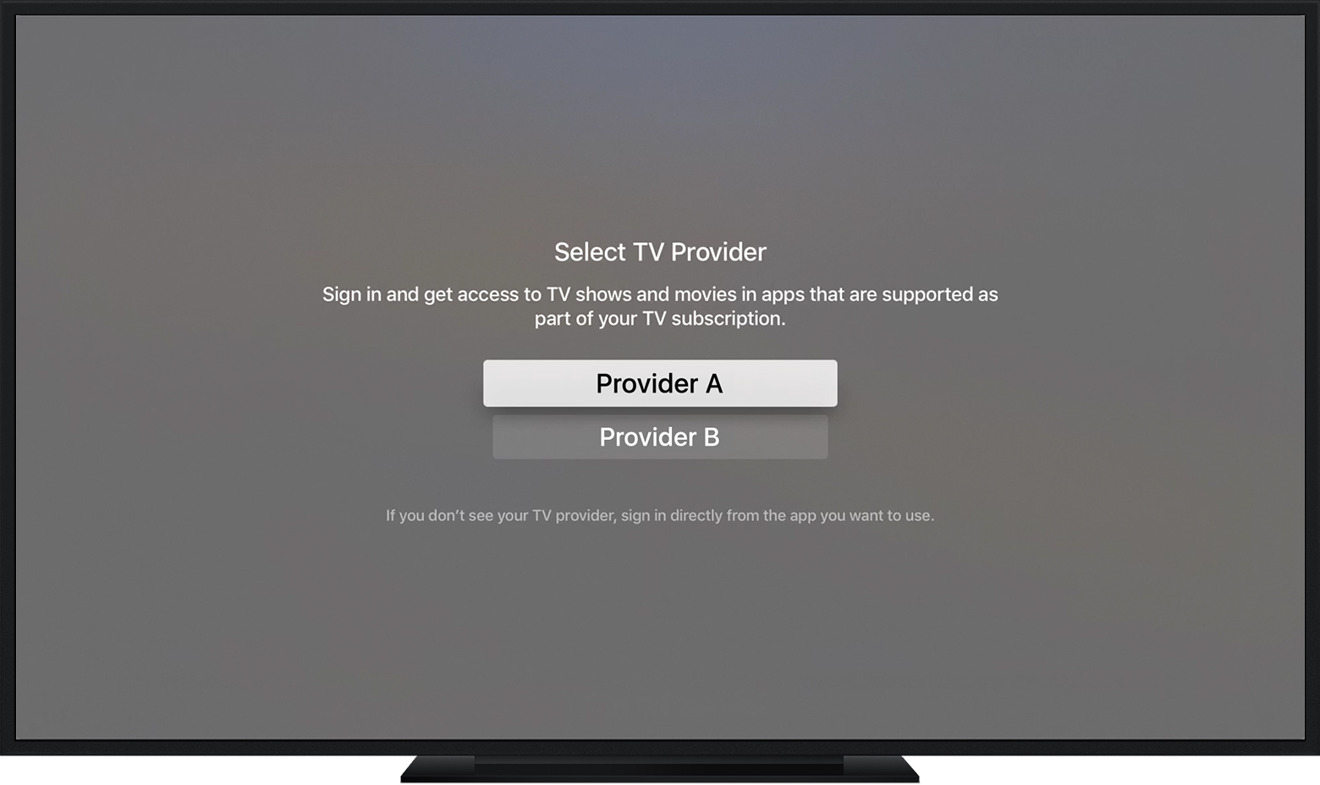 After throwing a spotlight on apps with support for its new single sign-on feature on Monday, and adding a clutch of compatible cable providers today, Apple's streamlined authentication service is now live for all users.
At launch, Apple's hotly anticipated feature is limited to U.S. cable subscribers, though international support is expected to debut at a later date. As its name implies, single sign-on allows fourth-generation Apple TV and iOS device owners to authenticate multiple pay TV video streaming apps with one set of credentials.
Being able to share pay TV account information across streaming apps allows for a seamless viewing experience, Apple says. Acting as a universal login across a variety of apps, single sign-on enables a pay TV provider to automatically verify, and grant access to, streaming content that is part of a user's subscription.
Only four cable providers — Dish, GVTC, Hotwire Communications and Sling TV — were participating in Apple's new service when it went live for beta testers in November, but another five were added earlier today in preparation of the public debut. According to a newly published Support Pages document, accounts from CenturyLink Prism, DirecTV, GTA, Hawaiian Telcom and MetroCast can also be used to access the feature.
Apple notes third-party app support from the following titles:
A&E (iOS only)
Bravo Now (tvOS only)
E! Now (tvOS only)
Hallmark Channel Everywhere (iOS and tvOS)
History (iOS only)
Lifetime (iOS only)
NBC (tvOS only)
Syfy Now (tvOS only)
Telemundo Now (tvOS only)
USA NOW (tvOS only)
Watch HGTV (iOS and tvOS)
Watch Food Network (iOS and tvOS)
Watch Cooking Channel (iOS and tvOS)
Watch DIY (iOS and tvOS)
Watch Travel Channel (iOS and tvOS)
To enable single sign-on on an Apple TV running tvOS 10 or later, navigate to Settings > Accounts > TV Provider and select a participating pay TV service. Input your account information, including username and password, into the provided text box.
The process is much the same on an iPhone or iPad running iOS 10 or later. Navigate to Settings > TV Provider , select a desired pay TV service, and sign in with your account information. Users who sign in from an iOS device linked to iCloud will see their TV Provider data sync to all other devices using the same Apple ID.
Apple first announced single sign-on at the Worldwide Developers Conference in June as an answer to complaints from users who found it difficult to enter account details every time they downloaded and installed a new streaming app.