Apple yanks watchOS 3.1.1 update following user complaints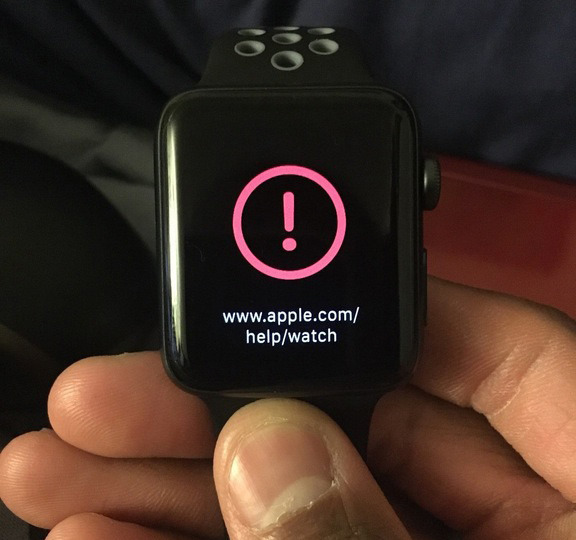 Apple on Tuesday pulled the latest Apple Watch operating system update, watchOS 3.1.1, from circulation after a launch earlier this week that rendered an unknown number of consumer units unusable.
Apple Watch owners attempting to upgrade to watchOS 3.1.1 through the dedicated Watch app on iOS will find watchOS 3.1 as the current version, meaning Apple has temporarily disabled the point update after its release on Monday.
For reasons as yet unknown, yesterday's software update appears to have bricked some Apple Watch Series 2 units. Customers impacted by the faulty code reported seeing a recovery screen with a red exclamation mark after attempting to install watchOS 3.1.1. The foreboding prompt urged users to visit www.apple.com/help/watch, a landing page that ultimately leads to a Support Document covering frozen Apple Watch hardware.
Apple's support page, which was most recently updated in November and as such does not directly address watchOS 3.1.1 specific concerns, suggests users perform a force restart by pressing down and holding both the side button and Digital Crown for at least 10 seconds. As noted by those affected, a hard reset does not solve the issue presented with watchOS 3.1.1.
According to impacted Apple Watch owners who visited an Apple store, the company is collecting affected units and sending them out for service. The recovery process supposedly requires access to the Apple Watch diagnostics port, something which retail store Geniuses lack at this time.
The root cause of Apple's watchOS 3.1.1 problems is unknown, but the issue appears to predominantly affect Apple Watch Series 2 devices. Ironically, the point update was released alongside iOS 10.2 and tvOS 10.1 with a variety of bug fixes and performance improvements.