Nintendo's 'Super Mario Run' now available for purchase in iOS App Store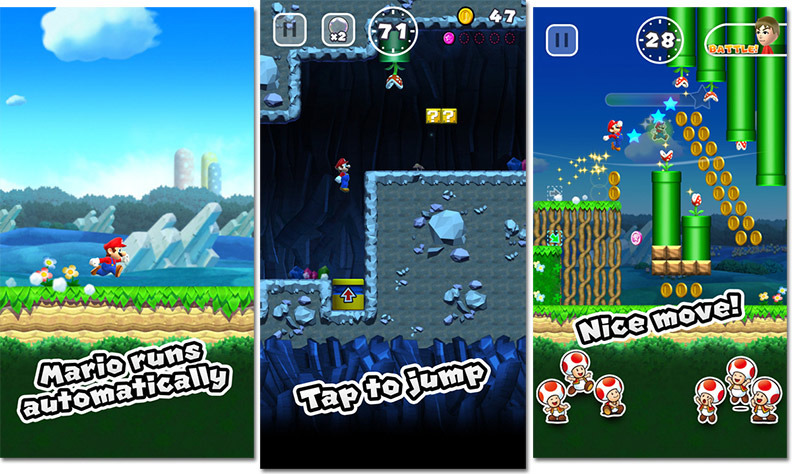 Nintendo's hotly anticipated iOS debut, Super Mario Run, is now available up for purchase on the iOS App Store. The release not only introduces the beloved Italian plumber to iOS device owners, but also marks the start of a new relationship between Apple and Nintendo, a gaming company that only recently decided to embrace smartphone platforms.
Initially announced onstage during Apple's iPhone 7 event by none other than legendary game maker Shigeru Miyamoto, Super Mario Run is very much a casual title, mixing traditional side-scrolling action with endless runner-style mechanics.
As touted by Nintendo's marketing, the game only requires only one hand to play — Mario runs through the world as users tap on the screen, making him jump to avoid obstacles, strike objects, clear gaps and perform other maneuvers. Level scores, coins and world progress are collected and tallied, much like Mario's many console installments.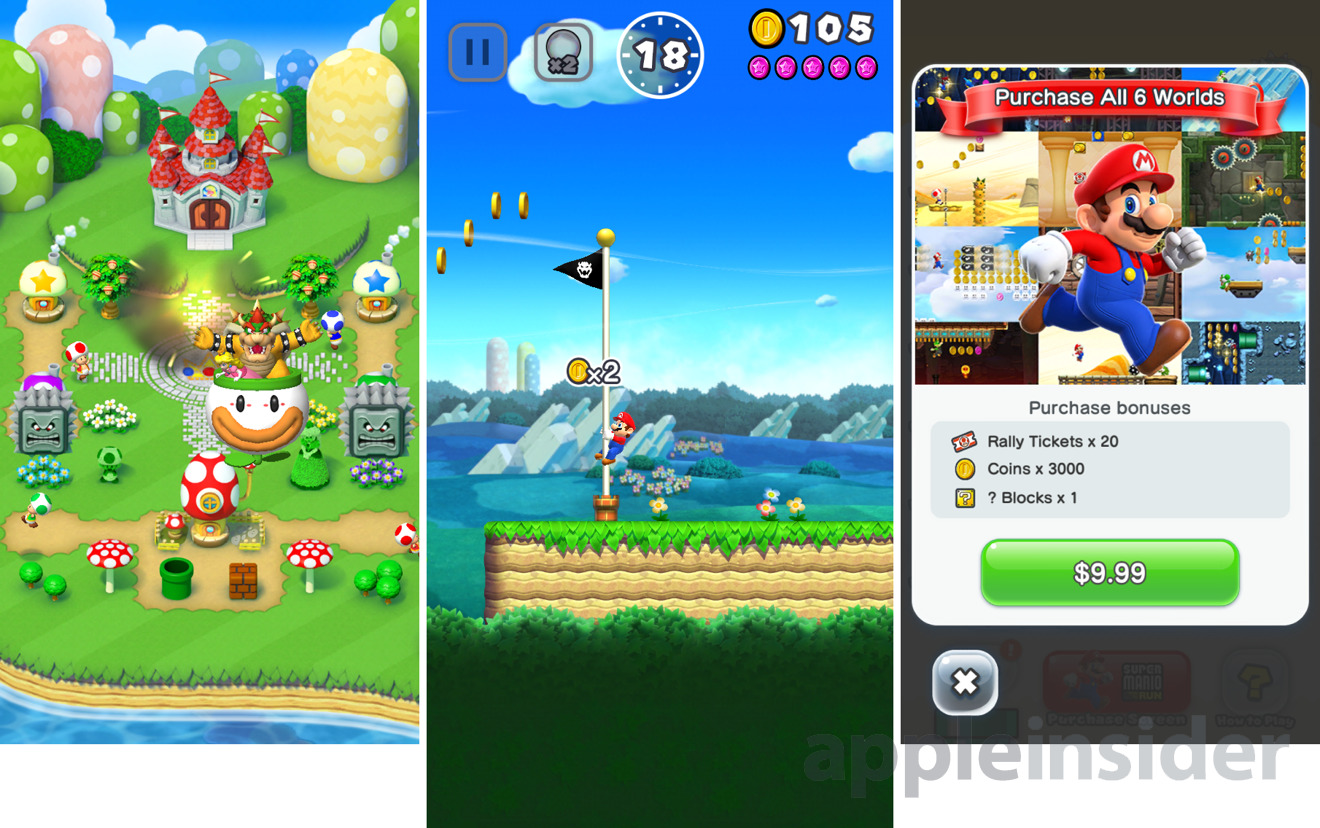 Super Mario Run features three main game modes: World Tour, in which gamers run through six worlds and 24 courses to rescue Princess Peach from the clutches of Mario's notorious nemesis Bowser; Toad Rally, a multiplayer mode that pits users against friends and other players in a race to gather coins; and Kingdom Builder, which lets users customize a virtual environment with buildings and decorations purchased using collected coins and toads acquired through Toad Rally.
Following Miyamoto's surprise appearance at September's event, both Apple and Nintendo have been hard at work, hyping Super Mario Run in the lead-up to today's launch. Miyamoto, for example, made a number of high-profile appearances to talk about the game and Nintendo's upcoming console-cum-portable, the Switch. Most recently, the game designer watched from "The Tonight Show" audience as Jimmy Fallon played through a level of Super Mario Run.
Miyamoto also made the rounds with the usual online publications. Last week, for example, he spoke with Mashable about Super Mario Run's need for a persistent internet connection.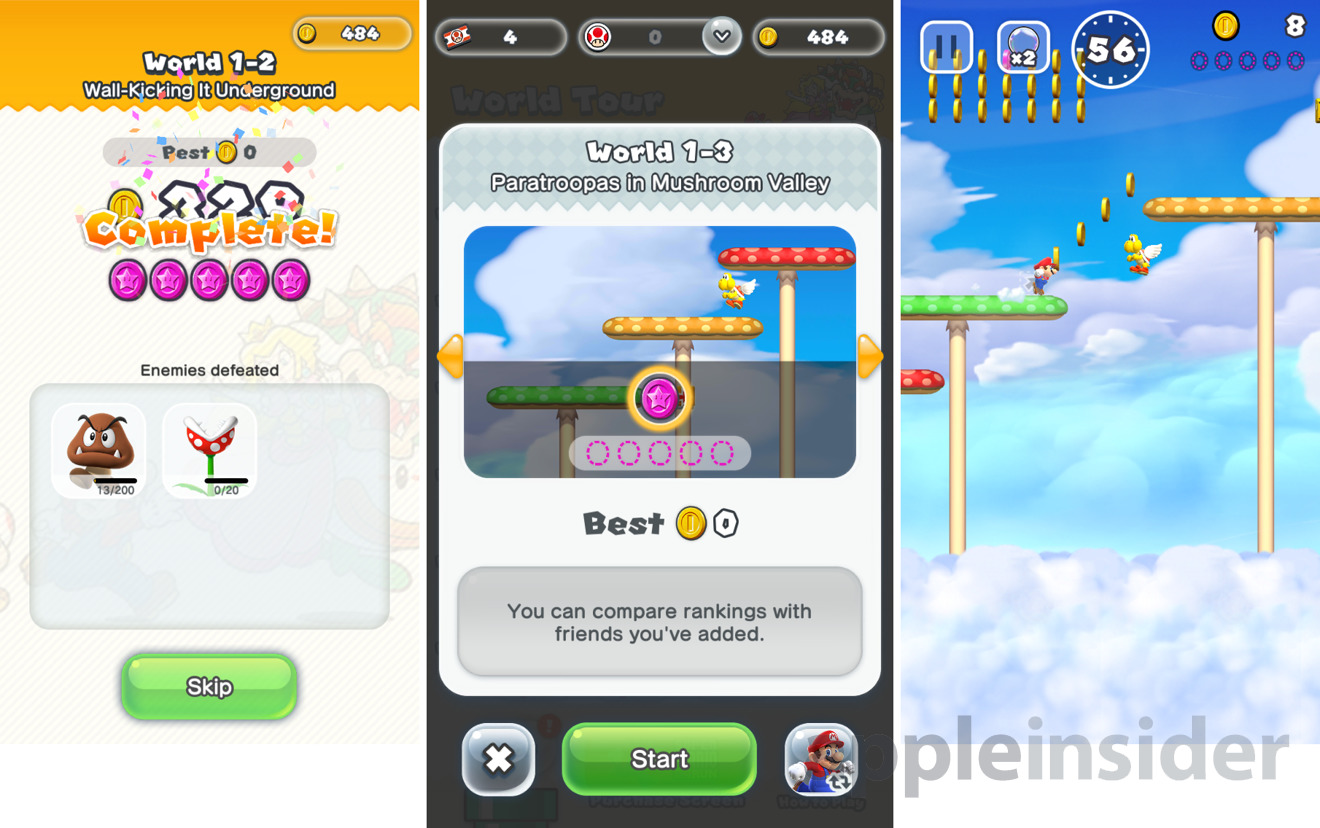 Apple, too, turned on its marketing machine for the game. Aside from setting up a notification service for eager customers looking to buy the app as soon as it went live, and prominently featuring the title at the top of the App Store for well over one month, the company on Tuesday posted a special 41-minute "Super Mario Run" podcast in which Miyamoto speaks at length about the game's development.
AppleInsider will be posting a full rundown of the game, including Nintendo's in-app purchases, later today.
Super Mario Run is free to download from the App Store, though unlocking the full game requires a $9.99 purchase. The title is a 204-megabyte download.