Review: Using LG's UltraFine 4K Display with Apple's USB-C MacBooks is as simple as can be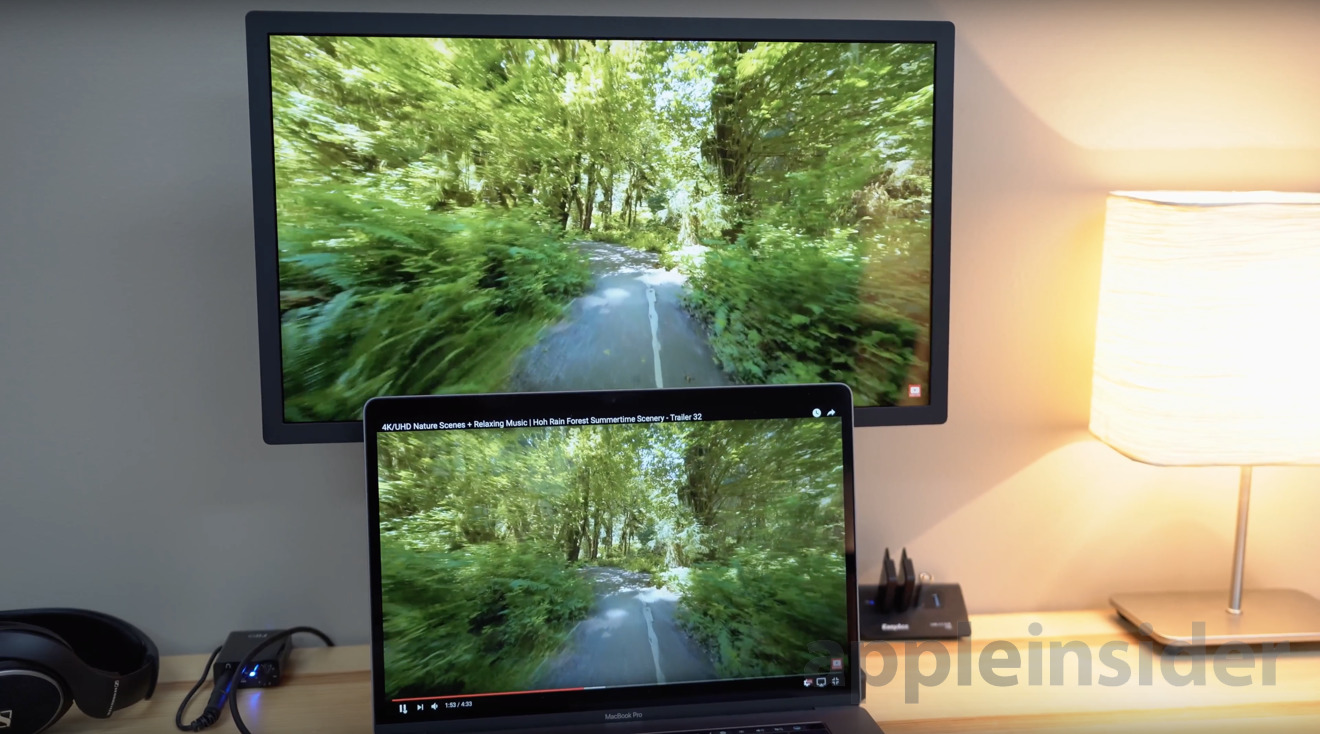 While it isn't branded as an Apple display, the LG UltraFine 4K Display is quite Apple-like, featuring a minimalist design, high-quality ultra high-resolution screen, and dead-simple plug-and-play connectivity. It's a fantastic choice and a gorgeous display if you have a USB-C equipped MacBook, with a few caveats: it lessens the appeal of the MacBook Pro's Touch Bar and Touch ID, and it doesn't utilize Thunderbolt 3.
Dead simple, one-cable, plug-and-play
Once unboxed, setting up the LG UltraFine 4K display is about as simple as it gets.
In the box, there are exactly two cables: One USB-C to USB-C cable, and a power adapter. Simply plug the power adapter into the wall and the slot on the monitor, and connect the USB-C cable from your MacBook to the rightmost port on the back of the monitor.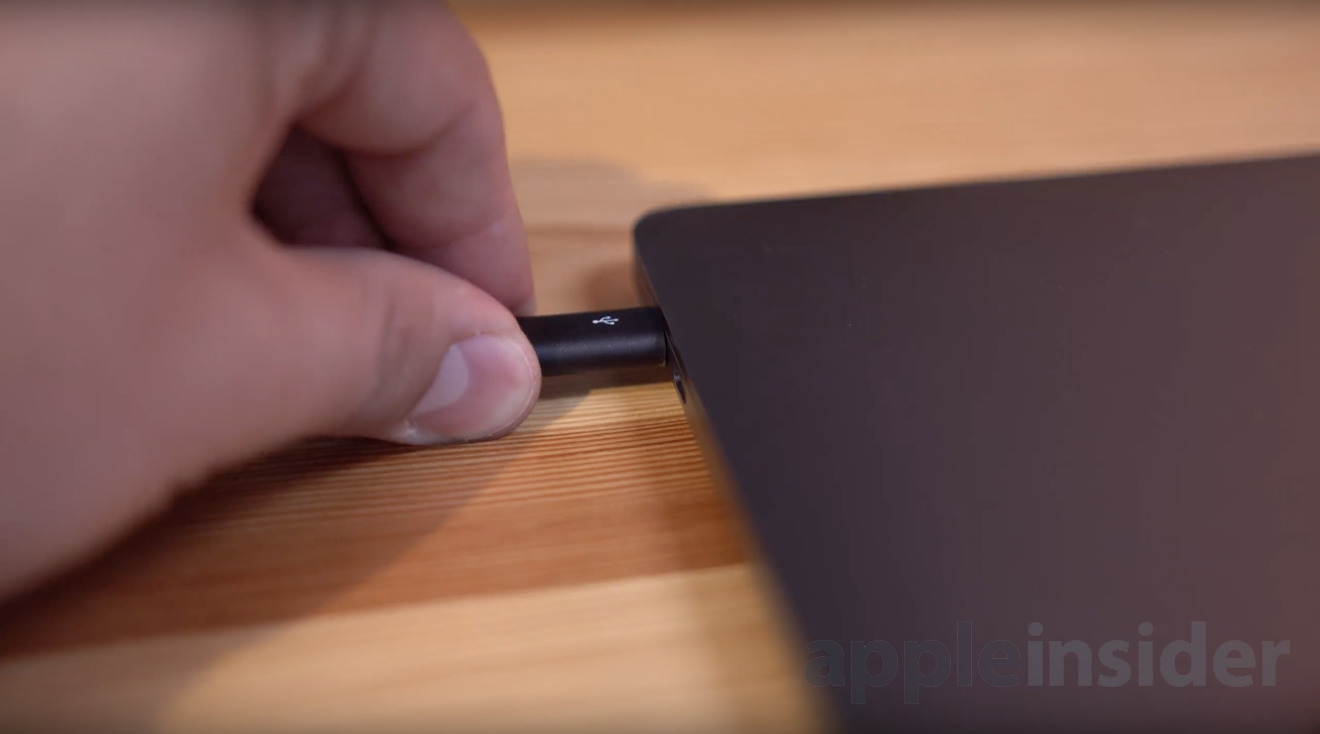 There are no buttons on this display — not even a power button. Everything works automatically, and if you need to tweak settings, you adjust the display through macOS itself.
Stereo speakers are embedded below the display, giving the front a clean look. There is no camera.
Apple's latest MacBooks with USB-C, including the new MacBook Pro with Touch Bar, allow power, data, display and audio to be transmitted through one cable. That means you no longer need to plug your MacBook into the wall, as the power is provided via the display itself over just one cable.
The included cable is also thick and high quality. It's not some cheap flimsy cable that you'll be afraid of fraying, or worse.
While we miss MagSafe in day-to-day use, testing the new MacBook Pro with Touch Bar and connecting just one cable for power, display and accessories eases some of the sting. This is as simple as can be.
USB-C, but not Thunderbolt 3
In a concession made presumably to allow the 21.5-inch LG monitor to work with Apple's ultraportable 12-inch MacBook, the UltraFine 4K Display transmits over the USB-C protocol, and not Thunderbolt 3.
This means that if you use this display with Apple's latest MacBook Pro lineup, you won't be tapping into the full potential of the Thunderbolt 3 USB-C ports on your machine.
Apple's 12-inch MacBook (both the 2015 and 2016 versions) features a single USB-C port for charging and data. Its USB-C port is not capable of Thunderbolt 3, which allows for faster transfer speeds, but remains restricted to the new MacBook Pro.
By transmitting video and data over USB-C, and not Thunderbolt 3, this does limit the capabilities of the 4K display somewhat. With less bandwidth available, the USB-C ports on the back of the monitor operate at USB 2.0 speeds — slower than even the full-size USB 3.0 ports on Apple's 2015 MacBook Pro.
For power users who need the absolute best, it might be best to make the jump up to LG's larger 27-inch UltraFine 5K Display, as that model's ports utilize Thunderbolt 3. Without standard USB-C video support on the 27-inch model, it's for MacBook Pro users only, as the 12-inch MacBook doesn't have the necessary Thunderbolt 3 hardware.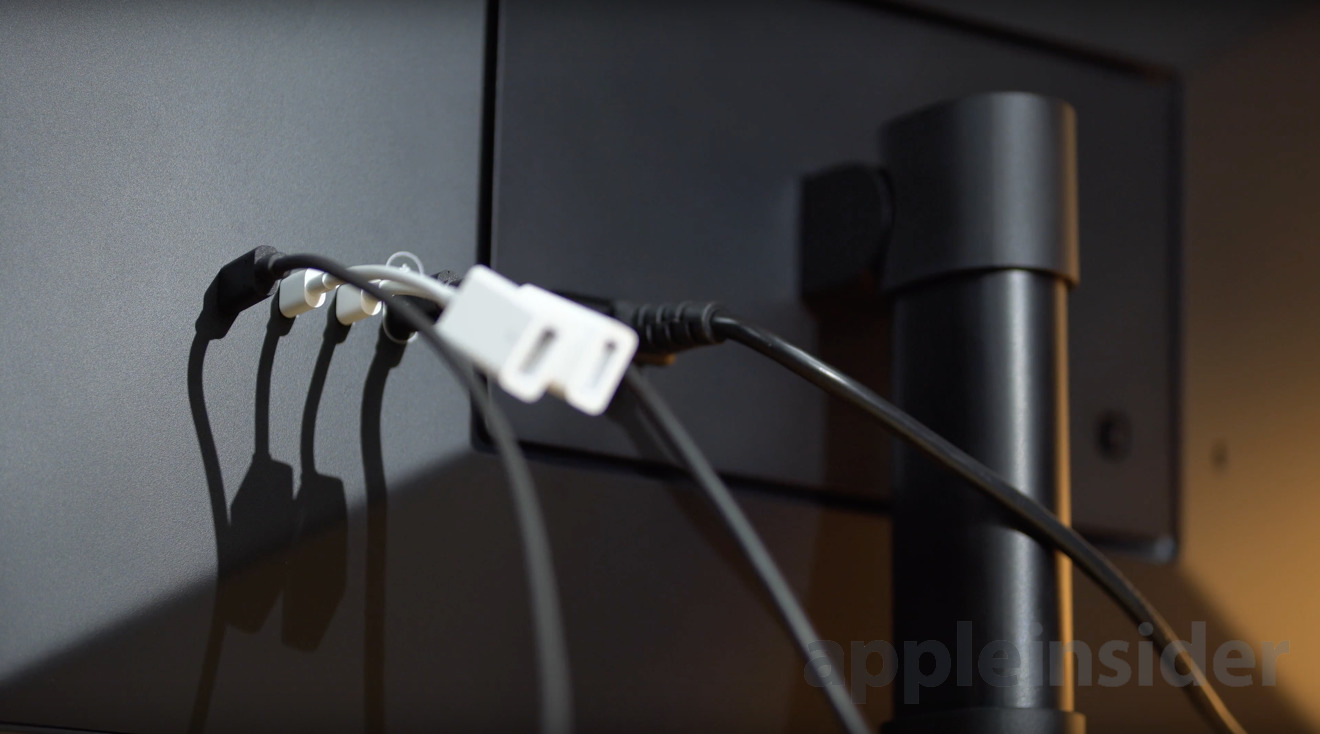 Considering how limited adoption of previous-generation Thunderbolt accessories has been, we doubt this concession will be of much concern to most users. If you're in the market for a display and the 27-inch model is too big or pricey, the USB-C-only connectivity of the 21.5-inch model will not likely be a hinderance.
A gorgeous wide color 4K display on par with Apple's own Retina display
When we say this display is an Apple-like product, we're talking mostly about the quality of the screen. This 4K panel is a stunner from the moment you turn it on, with brilliant, bright and vibrant colors that truly stand out.
We've been spoiled by years of using MacBooks with Retina displays, making it impossible to go back to lower-resolution laptop screens. Apple famously never gave its Thunderbolt Display the Retina treatment, but the LG UltraFine 4K Display fills in that role quite nicely.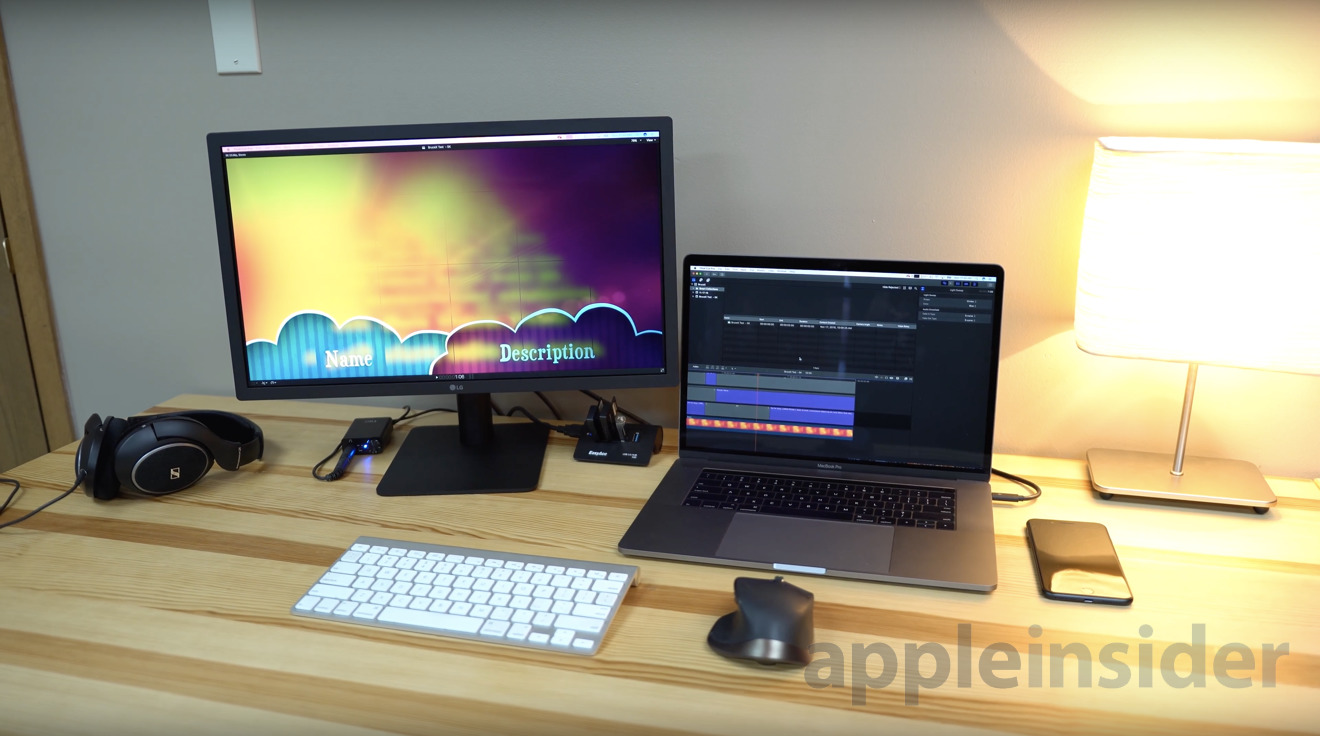 The best compliment we can pay the LG screen is that you won't really notice any difference in quality jumping from the beautiful Retina display built in to the MacBook Pro to the 4K monitor.
LG's UltraFine displays support the P3 wide color gamut, again matching the capabilities of the gorgeous Retina display on Apple's 2016 MacBook Pro lineup. This means the display also matches the color capabilities of the iPhone 7 display and camera, making them a great pairing for mobile photography.
Around the borders, the LG monitor has a matte black look that's simple. The screen itself is glossy, which helps colors to pop, but may not be ideal for those who use it in a bright environment.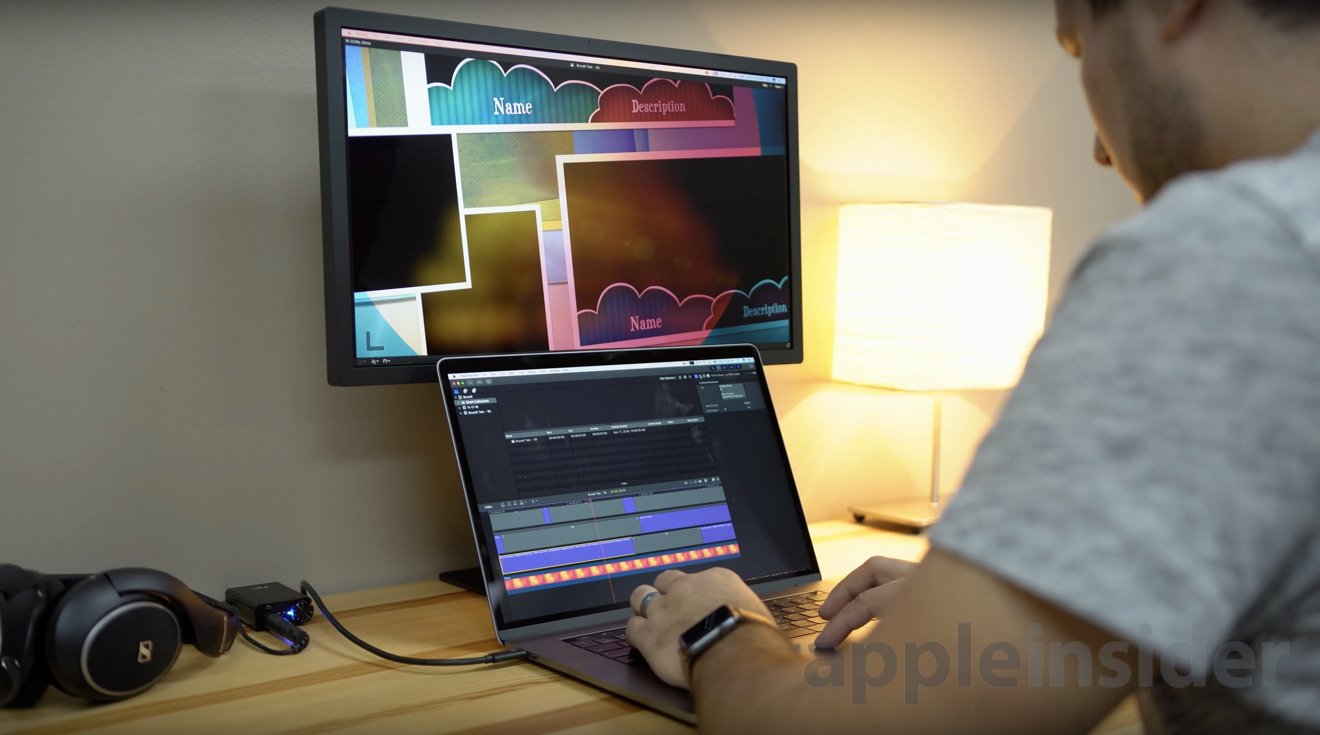 The 21.5-inch panel packs in a resolution of 4,096 by 2,304 pixels. With the default scaling of macOS, fonts are readable and UI elements are all at a comfortable size. And with real estate much larger than a MacBook can provide, tasks both basic and complex are more comfortable to manage.
We tested the LG 4K display exclusively with Apple's new 2016 MacBook Pro with Touch Bar. Our system is a maxed-out model, featuring the fastest Intel processor available and 16 gigabytes of RAM. The horsepower was more than enough to drive both the monitor and the MacBook's display with no noticeable slowdown or issues.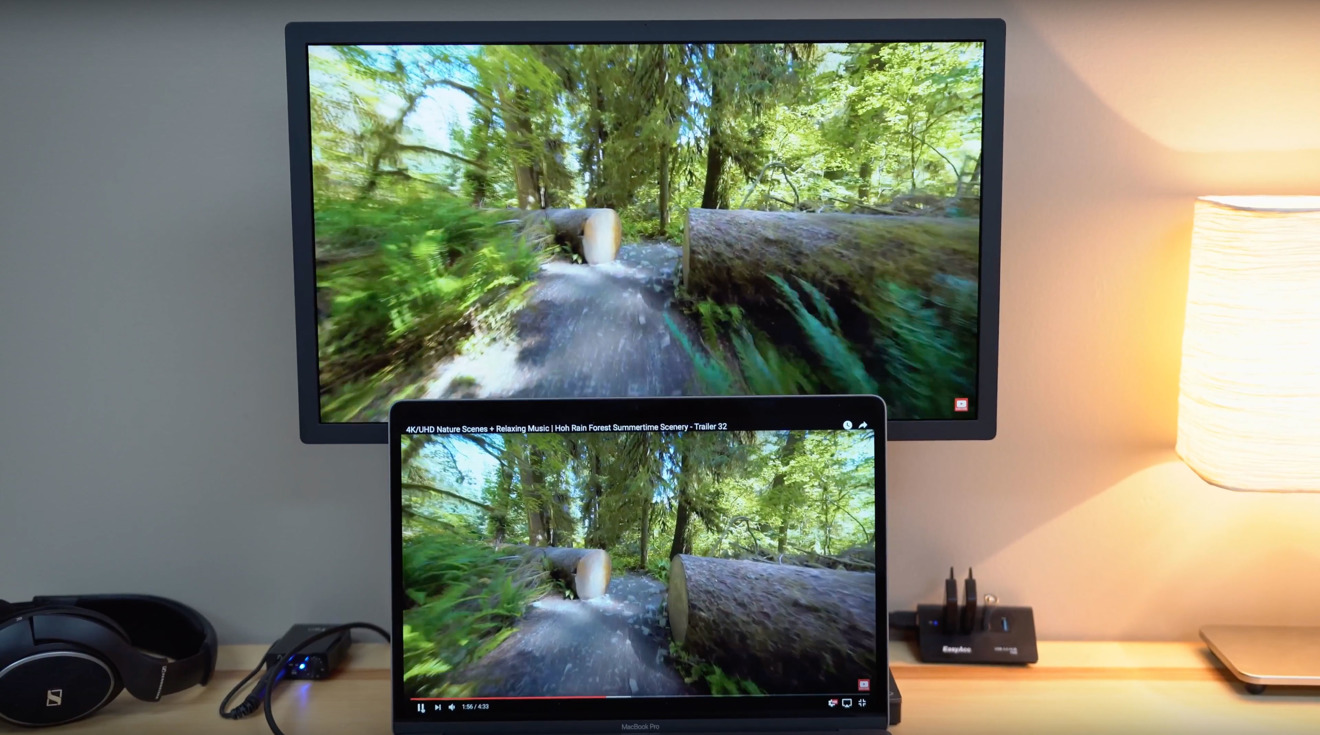 Of course, Apple's 12-inch MacBook offers significantly less performance than then MacBook Pro to achieve its svelte design. Considering video is done over USB-C to allow compatibility with the 12-inch MacBook, Apple obviously feels it's good enough for this screen, but we didn't have the opportunity to test with a lower end system.
Stand it, slide it, tilt it, mount it
The LG UltraFine 4K Display comes with the stand already attached. The base is flat and metal, heavy and solid. Even on a slightly wobbly desk, the LG monitor feels secure on this base.
The stand itself has a clever design that allows it to be easily slid upwards or downwards without any need to lock or unlock any moving parts. Simply apply pressure to the monitor and it will slide upwards and downwards as needed.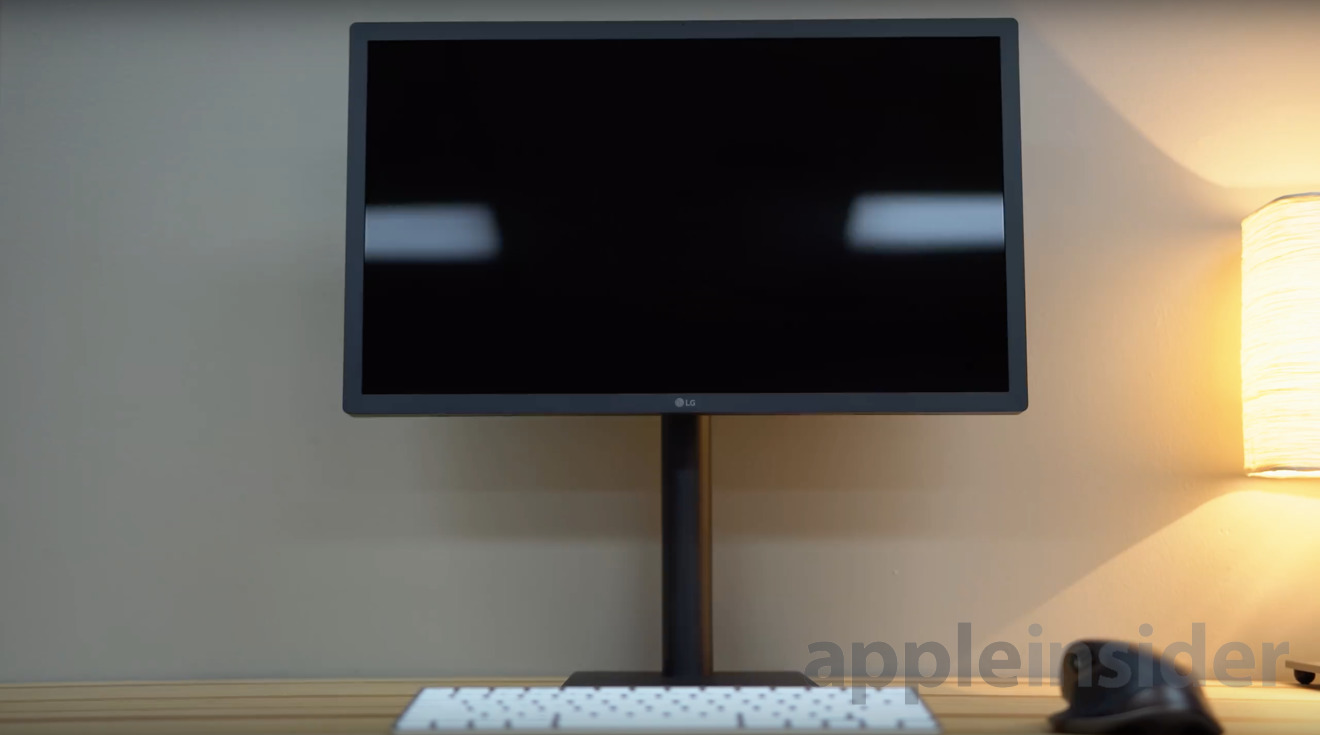 At its highest position, we measured the bottom of the monitor at 8.5 inches from our desk. At the lowest, it shrinks to about 4.25 inches off of the desk.
It also tilts upward and downward, and has a very slight left to right rotation. And it's wall mountable, if you prefer.
As is standard with Apple's IPS displays, the LG 4K monitor has a viewing angle of 178 degrees.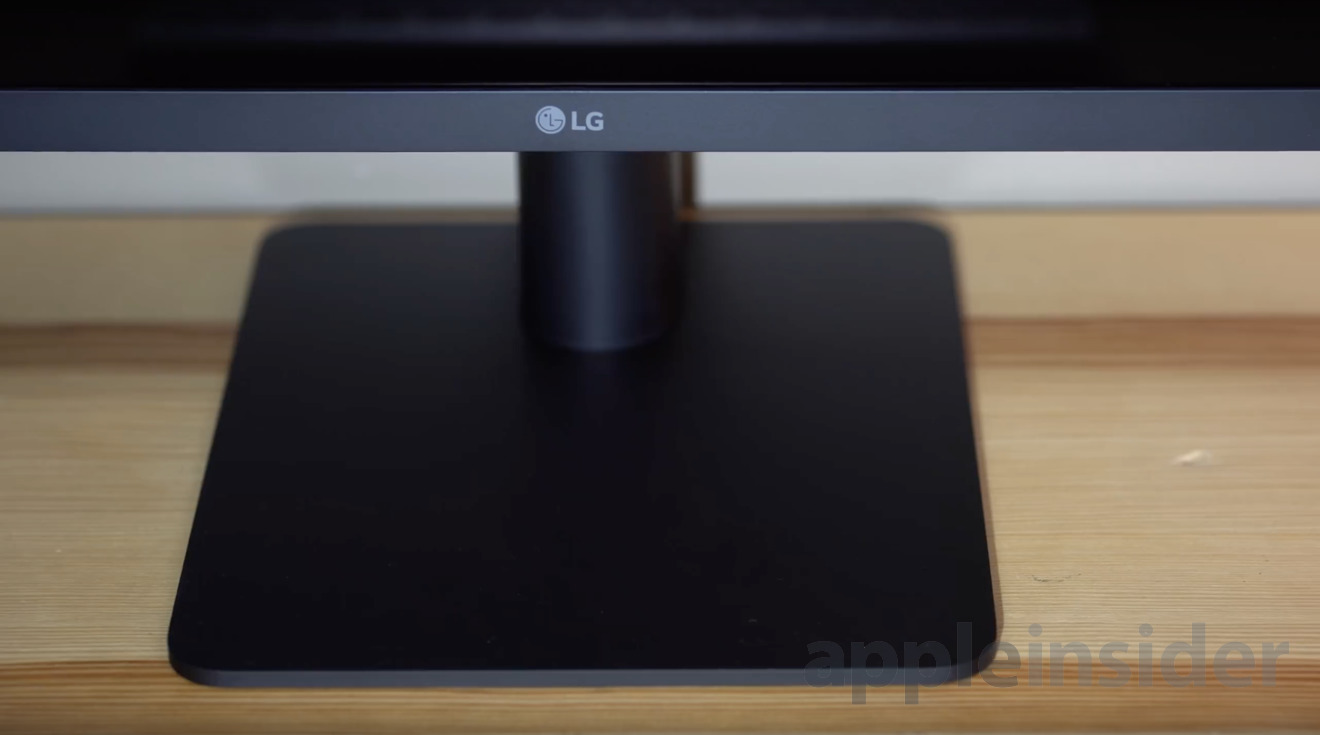 All USB-C, all the time
Some USB-C-based monitors and hubs have taken the opportunity to allow users access to legacy ports, including full-size USB ports and other inputs like an SD Card slot or HDMI input.
The LG UltraFine 4K Display, however, makes no apologies for the switch to USB-C. It connects to Apple's MacBook Pro with a USB-C to USB-C cable, and includes four USB-C ports on the back. There are no full-size USB ports or any other types of inputs on the monitor.
And, as we mentioned before, these ports run at the slower USB 2.0 speed, despite featuring USB-C connectivity. This means that devices connected to the MacBook through the monitor will be slower than if they were connected directly to the MacBook.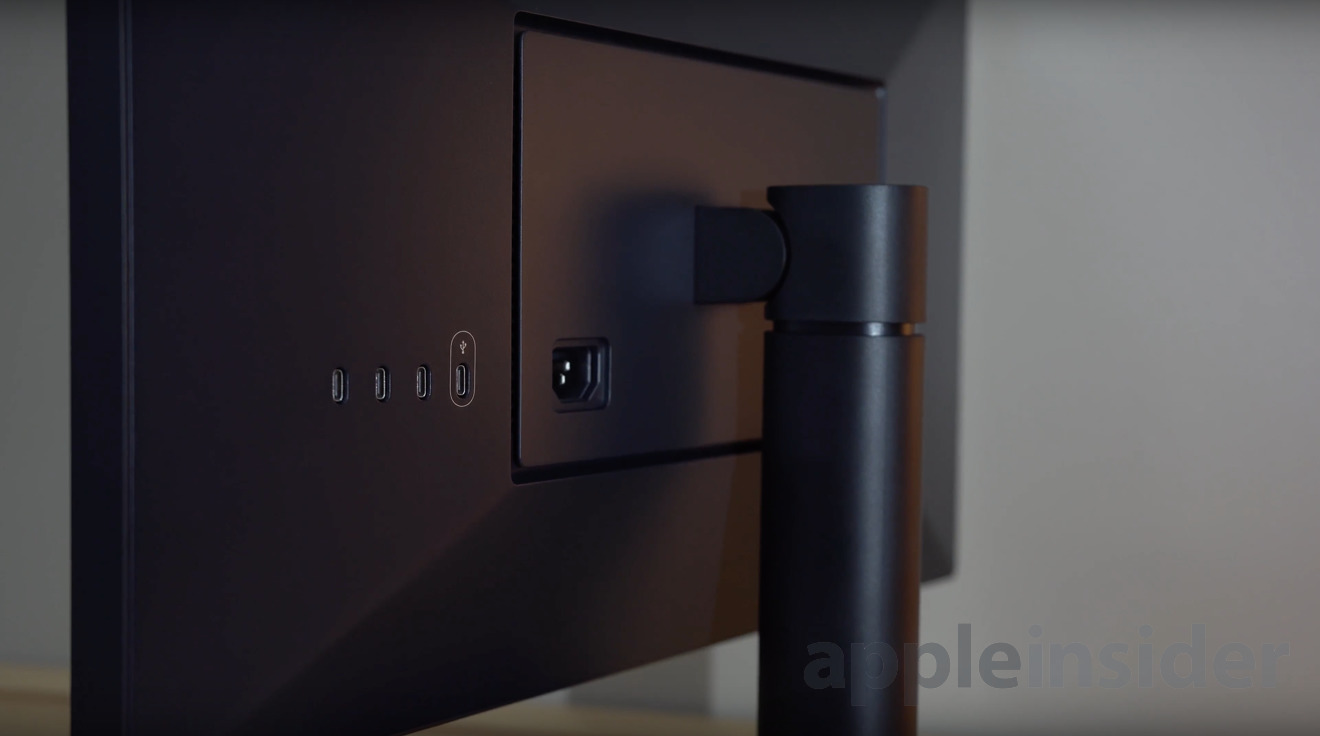 For most devices, and for most users, this concession probably won't make much of a difference. Just be aware that opting for the smaller, cheaper LG UltraFine monitor means you're not tapping into the full potential of your MacBook.
Touch Bar or Touch ID fanatics need not apply
Unless you plan on using the LG UltraFine 4K Display as a second monitor with your MacBook Pro opened up, using the notebook and display as a desktop-style replacement with external mouse and keyboard means users will lose easy access to two of the most-touted features on the new MacBook Pro: the Touch Bar and Touch ID.
We can't knock LG for this, but prospective buyers should at least be aware that Apple does not sell any external wireless keyboards with Touch Bar or Touch ID. For now, those features remain exclusive to the chassis of the new 13- and 15-inch MacBook Pro.
If you find yourself using these features on a regular basis, you'll probably want to use the LG UltraFine 4K Display as a second monitor to complement the Retina display on your MacBook Pro. In this scenario, the monitor does sit a few inches higher on a desk or table than the MacBook Pro display. We didn't find this to be a major issue on our testing.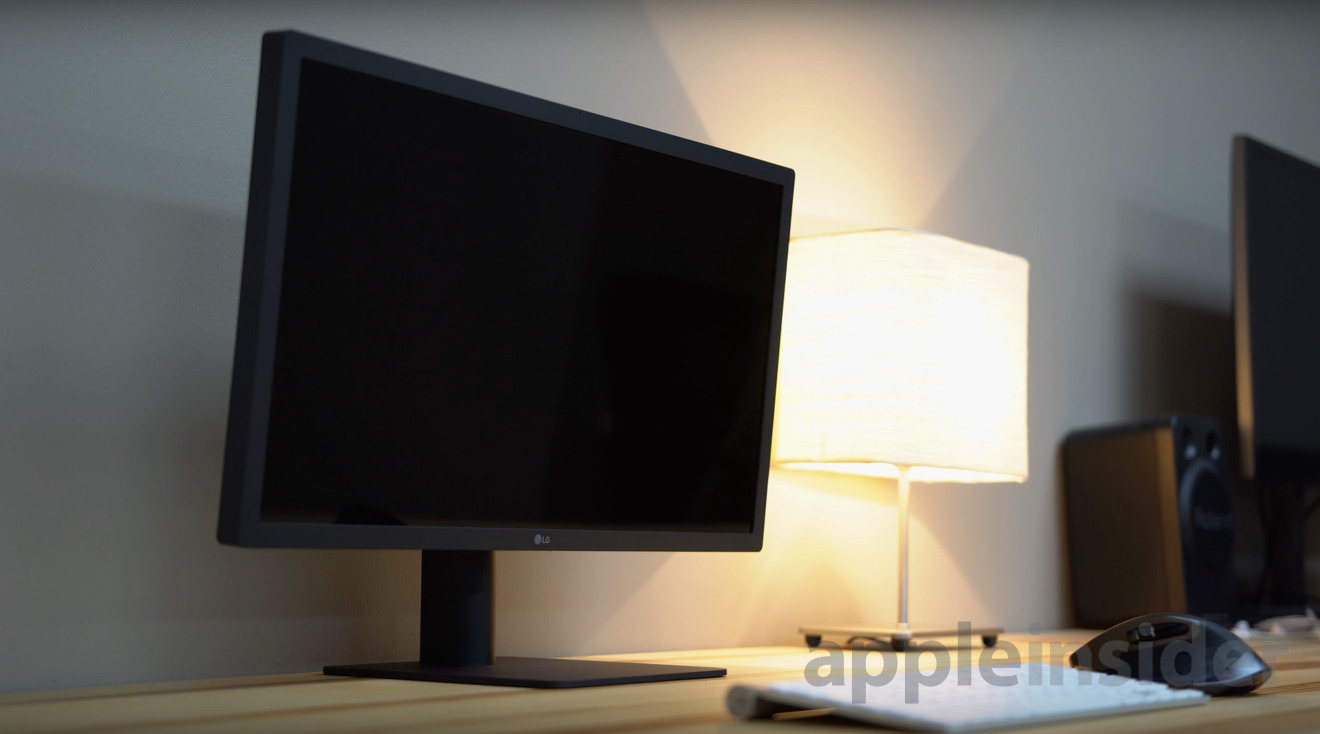 Using the second monitor also defeats some of the convenience of the Touch Bar, even when equipped as an extension of your desktop. One of the advantages of the Touch Bar is the fact that it's at the top of the keyboard, so close to the Retina display on the MacBook Pro, easy to see and to use. When you're looking at a second monitor that's not atop the Touch Bar, some of the convenience is lost.
Personally, we prefer to close our notebook and stow it away with a large, gorgeous monitor of this size, allowing the best of both worlds between desktop computing while docked, and an ultraportable notebook on the go. As a result, it would be nice to see Apple offer a high-end Magic Keyboard with its own integrated Touch Bar and Touch ID. This way, we wouldn't have to sacrifice two key features on the new MacBook Pro while using the notebook in desktop mode.
But if you have a 12-inch MacBook, or a new 13-inch MacBook Pro without Touch Bar, or you simply don't care that much about the Touch Bar or Touch ID on your high-end MacBook Pro, this isn't an issue.
A word about Apple's defunct Thunderbolt Display, and pricing
It's dead. Time to move on.
Apple signaled back in October that it had permanently exited the standalone monitor business. That means the legacy Thunderbolt Display, which has been discontinued and was priced at a hefty $999, will not make a return.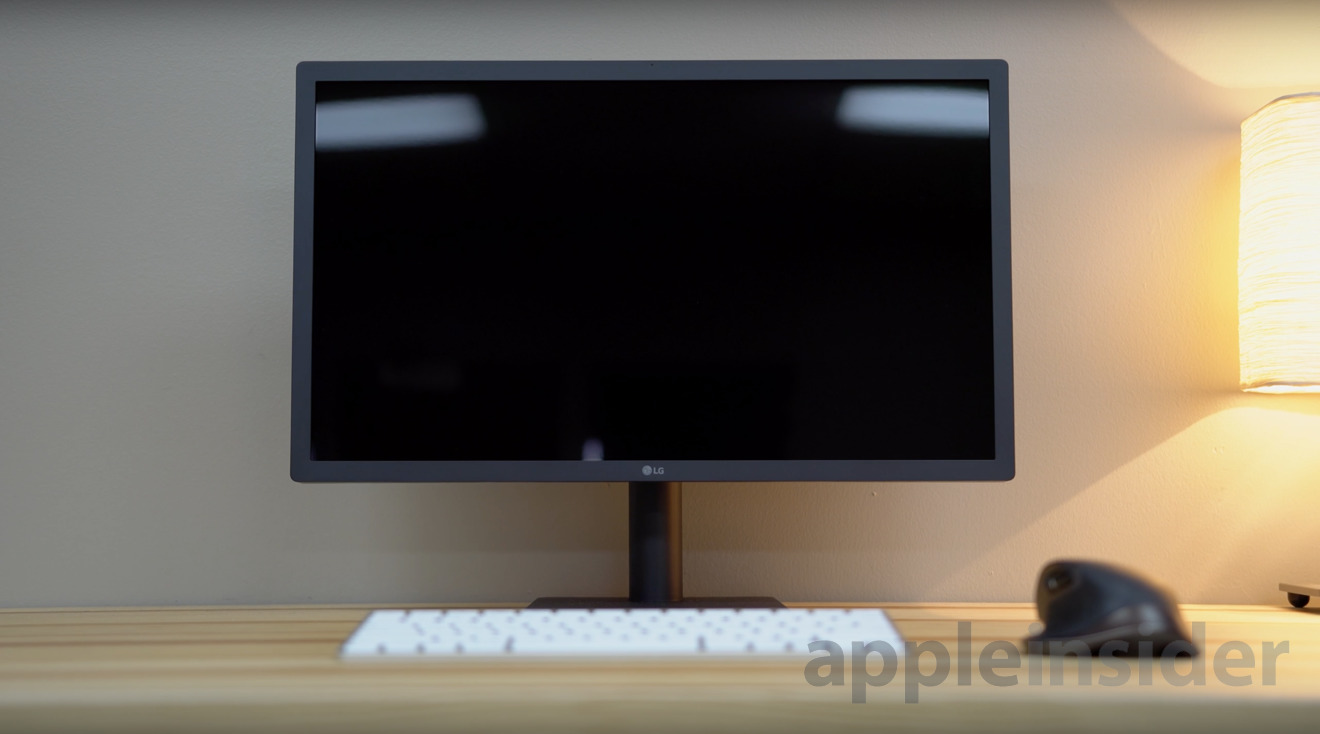 Apple instead partnered with LG to make this the premier external USB-C monitor for the MacBook Pro. And currently priced at $524, it's a steal compared to what Apple used to charge for the non-Retina Thunderbolt Display.
The current pricing on the 21.5-inch LG UltraFine 4K display is a temporary 25 percent discount, intended to appease users who are upset over Apple's switch to USB-C. Starting Dec. 31, the price will go back up to its usual $699.
At $524, it's also considerably cheaper than the $974 ultra high-resolution 5K model, which boasts a screen size of 27 inches. That larger monitor will return to an MSRP of $1299.95 starting in 2017.
With only a few weeks left to lock in a 25 percent discount, those who are on the fence should probably buy now. This is a gorgeous display with a lot to offer, and if you want a USB-C monitor with 4K resolution in this size, the price is right.
Conclusion
If you're looking for an external display and you have Apple's 12-inch MacBook, we feel like the LG UltraFine 4K Display is the obvious choice. The 21.5-inch size may be too small for some, but it's substantially bigger than anything in Apple's notebook lineup.
We also think this display is a great fit for the 2016 MacBook Pro sans Touch Bar.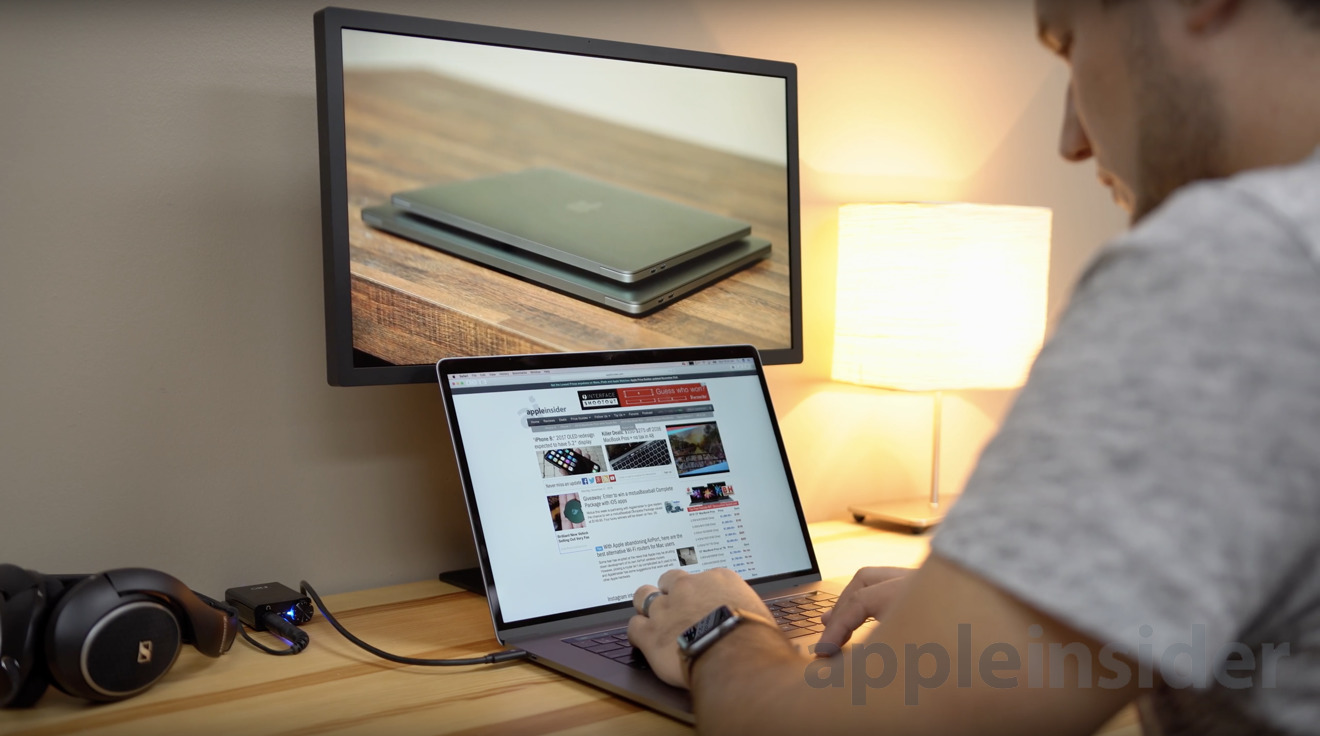 Using the 13-inch MacBook Pro with Touch Bar with this display, however, gives us some pause.
Depending on a user's workflow, and depending on how frequently they find themselves using the Touch Bar, it's ultimately going to be a personal decision of what works best.
If you're running the 15-inch MacBook Pro with Touch Bar, it's harder to recommend the LG UltraFine 4K Display. Sure, the jump from 15 inches to 21.5 inches is significant, but the sacrifices made to send video over USB-C rather than Thunderbolt 3 start to weigh heavily.
Consider also that the 15-inch MacBook Pro has a dedicated graphics card capable of pushing more pixels, making the larger 27-inch LG 5K display — with Thunderbolt 3 — a much more attractive option. If you can fit it on your desk, at least.
On the surface, however, LG's UltraFine 4K Display is as simple as it gets in terms of aesthetics and performance. On the whole, we view that as a good thing.
And the fact that the display offers all of the quality, clarity and performance of Apple's own Retina display means there's no downgrade or tradeoff — at least, as far as the picture is concerned.
Score: 4 out of 5

Where to buy
The LG UltraFine 4K Display is available exclusively through Apple. It carries a reduced price of $524 through the end of 2016, after which it will increase to $699.