More evidence suggests Apple tie-up with wireless charging firm Energous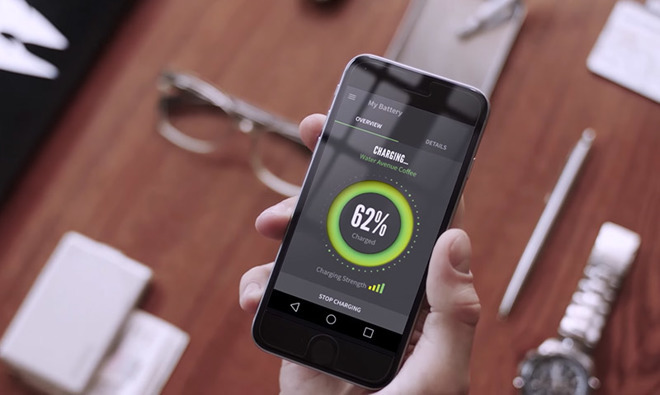 Rumors of a potential partnership between Apple and long-distance wireless charging firm Energous refuse to die. In the latest tidbit, market analyst Louis Basenese points to the recent defection of an Apple product manager, who is now helping Energous gain federal regulatory approval for its various consumer product offerings.
In a research note published on Tuesday, and subsequently obtained by AppleInsider, Basenese outlined the many — currently loose — connections between Apple and Energous, a startup specializing in long-distance wireless charging technology.
Of note, Basenese points to Billy Manning, who served as Apple's Regulatory Certification Program Manager for seven years before taking on the position of Director of Regulatory Operations at Energous in September. While at Apple, Manning was responsible for obtaining and maintaining regulatory certification for iPhone, iPad and iPod in major markets including China, Japan, the EU and the U.S.
Jumping through regulatory hoops has been a problem for Energous, Basenese says. Expertise offered by Manning, along with other senior industry veterans like Hans Mellberg and longtime Cypress Semiconductor executive Jeff McNeil, should streamline the often difficult process. For example, Mellberg, who serves as Energous' Senior Director of Regulatory Compliance, is a member of the same wireless charging ANSI Working Group as Apple.
Basenese goes on to reiterate rumor, speculation and conjecture to "connect the dots" between an Apple and Energous future. Much of the information presented in today's was covered last week when Energous announced a deal to develop and market hardware components through Apple chip supplier Dialog Semiconductor.
As part of the deal, Dialog will invest $10 million in Energous to become the firm's exclusive component supplier, while Energous gets access to Dialog's sales and distribution channels. Notably, Apple orders are thought to account for more than 70 percent of Dialog's balance sheet.
Aside from the Dialog partnership, Energous in March reached an agreement with Apple supplier Pegatron to integrate wireless charging technology into certain product designs. The firm inked a similar deal with Foxconn a few months earlier. It should be noted that both Foxconn and Pegatron are suppliers to dozens of major tech brands.
Further, Basenese believes rumblings of a next-generation iPhone with glass chassis, first predicted by KGI analyst Ming-Chi Kuo, point to the integration of some flavor of wire-free charging tech.
Finally, Energous is anticipating consumer release of a mid-range transmitter sometime in the third or early fourth quarter of 2017, just in time for an expected "iPhone 8" debut.
As previously reported, Energous' WattUp platform uses small antennas to transfer energy over fairly long distances, much farther than existing wireless charging solutions that rely on traditional inductive charging coils. Beyond sheer distance, the charging process is controlled by software, meaning end users can prioritize the order in which devices receive power, create charging schedules and more.
Those who predict an Apple partnership believe the tech can help iPhone differentiate itself from similar systems marketed by Samsung.
Despite showy tech demonstrations, however, Energous has yet to release a shipping product.
As for Apple, the company is clearly investigating a possible branded long-distance wireless charging solution. In September, the company reportedly put out feelers asking a select subset of chip suppliers for wireless charging component samples.
Apple is also working on radiative charging tech internally, as evidenced by ongoing patent filings. Potentially related to internal development efforts are recent segment hires from wireless charging firm uBeam.
Apple is rumored to launch three iPhone models in 2017, a pair of iPhone 7 upgrades and a high-end "iPhone 8." The top-tier model is forecast to incorporate exotic technologies like a curved OLED display, under-screen home button and wireless charging and an substantially glass enclosure. The fate of Apple's "s" cycle updates are less clear. Recent rumblings claim the "iPhone 7s" and "iPhone 7s Plus" variants will go without a major design change and might not include OLED displays or wireless charging, but reports are conflicting at best.