Next-gen Apple Watch might thin down by moving haptic motor to wristband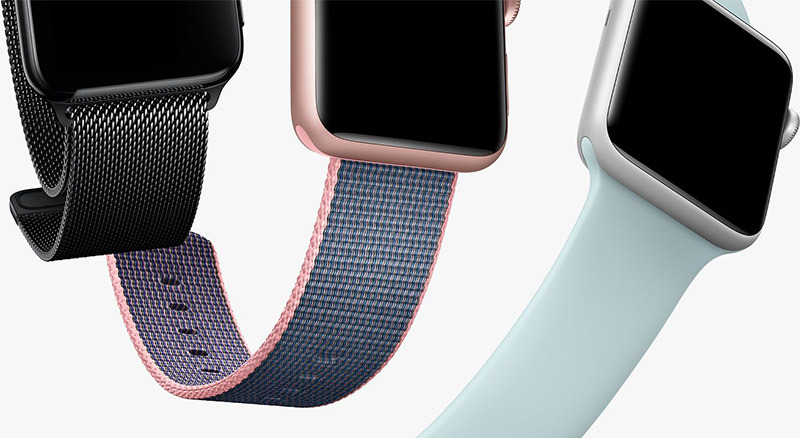 Apple is investigating the possibility of transferring Apple Watch's haptic feedback mechanism from the device chassis to its wrist strap, a design that would allow for a much thinner product, according to a patent application discovered Thursday.
As published by the U.S. Patent and Trademark Office, Apple's patent application for a "Band attachment mechanism with haptic response" outlines the underpinnings of a wearable device with haptic feedback structures and circuitry embedded in a securing band or strap.
Capable of alerting its wearer to incoming alerts and other notifications, the proposed band promises to deliver an identical experience to Apple Watch's internal Taptic Engine minus the bulk. Applied to Apple's wearable, the proposed design would reduce device thickness by offloading the relatively large linear actuator assembly to a location outside of the casing, adjacent to the bottom or side of a user's wrist.
According to the document, the proposed band incorporates hardware — including but not limited to electromagnetic technology, piezoelectric technology, and/or electroreactive polymers — that allows the band to move laterally or side-to-side with respect to the host device. Other embodiments call for the band to move up and down or rotate around an axis.
Current Apple Watch iterations are relegated to the back-and-forth motion of a linear actuator. Called the Taptic Engine, Apple's in-house haptic solution is able simulate a multitude of tactile signals, including taps and shakes, thanks to special software-driven damping technology.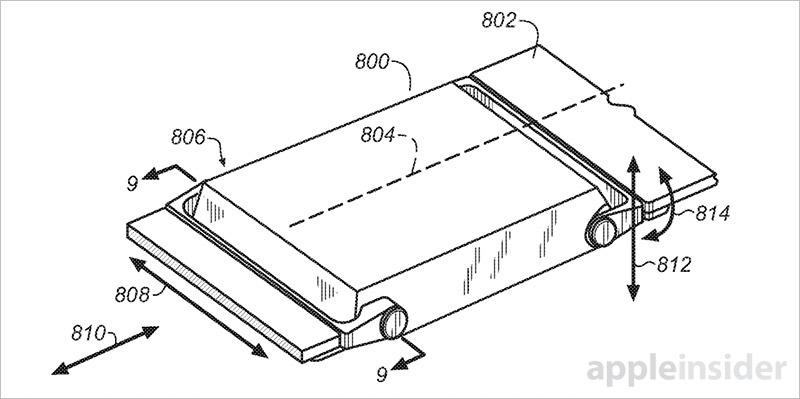 Movement might further vary depending on the integrated haptic subsystem. For example, haptic components can produce a range of sensations, from pressure to motion to vibratory stimulation. Alternatively, feedback generators can be lumped into groups of two or more for an enhanced experience.
As detailed, haptic devices can be embedded in existing band structures, for example a strap buckle. Another embodiment allows for the device to sit within watchband spring bars. This latter deployment would fit nicely with Apple Watch's magnetic band attachment interface, which is rather large compared to traditional watch strap mechanisms.
While not explicitly described in today's filing, the haptic band would likely attach to, and subsequently receive instructions from, its host watch through a hardwired connection. Perhaps not coincidentally, Apple Watch already sports a non user-serviceable diagnostics port capable of transferring both data and power to the wearable.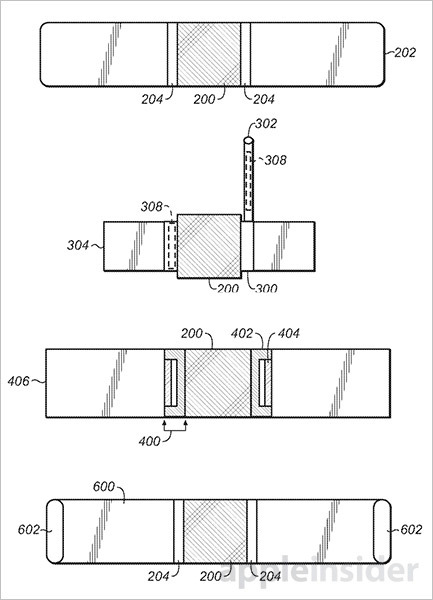 It is unclear if Apple plans to incorporate the haptic band design in an upcoming version of Apple Watch, but such technology would serve well the company's quest for ever-thinner products.
In addition to space savings, an external vibratory motor, or multiple motors, might provide pronounced alerts that are more easily detected by wearers. Because smartwatches are worn on a part of the body that is in constant motion, users sometimes miss haptic alerts. Apple attempted to address this issue with a so-called "prominent haptic" setting that sends an extra tap, a sort of pre-announcement announcement, to mixed results.

Perhaps most interesting about today's application is the June 2016 filing date. Considering Apple Watch was unveiled in 2014 and refined through one upgrade cycle, the haptic band idea might still be on the table for a next-generation release.
Apple's haptic Apple Watch band patent application credits Harry W. Smith IV, Patrick Kessler, Camille Moussette and John B. Morrell as its inventors.