Apple Campus 2 construction site shown off in massive 1.7-gigapixel aerial image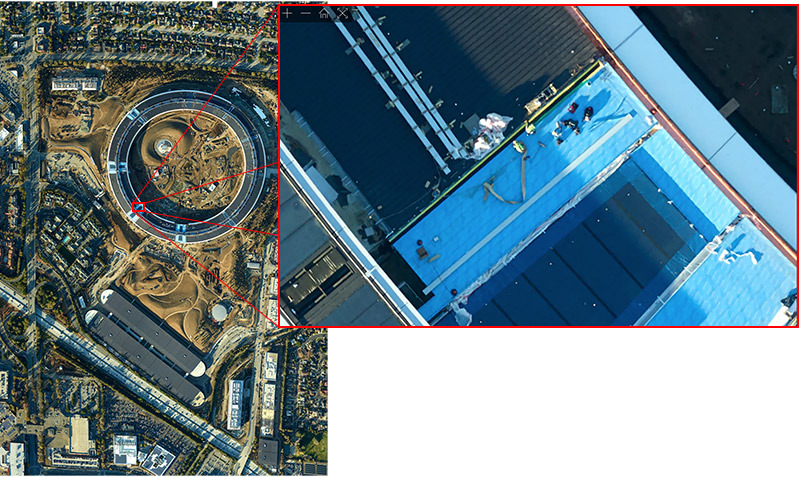 Apple's Campus 2 project in Cupertino, Calif., is one of the most photographed construction sites in the world thanks to a steady stream of looky-loos and drone fly-bys. A newly published 1.7-gigapixel image from aerial camera platform specialists SkyIMD, however, offers a uniquely detailed look at the build progress.
Posted to SkyIMD's website, the data-rich bird's-eye view is actually a composite of about 380 photos captured by the 100 megapixel Phase One iXU RS1000, an industrial medium format camera system designed for aerial imagery.
According to SkyIMD, the hundreds of shots were snapped aboard a Cessna aircraft flying some 2,000 feet over Campus 2 for 30 minutes on Dec. 22. With a 90mm lens fitted to the Phase One body, the firm was able to achieve an impressive ground sample distance of 3 cm/pixel, good enough to perceive workers and even their tools.
The mosaic was stitched together using Photoshop and is largely unedited. A few misalignments and visual artifacts are apparent, especially noticeable near closely aligned geometric shapes like the "spaceship" structure's solar panels, but the overall result is impressive.
SkyIMD has the full resolution 34,111-by-49,487 pixel image available in an interactive viewer on its site. Users can zoom in from an area covering approximately one half of a square mile to roughly 10,000 square feet.
The image comes just days after the latest Campus 2 drone footage arrived earlier this week, which showed construction of the main building, auditorium and secondary office buildings as nearly complete. Workers are now moving on to landscaping and putting the finishing touches on building exteriors.