Kanex announces Thunderbolt 3 dock, eSATA adapter & cables for Apple's new MacBook Pro with USB-C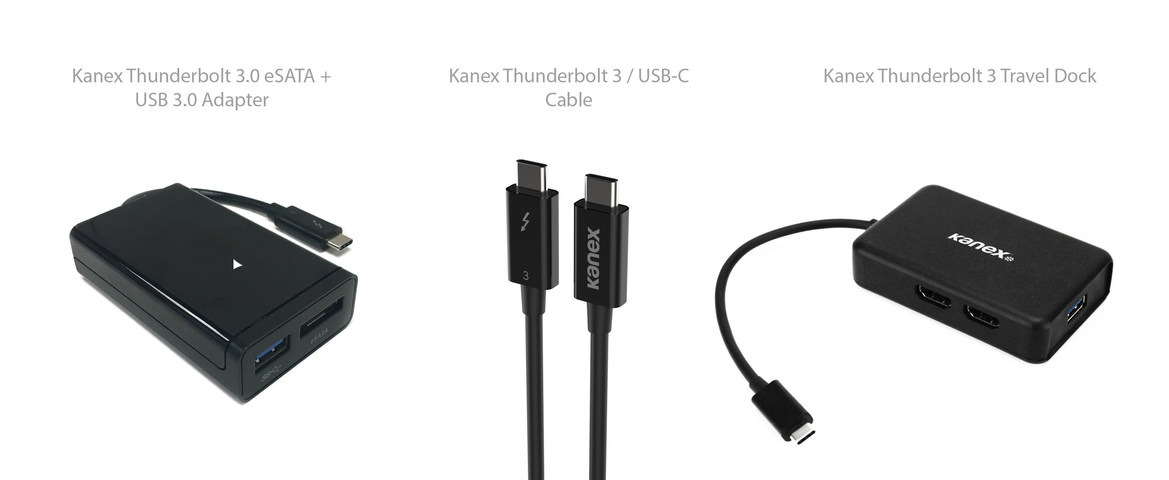 Accessory maker Kanex on Monday announced a trio of new Thunderbolt 3-based products designed with Apple's new MacBook Pro lineup in mind, headlined by a $150 travel dock boasting HDMI, USB, Ethernet, and USB-C ports.
Kanex's $149.95 Thunderbolt 3 Travel Dock for MacBook Pro boasts 2 HDMI ports, one full-size USB port, a gigabit Ethernet port, and one USB-C port. It allows users the ability to connect four devices to their MacBook Pro and power it through a single Thunderbolt cable.
The dock also supports dual 4K video output simultaneously and each at 60 frames per second from both HDMI ports.
In addition, Kanex also unveiled a new $129.95 Thunderbolt 3.0 to eSATA 3 + USB 3.0 adapter. Also compatible with Apple's new MacBook Pro and its USB-C connectors, the adapter allows users to connect an external eSATA device with plug and play support.
Both the eSATA and USB ports are backwards compatible with legacy peripherals. No external power is needed when using the adapter.
Kanex expects both the Thunderbolt 3 Travel Dock and Thunderbolt 3 to eSATA Adapter to be available this April.
Finally, Kanex will also be launching new Thunderbolt 3 USB-C cables, providing up to 40Gbps throughput — Â eight times faster than SuperSpeed USB 3.0. The cables also provide 100 watts of charging for laptops and notebooks, including the new MacBook Pros, and 15 watts to bus-powered devices.
The cables are now available to order from Kanex, priced at $29.95 for a 1.6-foot cord, or $69.95 for 6.6 feet.
At this week's Consumer Electronics Show in Las Vegas, Kanex is also showcasing a number of new Apple Watch charging accessories, including an ultraportable charger small enough to be carried comfortably on a keyring. Kanex also plans to launch a self-contained charging stand and a display and charge dock under its GoPower Watch brand lineup.
AppleInsider has affiliate partnerships and may earn commission on products purchased through affiliate links. These partnerships do not influence our editorial content.