Kevin Hart brings the funny to Apple Watch Nike+ ad series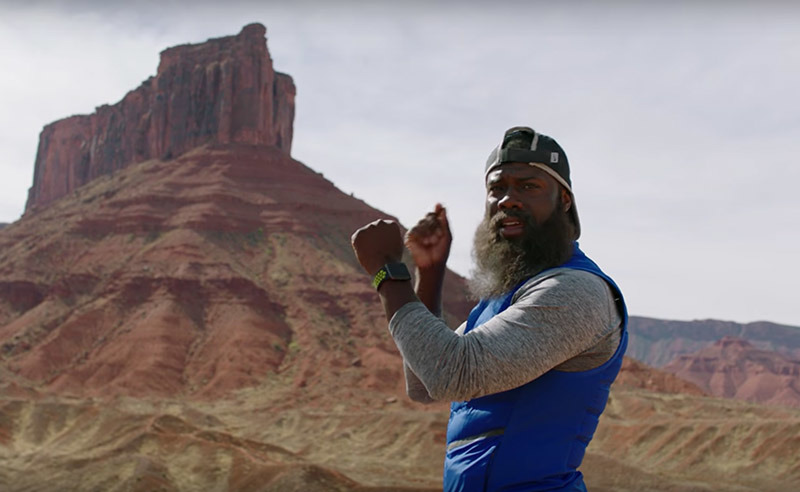 Nike on Tuesday debuted a TV commercial series featuring comedian Kevin Hart as pitchman for the company's latest collaboration with Apple: the Apple Watch Nike+ smartwatch.
Titled "The Man Who Kept Running," the ad series posted to Nike's YouTube channel ranges from a full-length introductory clip to six short 38-second spots, all of which feature Hart's trademark humor.
Taking on a faux documentary style, the first commercial is set in October and opens with Hart revealing the new Apple Watch Nike+ smartwatch. A message pops up onscreen saying Hart disappeared the next day, setting the stage for a series of funny clips.
We next see Hart, heavily bearded at this point, after he has been running aimlessly over 700 miles through the backwoods of America. The comedian transformed into a sun-baked desert oracle, living off the land, talking to inanimate objects and offering up kernels of training wisdom to local wildlife.
"I've been living out here for months, but my spirit has been out here forever," Hart says. "See, running used to be hard for me, but then things changed when I woke up and started to hear this little voice in my head. It was same question every day, 'Are we running today.' Every day. So you know what I started to do? I started to answer that question."
Hart is referring to a feature unique to Apple Watch Nike+ that motivates wearers to run every day.
Subsequent clips show off additional Apple Watch Nike+ functions, also available on other Apple Watch Series 2 devices through the Nike+ Run Club app, like GPS run tracking, in-app communication and features that facilitate friendly competition with other runners.
Apple announced Apple Watch Nike+ alongside Apple Watch Series 2 in September, and launched the device in late October. With hardware specifications identical to those of Apple's Series 2 hardware, the Nike+ edition comes with a unique perforated sport band, custom watch faces and special Siri commands tailored to athletes.