Apple to reveal fiscal Q1 2017 results on Jan. 31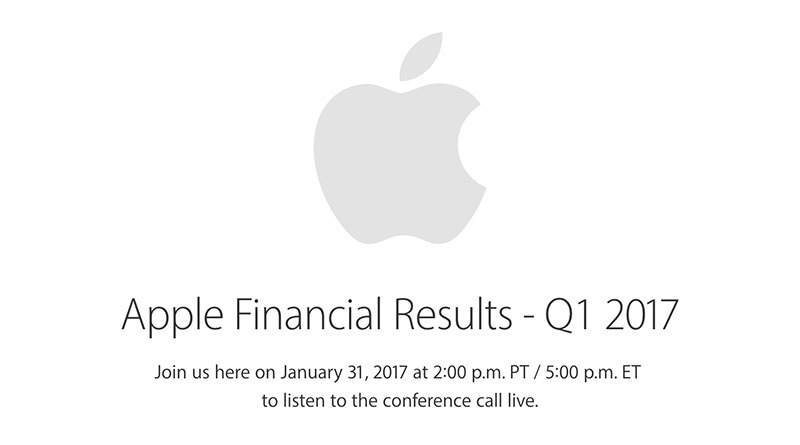 Apple on Wednesday announced it will on Jan. 31 report quarterly earnings for the first fiscal quarter of 2017, revealing performance metrics for the new iPhone 7 series and the lucrative holiday shopping season.
Announced through the company's Investor Relations webpage, the upcoming results will be followed by a conference call live stream set to take place on Tuesday, Jan. 31 at 2 p.m. Pacific, 5 p.m. Eastern. Apple CEO Tim Cook and CFO Luca Maestri are expected to take part in the conference call.
For its first fiscal quarter, Apple is looking build on last quarter's Wall Street beat with new iPhone 7 handset sales and a growing services business. During the most recent quarter, Apple posted $9 billion in net income on revenues of $46.9 billion, a large portion of which was generated by 45.5 million iPhone sales.
The company is slowly rebuilding from a first ever iPhone sales contraction that punctuated a dismal second fiscal quarter last year. In the ensuing months, Apple leaned on revenues from its services sector, which includes Apple Music, iCloud, iTunes and the various App Stores, as well as unexpectedly strong demand for the 4-inch iPhone SE. Interestingly, iPad helped make up for a portion of lost iPhone growth after suffering a slow decay over the past couple years.
Apple is guiding for all-time record revenues between $76 billion and $78 billion, and gross margin between 38 percent and 38.5 percent for the first quarter of 2017. Operating expenses are expected to fall between $6.9 billion and $7 billion, with other income of $400 million. The company expects a tax rate of 26 percent.
AppleInsider will be covering Apple's conference call for the first fiscal quarter of 2017 live on Tuesday, Jan. 31, starting at 2 p.m. Pacific, 5 p.m. Eastern.