Report claims Apple Music pays more to record labels in royalties per stream than Spotify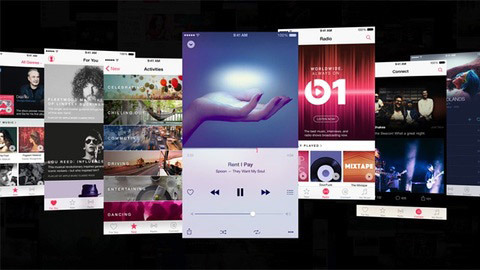 Record labels are getting a better deal on streaming music royalties with Apple than major rival Spotify, according to a report, with Apple Music streaming rates claimed to be nearly double what is paid out by its main competition.
Research published by artist rights blog The Trichordist advises Apple paid out an average of $0.00735 per song stream in 2016, compared to Spotify's $0.00437 per stream figure.
Spotify's figures for 2016 are in fact down from a similar report issued in 2014, when it paid out a more generous average per-stream rate of $0.00521, a two-year drop of 16 percent.
The data is sourced from an unnamed "indie label" with a music catalog of approximately 150 albums available to stream. It is claimed the sample is made up of over 115 million streams across all services, with all royalties calculated at a gross rate before distribution fees are removed.
Apple Music is considered to be in a "sweet spot" on the chart because of its streaming rate, providing 13.35 percent of all streaming revenue in the sample with 7.18 percent of the streaming quantity total. By comparison, Spotify generated 69.57 percent of the revenue from 62.97 percent of streams in the measured period.
Spotify's low revenue figure might be attractive to potential investors awaiting the music service's IPO, thought to take place sometime this year, but record labels and artists would rather the royalty rate increase closer to its rivals. An increase in royalties will put extra pressure on the company's finances, which has seen the company endure yearly net losses, as well as weakening the IPO.
Apple's recommendation to the Copyright Royalty Board to adopt a flat royalty rate may add additional pressure to Spotify, if ratified. A flat royalty per stream could make Spotify's advertising-supported free tier too expensive to sustain, even if supported by revenues generated from subscribed users.
Google's two services, Google Play Music and YouTube, take the third and fourth places on the chart when ordered by revenue share. Google Play Music offers an average streaming rate closer to Apple Music, at $0.00676 per stream, generating 4.03 percent of measured revenue from 2.36 percent of streams.
YouTube is shown to be one of the most inefficient streaming revenue sources on record, generating 3.81 percent of revenues from a high 21.7 percent of streams due toan extremely low $0.00069 average revenue rate per stream. The video streaming site appears in the list due to it having a licensed subscription service called YouTube Red, but it is unclear if advertising-supported videos from non-subscribers are included in the figures or just subscribed users.
The report notes the top ten streaming services account for 97.82 percent of all streams, and generates 99 percent of overall revenues. Other services listed in the top ten include Deezer, Rhapsody, Xbox Music, Amazon, Tidal, and Telecom Italia.