T-Mobile calls DirecTV Now 'barely watchable,' offers switchers from AT&T a free year of Hulu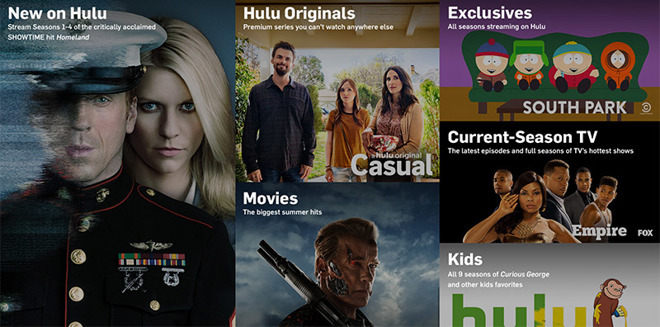 T-Mobile taking advantage of the issues surrounding AT&T's DirecTV Now, by changing a promotion that offered new customers migrating from AT&T a year's DirecTV Now subscription to include a free year of Hulu.
Shortly after the launch of DirecTV Now, T-Mobile tried to tempt AT&T subscribers to its network by offering a free year of the new Internet TV service, if they switched carrier to T-Mobile. In light of the numerous problems DirecTV Now subscribers are experiencing, customers who changed over as part of the promotion are now being provided with a year of Hulu, as well as the DirecTV Now service.
Qualifying switchers will receive a notification from T-Mobile over the next few weeks, containing a unique code for a year of Hulu's Limited Commercials service. Both DirecTV Now and Hulu are covered by T-Mobile's Binge On offer, zero-rating streams so they do not count against any data allowances, though both services will typically stream at a low 480p resolution on T-Mobile's network due to throttling.
DirecTV Now users have complained about issues with the service since its launch, ranging from "Error 60" messages incorrectly suggesting too many video streams are in use on the account, stream interruptions during peak times, and being randomly signed out from apps. T-Mobile is using the complaints as an opportunity to attack AT&T as part of the Hulu announcement.
"It turns out DirecTV Now is barely watchable, but we've got our customer's backs," declared T-Mobile CEO and president John Legere, suggesting customers will enjoy using Hulu on the carrier's "faster, more advanced" network. "Even I can't believe AT&T spent $67 billion on DirecTV and still couldn't roll out a streaming service that worked!"
As part of the DirecTV Now launch, AT&T offered users a free fourth-generation Apple TV if customers paid for three months of the service in advance, as well as introductory price plan discounts. Despite the issues, AT&T reports it managed to exceed 200,000 paid subscribers within the first month of DirecTV Now's availability.