Apple weighing legal action against Trump immigration ban, to match employee donations to refugee relief funds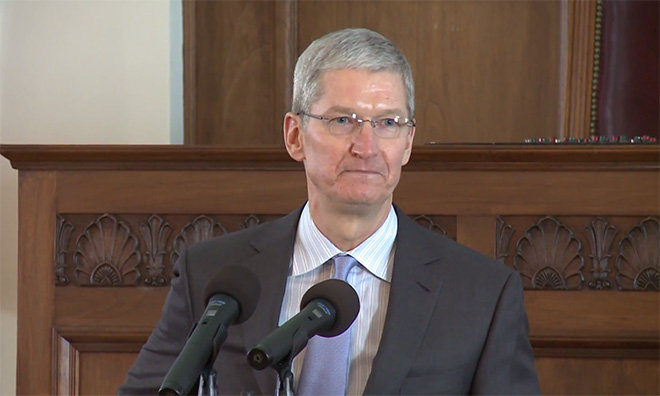 AppleInsider may earn an affiliate commission on purchases made through links on our site.
Apple CEO Tim Cook said his company is mulling legal options in light of President Donald Trump's recent executive order on immigration, while he personally puts pressure on "very, very senior people in the White House" to repeal the policy.
Speaking briefly with The Wall Street Journal on Tuesday, Cook elaborated on comments made in a letter to employees this weekend regarding the travel restrictions. Echoing the memo, Cook said hundreds of Apple workers have already been impacted by Trump's order to temporarily block citizens of Muslim-majority countries Iran, Iraq, Libya, Somalia, Sudan, Syria and Yemen from entering the U.S.
"More than any country in the world, this country is strong because of our immigrant background and our capacity and ability as people to welcome people from all kinds of backgrounds. That's what makes us special," Cook said. "We ought to pause and really think deeply through that."
In his letter, Cook went further, saying Trump's order is not a policy Apple supports.
Cook was part of a cadre of technology industry leaders who over the weekend publicly contested the new immigration policy. Executives from Facebook, Google, Lyft, Netflix, Uber and Twitter all spoke out against the travel restrictions. Google employees went so far as to stage a protest on Monday, a gathering that drew more than 2,000 people including CEO Sundar Pichai and cofounder Sergey Brin.
Apple employees are also making quiet contributions and have increased donations to refugee relief funds, which the company plans to match on a 2-to-1 basis, Cook said.
Beyond peaceful dissent, Amazon, Expedia and Microsoft are backing a Washington state attorney general who is suing Trump to stop further enforcement of the ban.
Apple has not yet decided whether to follow suit with its own legal option. Cook declined to comment on the matter, telling the WSJ that "we want to be constructive and productive." He did, however, share "heart-wrenching" stories about how the order is affecting Apple employees.
"These are people that have friends and family. They're co-workers. They're taxpayers. They're key parts of the community," Cook said.