Shielded LG UltraFine 5K displays headed to Apple stores, fixes done on case-by-case basis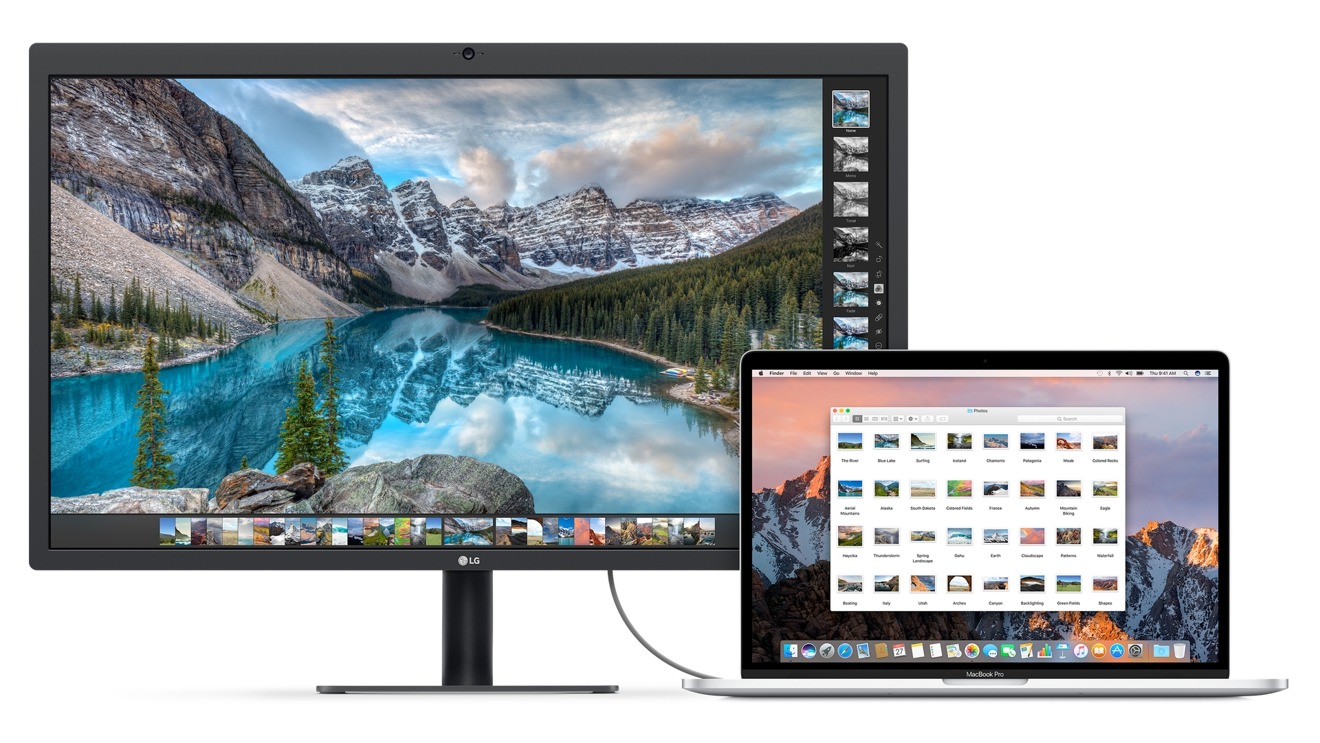 Thunderbolt 3 LG UltraFine 5K displays boasting enhanced shielding to prevent radio frequency interference disconnects and crashing are working their way to retailers now, and problematic units in the field will be assessed for service and shielding addition on a case by case basis, AppleInsider has learned.
When wide availability of the LG UltraFine 5K displays with the added RF shielding will occur isn't known. However, despite LG claiming that monitors with enhanced shielding will be in the market "after February 2017," AppleInsider has learned through multiple sources that units are being shipped to vendors now, with some venues having them in hand already.
The process for repair or replacement of a troublesome monitor currently in-use is still not yet clear. AppleInsider has also learned that units will be evaluated for shielding retrofit on a case-by-case basis with guidelines for service not yet fully established.
The shielding upgrade will likely be accomplished the same way that LG monitors are serviced now — by shipping them to a LG repair facility, with a historical down-time of between 4 and 12 business days inclusive of shipping times.
It was discovered that some LG UltraFine 5K displays suffer from frequent disconnects when in close proximity to a Wi-Fi router. The flaw does not affect all of the LG monitors in every environment, with more in-depth testing by AppleInsider continuing.
LG has urged customers that are afflicted by the disconnect problem even after moving Wi-Fi gear 6.6 feet away from the display to contact LG service for assistance.
During the course of AppleInsider's UltraFine 5K review, for example, the evaluation unit was tested in a suburban environment within three feet of two different operating 802.11ac routers, without any problems. The same unit is now being used in a city without close proximity to a Wi-Fi router, and is having connectivity issues manifesting from an unknown source.
The LG UltraFine 5K Display is considered a replacement for Apple's discontinued Thunderbolt Display, offering a 5,120-by-2,880 resolution, a P3 wide color gamut, and the ability to charge a MacBook Pro using the same Thunderbolt 3 cable used for video and data transfer. The monitor is on sale from Apple directly for $974, a discount of 25 percent from the usual $1,299.95 price.