LG UltraFine 5K Display shipments slip to 5 to 6 weeks as company updates hardware shielding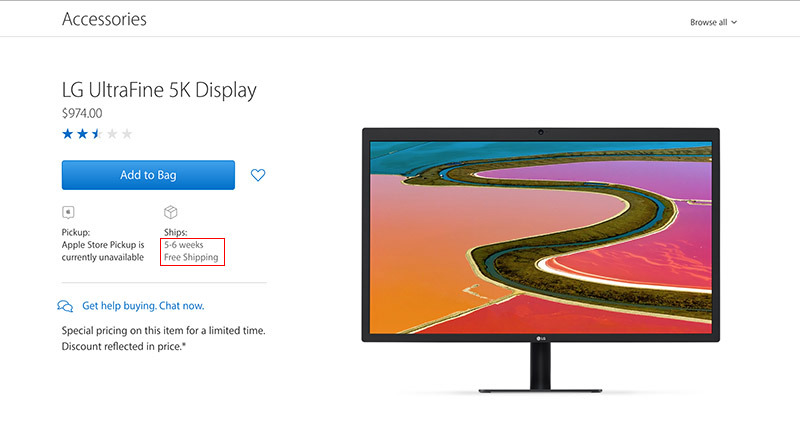 Shipping estimates for LG's UltraFine 5K Display, sold exclusively through Apple's retail network, have slipped to over a month as the Korean company issues updated hardware with better RF shielding.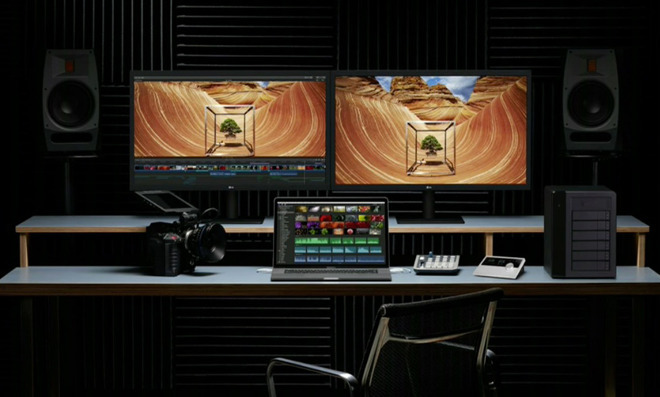 Spotted by AppleInsider reader Matthew, Apple's online storefront is now listing LG UltraFine 5K Display availability at 5 to 6 weeks, with the monitor currently unavailable for pickup from many brick-and-mortar locations.
Though Apple has not made an official statement regarding the latest delay, UltraFine shipment times have been slipping since LG began retrofitting its hardware with better shielding earlier this week. The new hold up is believed to be related to those upgrades.
In late January, less than one month after LG's UltraFine 5K shipped out to early buyers, customers began to report frequent disconnections when using the monitor near certain Wi-Fi routers. After evaluating affected units, LG earlier this month narrowed the issue down to radio frequency interference and promised to include enhanced shielding in all models manufactured after February 2017.
Subsequent testing performed by AppleInsider sources revealed the shielding fix is indeed effective, as evaluators were unable to reproduce the reported disconnect problems.
Updated versions of the display with shielding pre-installed started to arrive at Apple stores this week, but supplies were initially constrained.
As for UltraFine 5K models already in circulation, customers experiencing issues will have to contact LG directly for a retrofit or replacement. Servicing is being handled on a case-by-case basis.
Introduced at Apple's MacBook Pro event last year, LG's UltraFine 5K Display is considered a replacement for the discontinued Thunderbolt Display. With a 5,120-by-2,880 resolution, P3 wide color gamut support and the ability to charge a MacBook Pro using the same Thunderbolt 3 cable used for video and data transfer, the display is the perfect accompaniment to Apple's laptop series.
The display went up for sale at an original price of $1,299.95, but is now being sold for $974 after Apple instituted a 25 percent "limited time" discount in November.