Apple patents screen tech capable of reading fingerprints without dedicated sensor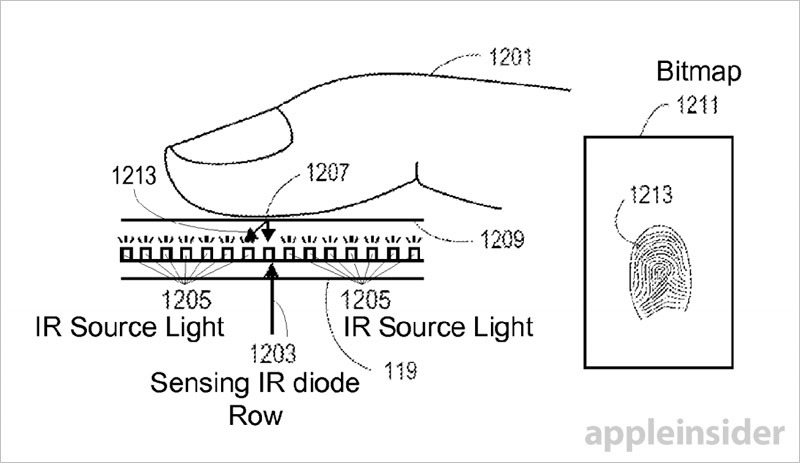 An Apple patent grant on Tuesday suggests the company is looking to leverage its LuxVue acquisition to integrate display technology capable of reading a user's fingerprint without a dedicated sensor, a design feature rumored to see release with "iPhone 8."
As published by the U.S. Patent and Trademark Office on Tuesday, Apple's U.S. Patent No. 9,570,002 for an "Interactive display panel with IR diodes" details a touch display that incorporates micro-LED sensing technology instead of the ubiquitous active matrix hardware seen on most mobile devices.
The IP was reassigned to Apple last April from LuxVue, a small company specializing in highly efficient micro-LED displays and associated technology. Apple purchased the firm for an undisclosed sum in 2014.
Among other facets, including the ability to completely replace bulky capacitive sensor components with strategically placed infrared light emitters and sensors, today's patent lays out a design for incorporating touch panels and fingerprint sensors using largely similar hardware. Interestingly, some embodiments jibe with rumors surrounding a rumored "iPhone 8" with full-face display, specifically rumblings about an "invisible" home button and Touch ID sensor.
Apple's current fingerprint sensing technology requires a capacitive drive ring to be in contact with a user's finger during operation. To create a completely clean display surface, as hinted at in multiple iPhone rumors, the company would need to fully integrate, or more likely remove, said drive ring from the fcover glass.
It is possible that Apple is looking to ditch Touch ID altogether as it moves to a new, more advanced system. For example, a touchscreen capable of acting as an input device and fingerprint scanner would save space and grant greater design flexibility. Finding a working technology, however, is difficult, as fingerprint sensor readings need to be highly accurate, much more so than a traditional touchscreen.
LuxVue believes it solved the puzzle, or is at least on its way to doing so. According to the patent, micro-LEDs can be used as a surrogate for standard capacitive touch arrays. Specifically, separate IR emitting and sensing diodes connect to driving and selection circuitry to create a subpixel circuit. Due to their small size, these IR diodes can be embedded into a display substrate alongside RGB LEDs or on a microchip mounted to said substrate.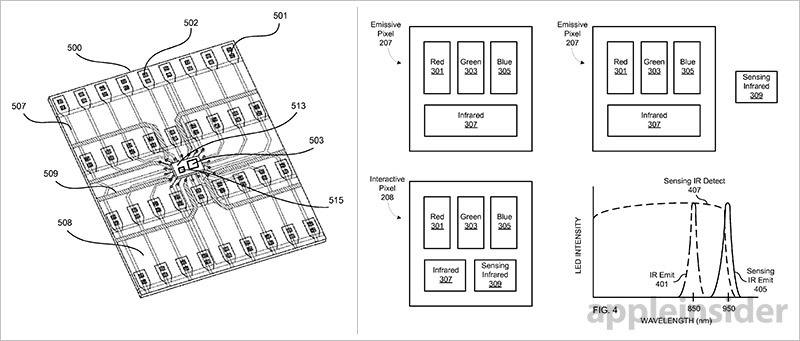 Dubbed "interactive pixels," the subpixel arrangement could incorporate red, green, blue, IR emitting and IR sensing LEDs (RGBIRSIR), as well as other color arrays, in an extremely high resolution panel. In some embodiments, the system can be calibrated to perform any number of operations based on sensing component input. For example, the circuit might act as a traditional ambient light sensor to brighten or dim displays, or perform proximity detection tasks to shut off touch input during phone calls.
More advanced features like touch detection and determining the surface profile of a target (fingerprint recognition) are also outlined. Germane to rumors of Apple's rumored iPhone, these latter embodiments operate by bouncing IR light off of a user's finger and back to sensing diodes.
During operation, rows, or in some cases dedicated areas, of a display containing interactive pixels scan for a user's finger. When an object comes within sufficient proximity for sensing, a bitmap is generated to inform the system of proximate positioning data.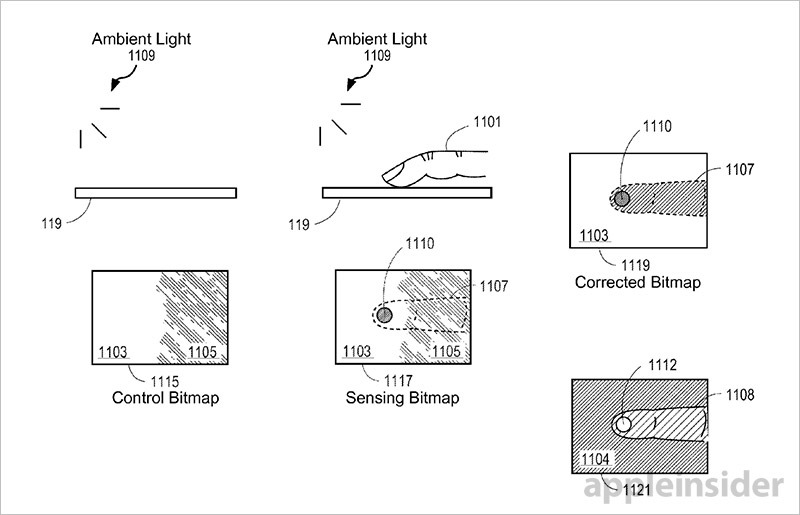 In some cases, bitmaps can include information about the intensity of incoming light, allowing deeper analysis of the object and its surface. For example, by examining dark and bright spots of the bitmap a sample system can detect corresponding ridges and grooves in a user's fingerprint.
Addressing the issue of security, the patent notes certain areas of the display might include sections that have a higher density of interactive pixels and supporting chips. Additional emitting and sensing circuits means greater pixel densities, which in turn translates into more accurate fingerprint readings.
Alternatively, the proposed screen might contain a sufficient number of interactive pixels to turn the entire surface into a fingerprint reader.
Other embodiments note the use of IR light allows sensing components to remain active even when it appears as though the screen is off, beneficial in saving power and operating the device in low-light environments.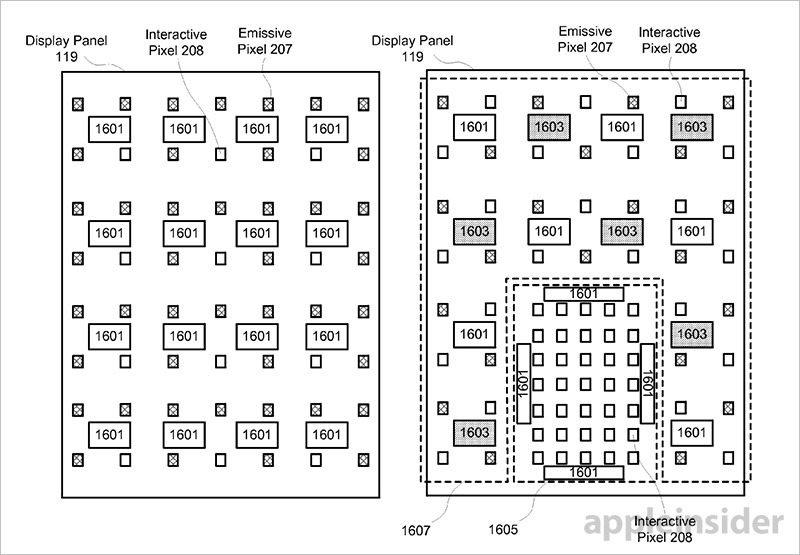 Whether Apple intends to bring the micro-LED technology to iPhone or another future product remains unknown. The company is widely rumored to launch an "iPhone 8" model this year with an edge-to-edge display. Such a design would require the company to move, hide or delete features incorporated into its contemporary handsets, including proximity and ambient light sensors, and the Touch ID fingerprint module.
Apple's micro-LED touchscreen and fingerprint reader patent was first filed for in June 2014 and credits Kapil V. Sakariya and Tore Nauta as its inventors.