Pioneer debuts Rayz 'smart' Lightning earphones with talk and charge, six mics for noise cancelling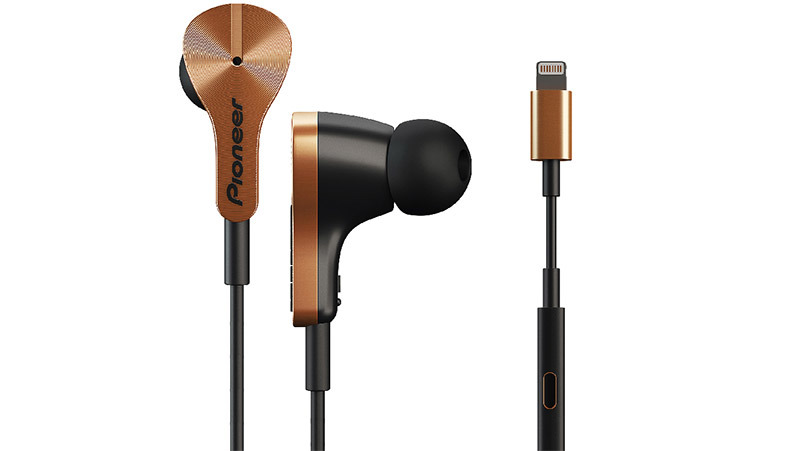 Audio solutions specialist Pioneer on Tuesday announced Rayz, a wired earphone that leverages Lightning to power six onboard microphones, sensor-less ear detection and mapping, a dedicated multifunction button and, on one model, a unique in-line charging node.
Available in regular and "Plus" flavors, Rayz is marketed as one of the first earphones to take advantage of Avnera's LightX platform, also announced today, for Apple's second-generation MFi Lightning Audio Module.
With LightX onboard, Rayz features adaptive noise cancellation, or "Smart Noise Cancellation" to Pioneer, that automatically calibrates noise cancelling signals to a user's ear and earphone fit. The SoC and accompanying SDK also allow for highly efficient operation, a major benefit considering many Lightning headphones draw their power from a host iPhone, iPad or iPod touch. Pioneer claims Rayz uses less power than any other Lightning headset.
A number of Rayz features rely on a series of six onboard microphones embedded in the in-line remote and the earphones themselves. For example, the Smart Noise Cancellation feature that comes standard on both models uses patented technology to scan a user's ear to optimize performance. The mics also allow for sensor-less on-ear detection, replacing proximity sensors like those found on AirPods. Like Apple's solution, Rayz automatically pause and restart music when the device is removed and reinserted into a user's ear.
With six mics at its disposal, Rayz is able to incorporate sophisticated voice processing for clear phone calls. In addition, Rayz can tap the mics to let in a small amount of ambient noise with a digital HearThru mode.
Along with standard volume controls, the in-line remote includes a programmable button to access apps and perform other system functions like muting calls. The button, as well as a host of other device features like HearThru, Autopause, voice prompts, Smart Mute and a digital EQ, can be configured with a free iOS app.
Finally, the Rayz Plus model comes with an in-line charging port that lets users listen and talk while charging their iPhone. This latter feature addresses what is for some a major concern regarding Apple's move away from the 3.5mm headphone jack. When Apple introduced the iPhone 7, it ushered in a new era of portable device that lacks the industry standard receptacle, forcing users with wired Lightning headphones to choose between charging and listening.
Pioneer's Rayz is available in Onyx and Ice for $99.95, while the $149.95 Rayz Plus comes in Graphite and Bronze metallic color options. The company says both models will go on sale soon at Onecall.com.