Documents unearthed from early Apple history show shift in company focus from hobbyists to businesses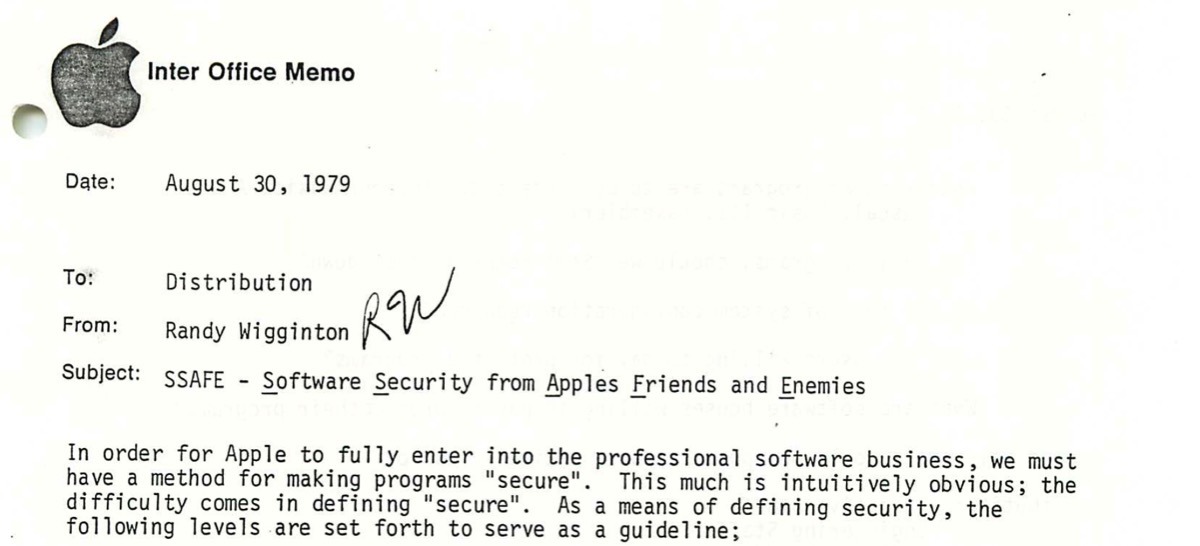 A series of documents discovered at a thrift store in Seattle examines Apple's mindset in the late '70s and early '80s as it shifted from a hobbyist company to one interested in gathering, and retaining business clients for its Apple II series of computers.
Published on Wednesday in a blog titled Applememos, the 116 pages of collected notes and memos details Apple's "SSAFE - Software Security from Apple's Friends and Enemies" initiative, to develop, implement, and ultimately sell copy protection routines for software. The memos, apparently belonging to Apple engineer and section leader Jack MacDonald, span from Jan. 10, 1979 through Jun. 25, 1980.
While apple co-founder Steve Jobs isn't mentioned in the paperwork, co-founder Steve Wozniak is on the distribution list. Early Apple engineer Randy Wiggington features prominently in the correspondence.
Based on the memos, the initiative was launched shortly after the release of Apple DOS 3.2 and the auto-boot capable Apple II plus, and deployed in part in DOS 3.2.1.
The notes cite the need for a protection system to preserve both business investment in hardware and software, as well as a way to continue the earning potential of developers. A hand-scrawled memo suggested that businesses selling software would be interested in paying "a lot!" for a workable system.
Apple apparently initially envisioned a system with several layers of security. Originally, the software prohibited users from using normal file system commands like RUN and CATALOG to duplicate software and diskettes.
Countermeasures were quickly implemented by the user community, with programs like Locksmith and Copy 2 Plus allowing for the protected software to be copied despite Apple's early efforts.
Very shortly after the initial, easily circumventable, security measures were implemented, Apple moved on to examining serial number validation. The measure was mostly dismissed as an Apple-provided solution, calling it "costly and error-prone" needing diskette customization during the mass-manufacture process.
As the debate, and the technology, marched on, Apple considered a "key module" approach, similar to that used for copy protection in the '90s with serial and ADB "dongles" authenticating users.
While the memos overlap the 1980 release of DOS 3.3, it is unclear what advances were made in the routines for future releases.
The routines appear to have remained mostly intact throughout the silent updates of DOS 3.3 through the Apple IIe years. Some routines followed into the Apple III SOS-derived ProDOS system, implemented in 1983, with a final official discontinuation in 1993 — but enthusiasts continue to improve the software.
Throughout the '80s, it mostly remained up to software vendors themselves to implement copy protection schemes. It is unknown exactly how many titles used Apple's protection routines developed for the SSAFE program.
---