Harman debuts first wireless Apple CarPlay integration, launches with BMW 5 Series sedan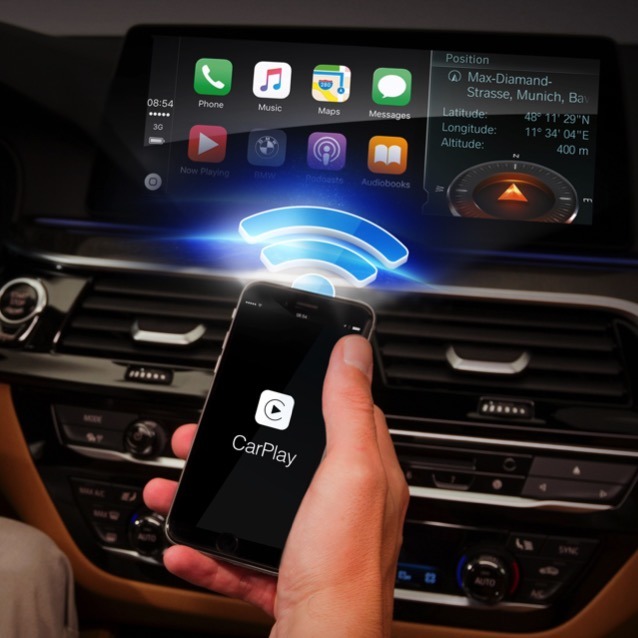 Audio vendor Harman has unveiled a new wireless CarPlay solution for car manufacturers, with the technology first hitting the market as manufacturer-installed gear in the BMW 5 Series Sedan.
Harman is the first manufacturer's system to use CarPlay's wireless implementation with the iPhone connecting through Bluetooth and wi-fi. The new technology allows for simultaneous operation of a vehicle's in-car entertainment and CarPlay navigation while providing calls, music playback, and other features to be controlled through the car's display.
The newBMW 5 Series Sedan comes equipped with technology serving both the driveline and in-cabin creature comforts. Notably, the first shipping iteration of wireless CarPlay is joined by optional assisted driving modes, adaptive cruise control, a heads-up display, and voice and gesture control.
Wireless CarPlay debuted in a beta version of iOS 8 in 2015, with a later arrival as an official feature in iOS 9. Like the original wired CarPlay system, Automakers were slow to adopt the technology, as a whole with a recent spike in adoption.
Wireless CarPlay is also available in after-market solutions.
AppleInsider had a hands-on demonstration with the wireless Alpine iLX-107 receiver during the January Consumer Electronics Show. The Alpine solution uses Bluetooth as a trigger to change over to 5GHz Wi-Fi direct for CarPlay with call audio routed over wi-fi as well. Alpine reports that there is no discernible drain on battery when using CarPlay wirelessly.
Alpine's iLX-107 will launch this February for $900, and is compatible with the iPhone 5 and newer.
Apple's CarPlay is slowly making its way into the mainstream as an increasing number of major manufacturers are include support for the technology. In late January, Subaru said its forthcoming 2018 Legacy will feature CarPlay integration.