As Apple invests heavily in AR, Microsoft plans 'mixed reality' support for Xbox, Windows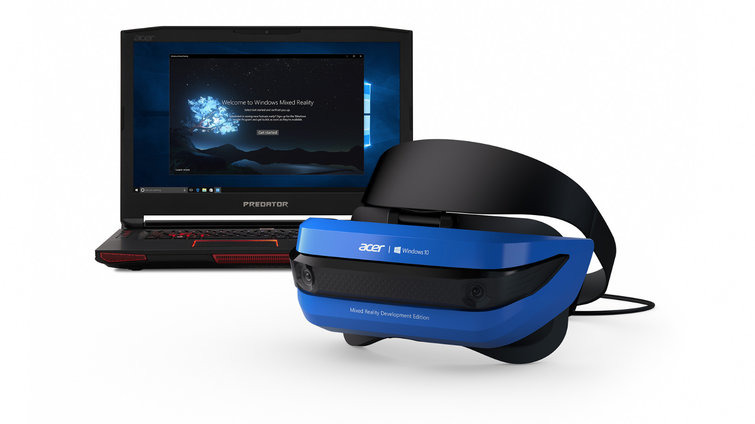 Microsoft apparently sees the same market potential for augmented and virtual reality as Apple CEO Tim Cook, and will include support for "mixed reality" in future Windows and Xbox updates in conjunction with future headsets heralded by the new Mixed Reality Development Edition headset.
Microsoft's mixed reality project as defined during Wednesday's Game Developer's Conference covers both full virtual reality with overlays of information over the "real world," and sounds very much like what Apple's Cook refers to when he speaks of augmented reality.
According to a Microsoft webpage discussing the matter, mixed reality "blends real-world and virtual content into hybrid environments" to release users from flat screens. While a great deal of the marketing material covers entertainment uses for the technology, a "virtual office" is profiled in a video detailing Microsoft's vision.
Microsoft still has its own HoloLens product under development, the Acer Windows Mixed Reality Development Edition headset has a pair of LCDs each running at 1440x1440 resolution with a 90Hz refresh rate, data is provided by a single cable with HDMI 2.0 and USB 3.0, and audio and microphone support with a 3.5mm TRRS jack.
As part of the program, Microsoft will offer Windows Mixed Reality headsets starting at $299, with compatible PCs available for $499 and up. Even with the pair required for work on the platform, the cost of entry is still about $300 less than a comparable Oculus Rift setup.
Microsoft's approach seems to be a hybrid of mobile phone-centric offerings like Google's Cardboard and higher-end solutions like Facebook's legally troubled Oculus project. However, diverging from Cook's apparent view of the future of the technology, Microsoft's does require some form of wearable to access mixed reality content.
Apple's stance seems firm
"The smartphone is for everyone, we don't have to think the iPhone is about a certain demographic, or country or vertical market: it's for everyone. I think AR is that big, it's huge," Cook said in an interview in February. "I get excited because of the things that could be done that could improve a lot of lives. And be entertaining."
"I view AR like I view the silicon here in my iPhone, it's not a product per se, it's a core technology. But there are things to discover before that technology is good enough for the mainstream," added Cook. "I do think there can be a lot of things that really help people out in daily life, real-life things, that's why I get so excited about it."
Apple is quickly growing out its internal AR team through strategic hires and acquisitions including motion capture specialist Faceshift, machine learning and computer vision startup Perceptio, German AR firm Metaio and Flyby Media, among others. Those acquisitions go hand-in-hand with in-house development of transparent displays, iPhone-powered VR rigs, AR maps and other related technologies described in recent patent filings.
In January, Apple was reassigned IP from Metaio for an AR device with advanced point of interest labelling. The pair of transferred patents detail a mobile device capable of detecting its surroundings and displaying generated virtual information to users in real time — very similar to what Microsoft is proposing with its mixed reality ecosystem.
Recent rumors claim Apple is working with optics manufacturer Carl Zeiss on a specialized AR headset that could debut at some point in 2017. Other rumors suggest that that Apple will first integrate AR hardware and software into a future iPhone model before introducing a wearable display.