How to play Mac games with Nintendo Switch Joy-Con and Pro controllers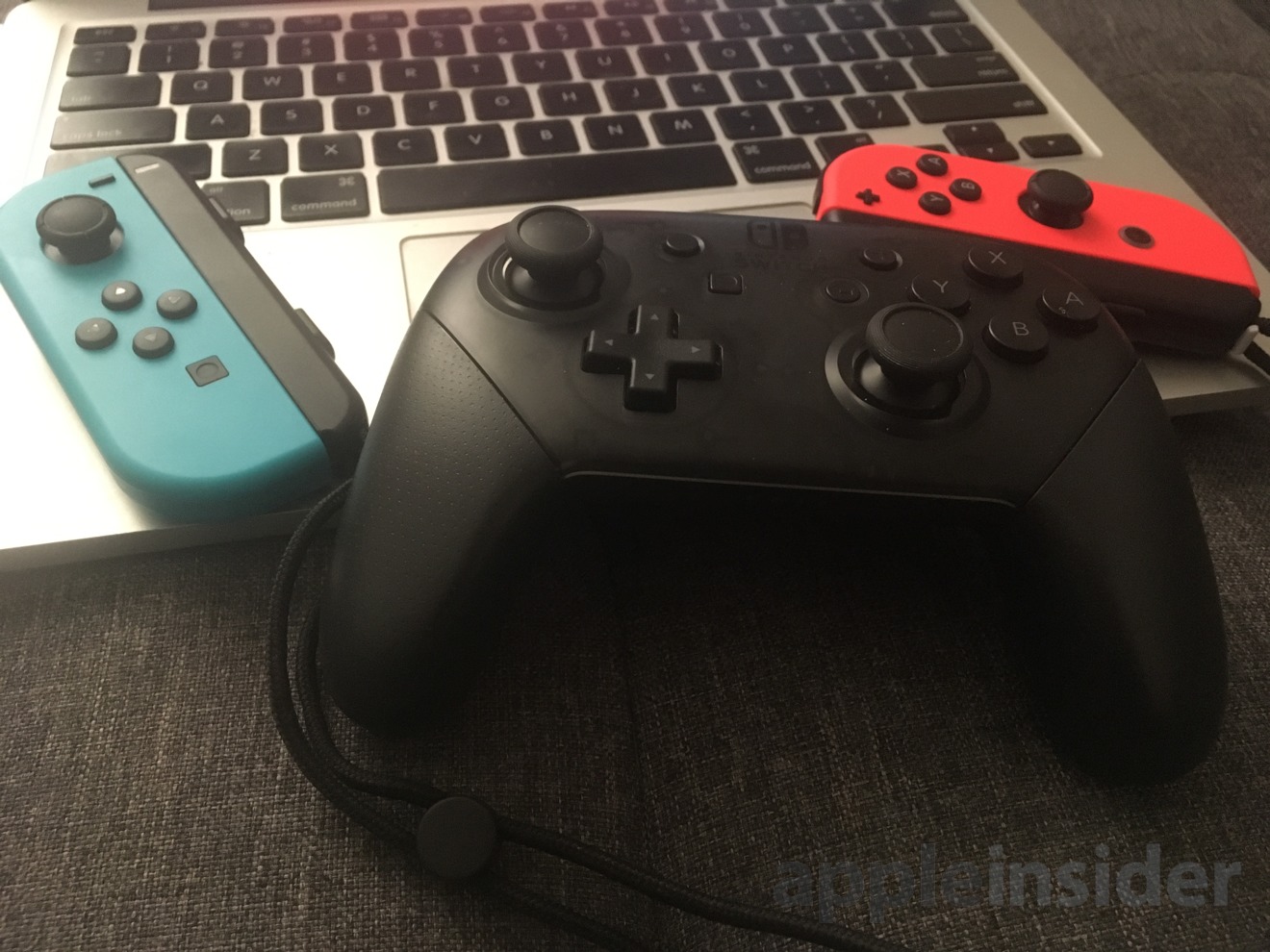 AppleInsider is supported by its audience and may earn commission as an Amazon Associate and affiliate partner on qualifying purchases. These affiliate partnerships do not influence our editorial content.
If you're among the first to buy the new Nintendo Switch game console, there's an added benefit you can easily take advantage of: The system's wireless controllers are fully supported by Apple's macOS.
Both the left and right Joy-Con controllers, as well as the optional "Pro" controller accessory, are all compatible with macOS.
The Pro gamepad is a traditional controller with two joysticks, four face buttons, a D pad, and four shoulder buttons. It charges via USB-C and has a small Bluetooth pairing button next to the charging port atop the controller.
The JoyCon gamepads connect to and detach from the sides of the Nintendo Switch tablet. When separated, they can be secured with a plastic accessory that adds two top buttons, as well as a secure wrist strap.
The Joy-Cons can only connect to macOS as individual controllers. That means that even when attached to the Switch controller dock for a two-joystick experience, macOS does not recognize them as one controller.
While on their own they are diminutive and lacking a second joystick, they do make for formidable miniature controllers, managing to fit a whopping 10 buttons along with the joystick.
Pairing mode for the Joy-Con controllers can be achieved by holding the pairing button located atop the connection groove where the controller snaps into the Switch tablet.

When in pairing mode, you can open the Bluetooth menu on macOS, either from the Bluetooth icon on the system menu bar and choosing Open Bluetooth Preferences, or via System Preferences, then Bluetooth.
All three controllers should simply show up as pair-able accessories once in Bluetooth pairing mode. The Joy-Con controllers are identified as "(L)" and "(R)" models, while the traditional controller is the "Pro Controller."
Unlike macOS, iOS does not have an open Bluetooth specification, and the Nintendo Switch controllers are not Made for iPhone certified, so they will not work with iOS games, nor tvOS.