Microsoft revamps Cortana for iPhone in renewed bid to take on Apple's Siri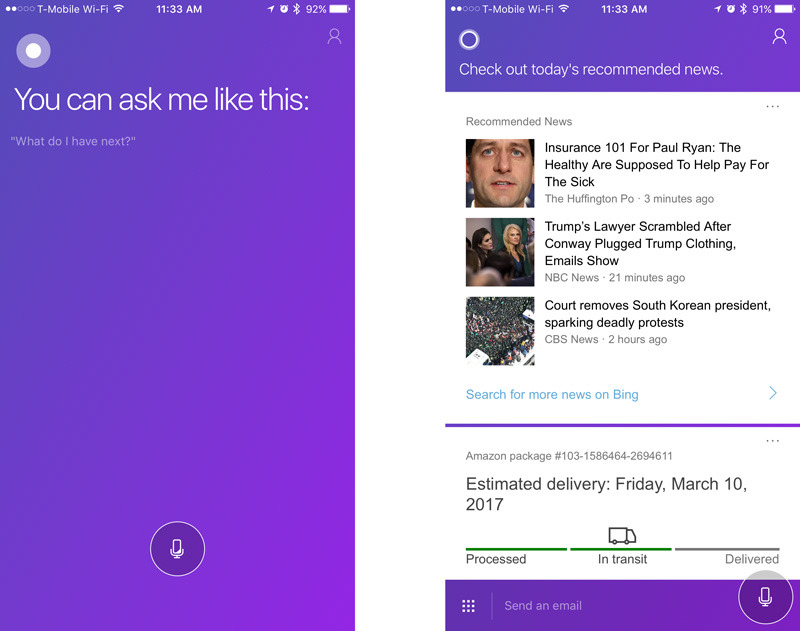 Microsoft on Friday released a promised overhaul of its Cortana iPhone app, simplifying the way the AI assistant works on iOS and making it more practical as an alternative — or complement — to Apple's native Siri.
The refreshed app loads faster, and defaults into listening for voice commands and questions. The homescreen can also display Google Now-style information cards on items like news, weather, traffic, package deliveries, and nearby restaurants.
From most places in the app, tapping an icon in the lower-left will bring up "quick action" buttons for info and commands without speaking. In addition to news and weather, users can set and view alarms and reminders, check and organize meetings, and get help with the app.
Microsoft has in fact redesigned how reminders work, along with the app's calling and texting functions. When asking search questions, the app will now provide full-page answers.
Cortana is likely of less use to most iPhone owners than Siri, since Apple restrictions mean it Cortana can't be triggered outside of the app, and it doesn't hook into many native iOS services. It can however be handy for people who also use a computer with Windows 10, which has Cortana integrated.
Microsoft first promised today's update in December, saying it would rollout to iPhone owners in coming weeks.