Customizable app icons debut with iOS 10.3, MLB and NHL first to market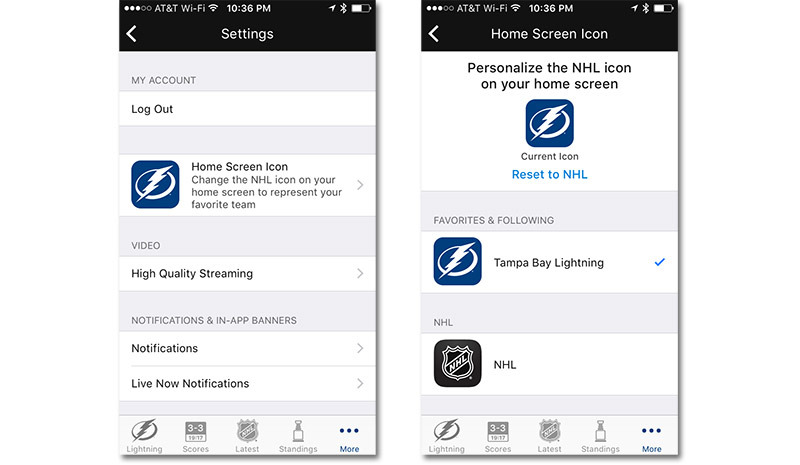 Sporting apps MLB.com at Bat and NHL on Tuesday became the first iOS titles to take advantage of a new iOS 10.3 feature that allows users to change an app's home screen icon after installation.
The feature affords users of MLB.com at Bat and the official NHL an opportunity to replace the apps' respective icons with branded logos of their favorite teams, bringing a new level of personalization to the iOS home screen.
Both developed by MLBAM, the app updates integrate a little-known feature called "user-selectable icons" that rolled out with iOS 10.3 on Monday. In practice, MLB.com at Bat and NHL ask users to select a suitable icon on first startup. Alternative icons can be selected at any time by navigating to in-app settings.
As noted by TechCrunch, Apple requires developers to include customized icons as image files when an app is submitted for review. This means icon personalization is somewhat limited, with developers only able to offer new assets with a full app update.
When the customization feature was first discovered in an iOS 10.3 beta earlier this year, it was speculated that Apple would allow developers to implement dynamically changing home screen icons. While a specific application was unclear at the time, some guessed the technology could lead to home screen assets akin to the original implementation of Glances in the first watchOS.
For example, an app like Dark Sky Weather might change its state from an icon depicting the sun to one showing a cloud to reflect an upcoming change in weather.
Unfortunately, the current iOS implementation of user-selectable icons is largely static, as users must manually change the images from an app prompt or settings menu. Apple in its developer guidelines prohibits apps from changing customizable icons without user request, further noting that any modification must be accompanied by a pop-up confirmation pane.
The document also specifies that said icons should only be used when customization is a "primary feature" of a specific app. As usual, Apple tells developers that alternative icons should meet certain visual continuity standards and must be offered in different sizes to render correctly across various system functions like Spotlight.