Analysts claim True Tone technology will be included in both 'iPhone 7s' and 'iPhone 8'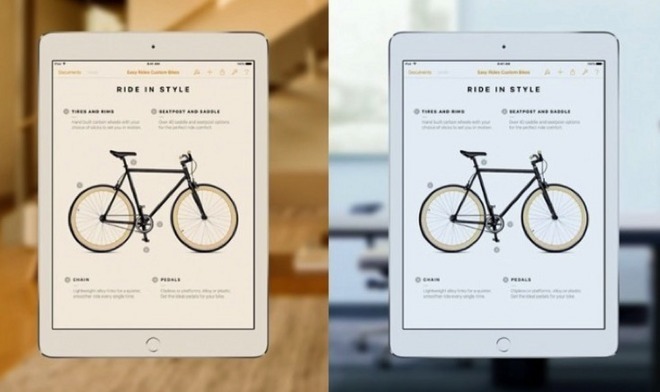 The next generation of iPhones may include True Tone technology, a research note from Barclays analysts claims, suggesting the 'iPhone 7s,' the 'iPhone 7s Plus,' and the 'iPhone 8' will have the same ambient light sensing feature as used on the 9.7-inch iPad Pro.
All three expected iPhones will use a full spectral sensing ambient light sensor to change the color of the screen, the researchers suggest in a note provided to AppleInsider. Sensors will apparently be sourced from AMS of Austria, and will be embedded into the LCD displays of the "iPhone 7s" refresh, and the OLED screen of the "iPhone 8."
True Tone, introduced with the 9.7-inch iPad Pro, alters the color of the display depending on the color and brightness of the light in the surrounding area. While normal ambient light sensors only measure and alter the brightness, True Tone uses sensors that can detect the color of light in the local environment, which is then used to adjust the colors emitted by the display.
When moving between rooms or changing light sources, users typically notice the display of the device they are using change from when they last saw it, such as becoming more blue when moved into a room where orange light is being used, even if the display hasn't changed any settings at all. By monitoring and adjusting for nearby light sources, the True Tone display minimizes this apparent change from being perceived by the user.
So far, Apple has yet to bring True Tone to another device than the 9.7-inch iPad Pro, but it has expressed an interest in using the technology in other displays. There have yet to be any other rumors suggesting True Tone will appear in the next generation of iPhones, but it is still entirely possible for the feature to make an appearance when the smartphones are unveiled later this year.
Expected to arrive in September, the 4.7-inch iPhone 7s and the 5.5-inch iPhone 7s Plus are believed to include the "A11" processor, glass backs, a possible RAM upgrade for the Plus model to 3 gigabytes, and an improved version of Siri.
The higher-specification iPhone 8 is rumored to use a 5.1-inch OLED screen instead of LCD, a curved glass back with a stainless steel chassis, wireless charging, fast charging, and a dual lens camera. A major change for this anniversary model is said to be the removal of the physical Home button, replaced instead by a software version, and with Touch ID embedded within the display instead.