Apple invites employees to 'Close the Rings' in Apple Watch fitness challenge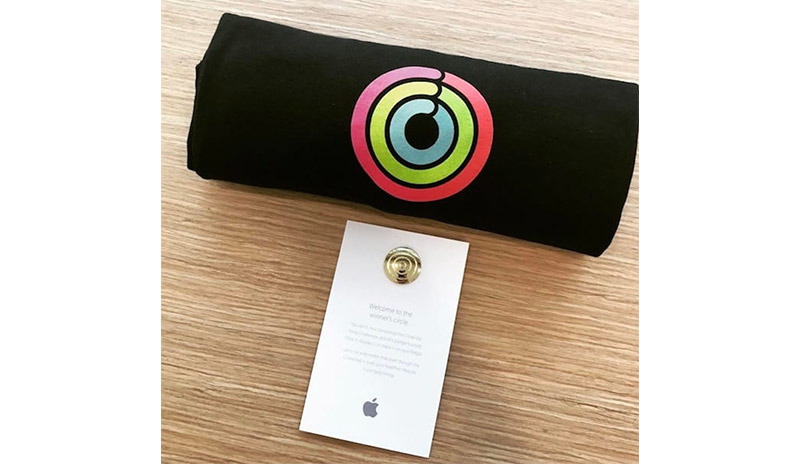 AppleInsider is supported by its audience and may earn commission as an Amazon Associate and affiliate partner on qualifying purchases. These affiliate partnerships do not influence our editorial content.
In what appears to be a corporate health and wellness initiative, Apple in February invited employees to take part in an internal "Close the Rings" challenge that awarded participants with a T-shirt and special achievement pins.
Similar to Apple's Thanksgiving activity challenge, the employee-only event tracked user fitness metrics via Apple Watch during a preset time period. Participants who completed daily stand, movement and exercise goals, or "closed the rings," for each day in February are being awarded special prizes in recognition of their efforts.
Specifically, workers are receiving gold, silver and bronze pins designed to mimic in-app badges available in the Apple Watch Activities app. Apple is also giving away a black tee emblazoned with the familiar red, green and blue Apple Watch activity rings on the front and the words "Close the Rings Challenge 1.0" on the back. The slogan suggests the February event may be the first of many fitness challenges Apple has planned for its workers.
As noted by French language Apple enthusiast website WatchGeneration, a number of Apple employees who received their awards have posted pictures of the package to various social media platforms including Twitter and Instagram.
Sheraz Khan, a Technical Projects Specialist working in London, last week tweeted out a few up close photos of the Apple goodies, revealing a few lines of text that appear on a placard accompanying each reward pin.
Welcome to the winner's circle.
You did it. You completed the Close the Rings Challenge, and this badge is proof. Wear it, display it, or place it on your fridge.
Let it be a reminder that even though the Challenge is over, your healthier lifestyle is just beginning.
According to the report, Apple used a third-party app called Challenges to conduct its "Close the Rings" event. The app, developed by FitNow, compiles and assigns point values to workout data, allowing users to participate in team-based challenges.
Some 40,000 employees took part in the initiative, the report said, though how many shirts and pins Apple passed out is unclear.