Pandora Premium drops invite system, launches wide with iOS & CarPlay support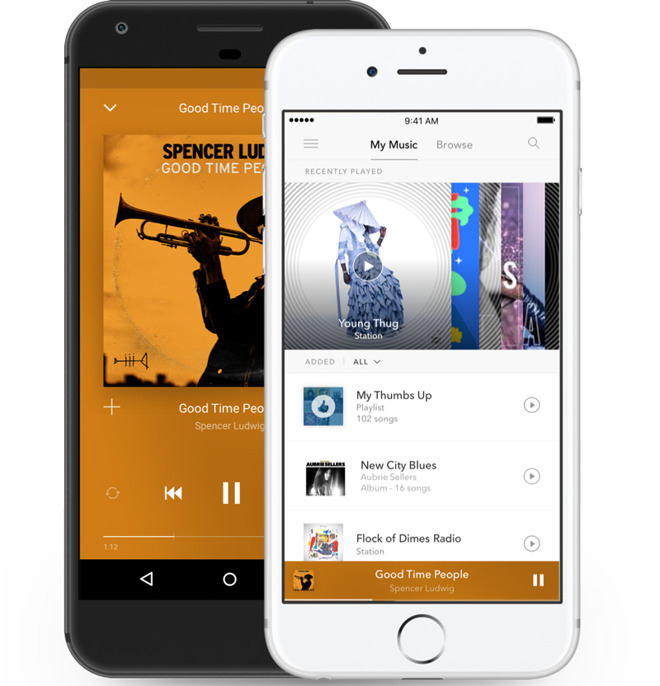 AppleInsider may earn an affiliate commission on purchases made through links on our site.
Pandora Premium — Pandora's on-demand music service, challenging Spotify and Apple Music — moved out of an invite-only phase on Tuesday, launching for the general public including support for Apple's iPhone, iPad, and CarPlay.
The service offers over 40 million tracks, and standard features such as playlists and offline listening. Pandora, though, is placing a heavier emphasis on personalization, for example via a "My Thumbs Up" playlist including every track liked on the company's radio stations.
When building playlists Premium includes an "Add Similar Songs" option, which will automatically populate tracks using just a small sample. Playlists can also be generated using songs from a specific station.
Album recommendations meanwhile are based on listeners' favorite genres, and not just popular titles. Searches will generally ignore covers and karaoke tracks, and should improve in accuracy over time.
A Premium plan costs $9.99 per month, but can be tried free for 60 days. Aside from iOS and CarPlay the service works on Android and Chromecast, and various other car platforms including Android Auto, GM, Honda, Hyundai, Subaru, Pioneer, and JVC/Kenwood.
Faced with competing with Apple and Spotify, Pandora is launching a marketing campaign featuring artists like Gorillaz, Big Sean, Miranda Lambert, Halsey, and Keith Urban. This includes billboards and online ads, curated mixtapes, and things like Snapchat lenses and Twitter emoji.
The company is major player in online streaming with some 81 million listeners, but only about 4.48 million paying customers, and until now no on-demand support. Spotify has over 50 million paid subscribers, more than twice the 20 million Apple quoted in December.
Pandora said that support for desktops and other devices is due in coming months.