Withings Home Plus HomeKit security cam cancelled, likely over Nokia-Apple patent spat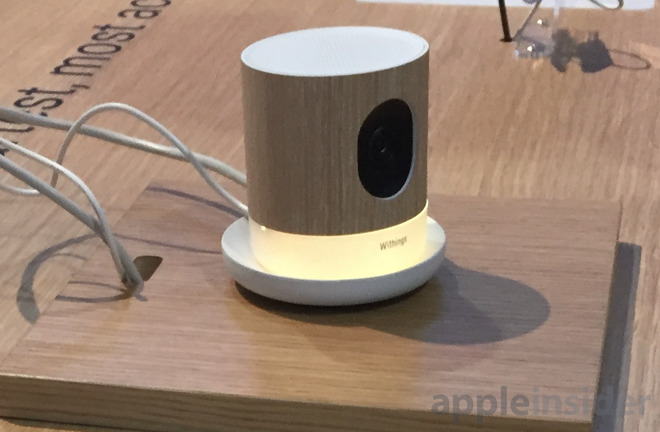 Apparently a casualty of the patent war between Nokia and Apple, the HomeKit-compatible Withings Home Plus video camera announced at the 2017 Consumer Electronics Show will not see the light of day.
"Guided by our evolving business strategy, we will not be releasing Home Plus," Withings customer support told a 9to5Mac reader on Wednesday. "We remain committed to providing Home with software updates and improvements, however, we no longer have plans for HomeKit compatibility."
AppleInsider has confirmed the statement. The product that the Home Plus with HomeKit support was based on remains available.
Equipped with a HD camera with low light recording capabilities, the Home Pluswas intended to be used as both a security camera and a baby monitor. Features included two-way communications hardware, light and music programs, plus air quality monitoring. Notifications can be sent if the camera detects noises and movement, and a two-day event log, continuous video recording option with a 24-hour time lapse function were also available.
HomeKit support was probably the main feature that set the camera apart. Users would have had the ability to create automated actions connected to events generated by the Home Plus, such as turning on lights in a room if an intruder is detected, and to perform a number of actions through Siri.
Originally touted as the first HomeKit camera and expected to ship in the first quarter of 2017, it was beaten to retail by a similar product by D-Link.
AppleInsider spent some time with the camera at CES. The product was found to be fully functional at the show, and worked well with Apple's Home app, signifying that development was at least very near complete.
When the camera was launched, Apple had already stopped selling Withings products in its stores — and still has yet to discuss the mater. Conventional wisdom suggests that the move is in response to the ongoing patent dispute with Withings parent company Nokia.
Apple has in the past has used its retail power as a weapon against other companies that is involved in a legal struggle with. In 2014, Apple struck Bose speakers and headphones from Apple store shelves after the audio device manufacturer sued Beats over noise-cancelling patents. Bose products made a return two months later.