Internal documents reveal first look at Apple's self-driving car platform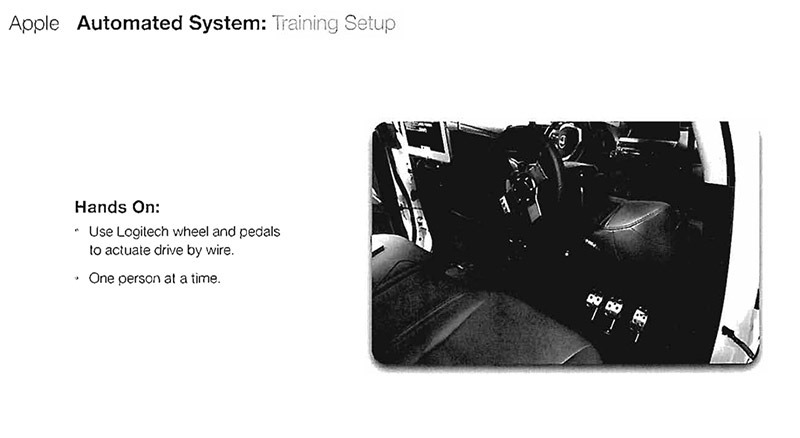 Documents filed as part of Apple's application to test self-driving cars in California were revealed on Friday and offer a first look at the company's autonomous platform, dubbed the "Automated System."
Obtained by Business Insider, the "Development Platform Specific Training" documents contain material designed to train potential safety drivers before they take Apple's autonomous vehicles out on public roads. Drivers must pass basic tests ranging from basic maneuvering to vehicle systems intervention prior to certification, the report says.
Pilots are expected to pass seven rudimentary tests prior to taking the testbed out for data gathering drives. Seen below, tests include maneuvering skills like low speed and high speed driving, as well as drive system intervention, which covers tight U-turns, sudden steering input, sudden acceleration and sudden braking. Drivers also need to take action in the case of a "conflicting turn signal and action," which refers to faulty lane change requests.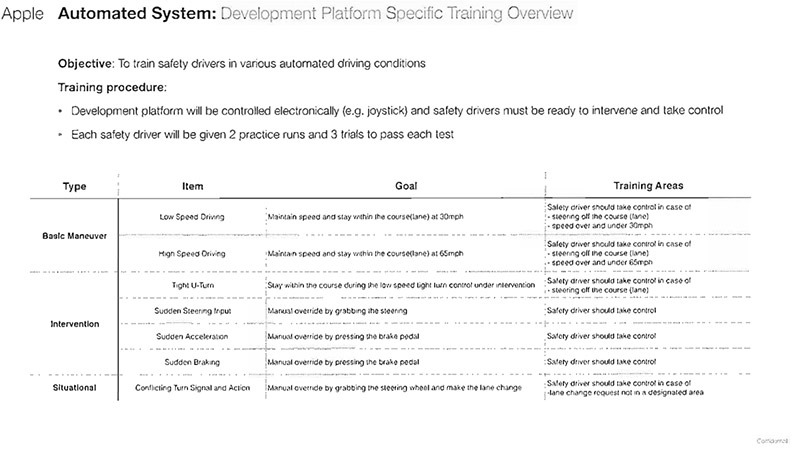 According to one document, when the vehicle is not being controlled by self-driving software, drivers can — literally — take wheel electronically via drive-by-wire technology. An accompanying photo of the cockpit shows a Logitech steering wheel and pedal system jerry-rigged to fit in front of what is presumably a Lexus RX450h's drive controls.
Apple last week was awarded a permit by the California DMV to conduct self-driving car tests on public roads. The granted permit covers three Lexus RX450h SUVs and six safety pilots who, according to today's report, are mostly Ph.Ds with specialization in machine learning. A few of the drivers named in the DMV document previously worked for automotive companies like Bosch and Tesla.
In a document detailing the correct method of performing a tight U-turn, Apple notes pilots can disengage the autonomous driving system by pressing the brake pedal or grabbing the steering wheel. Suitable drivers should also be able to accelerate without overriding the system.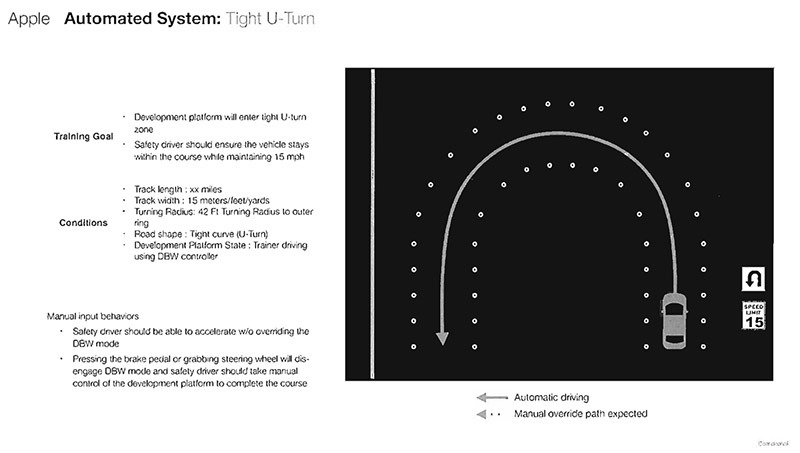 Apple has long been rumored to be working on autonomous vehicle technology under its "Project Titan" initiative. The company reportedly abandoned efforts to create a branded car in late 2016 when former project leader Steve Zadesky left Apple and handed the reins over to senior VP of Hardware Engineering Dan Riccio.
Project Titan was later transferred to longtime executive Bob Mansfield, who subsequently culled hundreds of employees and refocused the program on self-driving software and supporting hardware.