Apple Maps expands into Middle East with Traffic for Saudi Arabia, United Arab Emirates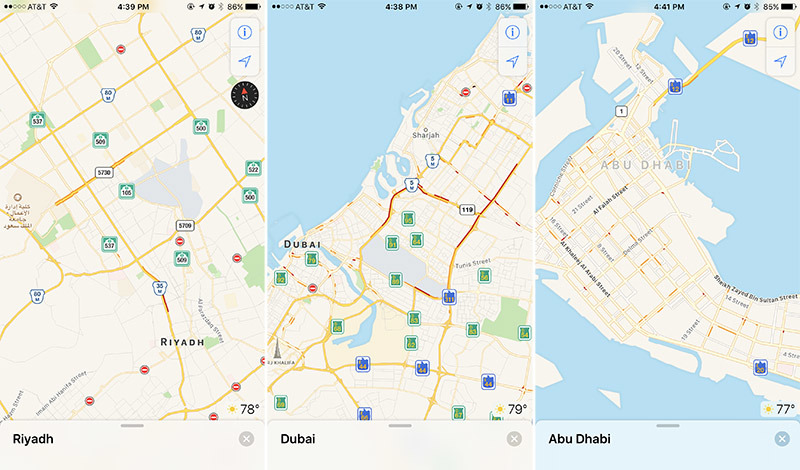 Apple in a recent update to Maps activated Traffic data for two Middle Eastern countries, Saudi Arabia and the United Arab Emirates, though it appears only major metropolitan areas are supported at this time.
Spotted by AppleInsider reader Ram, the latest Apple Maps additions include traffic data for the capitals of Saudi Arabia and the UAE, as well as populated areas like Dubai. Traffic support represents Apple's first expansion of Maps services into the Middle East beyond basic street and point of interest data.
In Saudi Arabia, Maps offers traffic data in provinces like Mecca and large cities including Buraydah, Medina, Mecca, Ta'if and more. The UAE boasts similar support with traffic information covering well populated cities Fujairah and Al Ain, as well as limited data for highways across the country.
With traffic data now live, users in the Middle East territories can be alerted to real-time events such as road closures, though turn-by-turn navigation is not yet supported in either nation. It is possible that Apple is planning to roll out the feature soon, as traffic data alone serves little purpose without directional assets.
The recent additions have not yet been posted to Apple's feature availability webpage.
Earlier today it was reported that Apple flipped the switch on Transit directions for Paris, France, offering users access to public transportation options, timetables, station maps and more. Transit debuted for a handful of worldwide locations in 2015 as part of iOS 9.
Apple continues to build out its in-house mapping tool after years of relying on Google's solution, a strategy that ended in 2012. Seeking ways to differentiate its service from the competition, Apple provides high-resolution aerial photos for 3D Flyover views and partners with data providers to power useful navigation features like real-time traffic and transit information.
The company has incorporated traffic data for cities in over 30 countries spanning Asia, Europe, North and South America, and now the Middle East.