Apple maintains worldwide tablet marketshare lead in Q1, but cedes ground to Samsung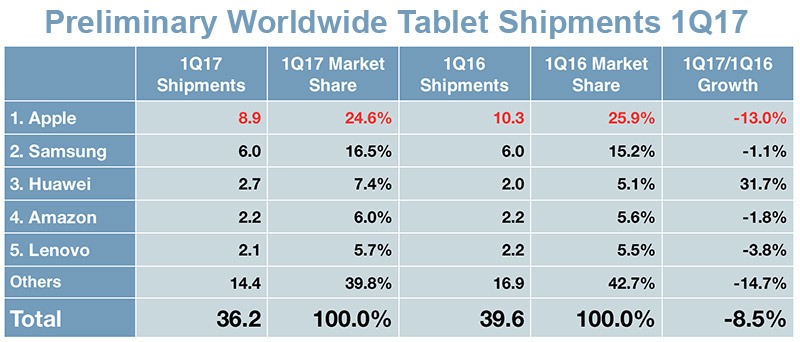 Apple held on as the world's largest tablet vendor during the first calendar quarter of 2017, though 13 straight quarters of decline are starting to take their toll on iPad's marketshare lead.
According to fresh statistics from market analyst IDC, Apple's share of the worldwide tablet market sits at 24.6 percent, down from 25.9 percent in the first quarter of 2016. As noted by Apple on Tuesday, iPad sales hit 8.9 million units for the three-month period ending in March, a figure down 13 percent on a year-over-year basis.
Samsung also felt the pinch of contracting tablet demand with a negative 1.1 percent growth rate on the year. The Korean tech giant shipped 6 million units to take a 16.5 percent share of the market during the first quarter, up from 15.2 percent in 2016.
Chinese upstart Huawei was the only top-five vendor to show growth in the March quarter with shipments of 2.7 million units, good enough for a 7.4 percent stake of the overall market. The finish, driven by the firm's decision to sell both Android and Windows devices, was up 31.7 percent compared to last year.
Amazon and Lenovo round out the list in fourth and fifth place, respectively. Amazon shipped 2.2 million Fire tablets to capture a 6 percent marketshare, while Lenovo managed 2.1 million units for a 5.7 percent share of the market.
Overall tablet shipments declined 8.5 percent to 36.2 million units over quarter one, the tenth straight quarter of declines for the ailing segment.
With iPad down in March, Apple has suffered 13 consecutive quarters of year-over-year sales declines. During the company's earnings conference call this week, CEO Tim Cook said sell-through was ahead of internal expectations, noting U.S. sales were up year-over-year.
Apple is looking for ways to drive iPad upgrades, traditionally a difficult proposition, while at the same time enticing new buyers.
Addressing the entry-level market, Apple launched a low-cost 9.7-inch iPad in March to replace the outgoing iPad Air 2. Cook said customer response to the $329 tablet has been "excellent," but failed to break out detailed numbers.