Notes of interest from Apple's Q2 2017 conference call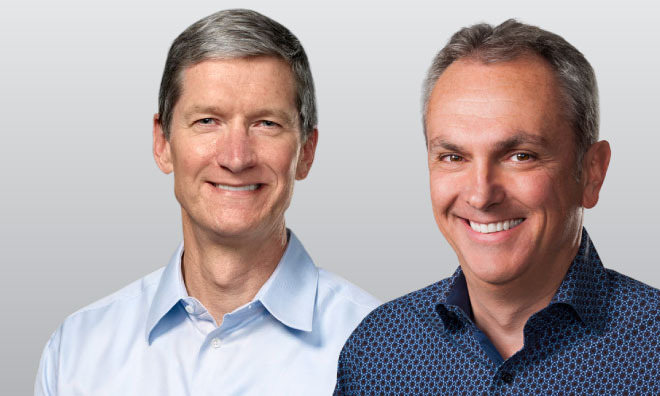 After returning to growth for the holiday quarter, iPhone sales dipped once again in the March frame, though Apple's revenue grew to $52.9 billion. Following the news, the company held a conference call with media and analysts, and notes of interest follow.
Participating in Tuesday's call were Apple Chief Executive Tim Cook and Chief Financial Officer Luca Maestri.
Highlights
Active install base of iPhones grew by double digits year over year
Services revenue topped $7 billion, on its way to being size of Fortune 100 company
Apple Watch, AirPods and Beats wearable sales are already size of a Fortune 500 company
Apple ended the quarter with $256 billion in cash, 93 percent of it outside the U.S.
Apple's iPhone business
Larger iPhone channel inventory reduction
iPhone sales in line with expectations
(Product)Red iPhone 7 recognizes 10 year of partnership with the program fighting AIDS and HIV. Customer response has been "wonderful," Cook said.
iPhone ASP was $655, up from $642 in the same period a year ago.
Maestri cited surveys that found 96 percent satisfaction among iPhone 7 customers, and 98 percent among iPhone 7 Plus.
620,000 Volkswagen employees around the world will switch to iPhone through a new partnership.
Apple's Services business
$7 billion in sales for the quarter.
App Store revenue grew 40 percent year over year, setting a new all-time revenue.
Average revenue per paying account and the number of paying accounts continue to grow.
Quarterly increase in the number of paying accounts was the largest Apple has ever seen.
Double-digit revenue growth from Apple Music subscriptions and iCloud storage.
Strong growth in paid subscriptions for their own services and other content providers.
Paid subscriptions exceed $165 million.
Apple plans to double the size of its service business by 2020.
Apple's Mac business
Mac has generated over $25 billion in revenue over the last four quarters.
Apple is "investing aggressively in its future," Cook said.
Mac revenue grew 14 percent year over year last quarter. Unit sales up 4 percent.
Overall portables growth for Apple was up 10 percent.
Apple's iPad business
iPad sales continued to shrink, but sales came in ahead of Apple's expectations.
8.9 million units despite supply constraints throughout the quarter.
Cook said initial reaction to the new $329 iPad has been excellent.
iPad saw growth in the U.S. in the March quarter.
Maestri cited NPD data that shows iPad with 81 percent share of tablets in U.S. priced over $200.
Apple's Apple Watch and AirPods businesses
Apple Watch sales more than doubled year over year.
Demand for AirPods continues to greatly exceed supply.
Cook cited a recent survey with 98 percent satisfaction for AirPods.
Revenue from Apple Watch, AirPods and Beats is the size of a Fortune 500 company.
Apple's international businesses
In mainland China, total store revenue grew 27 percent, comp store revenue grew 7 percent.
March quarter results in China were in line with expectations and similar to year over year in December.
Cook also touted growth in India.
7 of Apple's highest trafficked stores are in China.
Apple's retail business
Retail is "entering an exciting new chapter," Cook said.
Touted opening of new Dubai store. Apple now has 495 retail location worldwide.
Dubai mall store is "truly international," with employees who collectively speak 45 languages.
Visits to retail and online stores were up 16 percent.
Capital return program
Given "strong confidence" in the company's future, Apple is increasing its program by $50 billion to $300 billion.
Extending timeframe through March of 2019.
Increasing dividend for fifth time in less than 5 years. Will be 63 cents, effective next dividend on May 18.
Majority of capital return program will continue to go toward share repurchase program, Maestri said.