Why Apple is expected to stick with Lightning over USB-C in the new 'iPhone 8'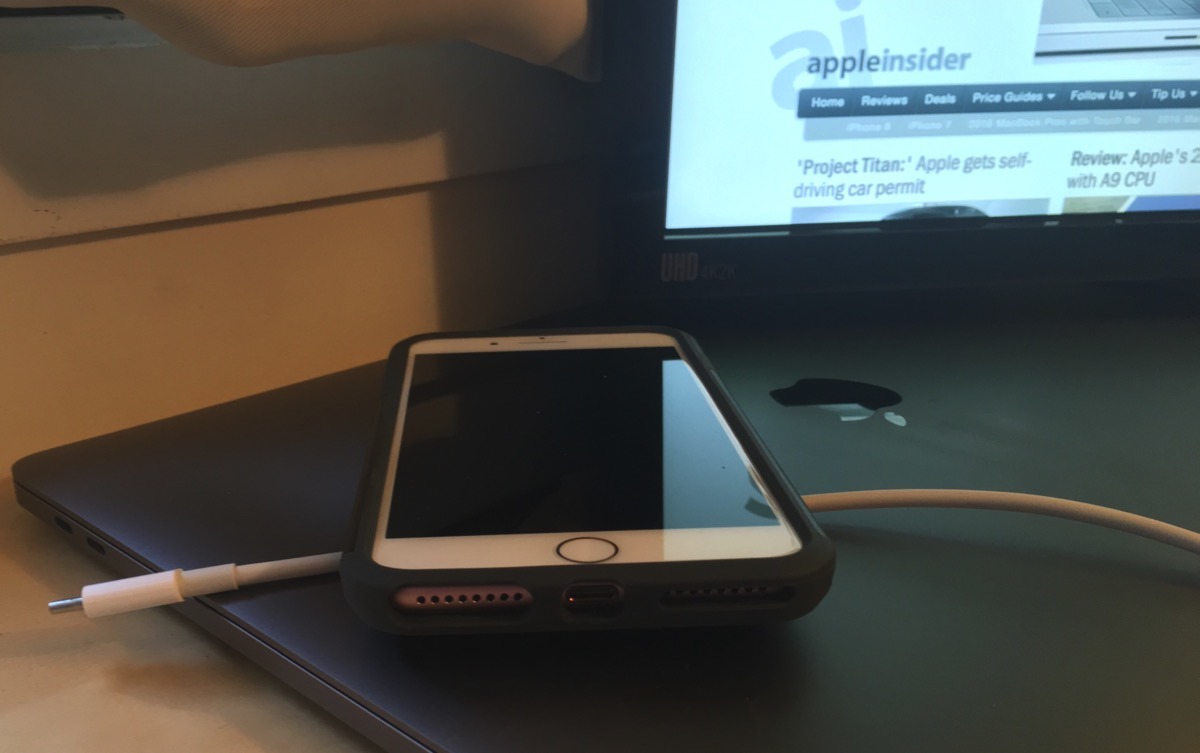 A new iPhone is coming and it is probably loaded with all the technology Apple can bring to bear — but the "iPhone 8" will probably be missing USB-C when it launches. AppleInsider explains why Apple will probably stick with Lightning for at least another year.
As we've said before, when there's smoke, there's fire. There's a lot of smoke about the "iPhone 8," or whatever it's ultimately going to be called. Some of the signals say USB-C will be used as the phone's main interface, but most of them don't say anything at all.
Despite rare rumors to the contrary, Apple will probably stick with Lightning this time around. Here's why.
Charging
USB-C power delivery is here... mostly. It fares better and is more universal with lower powered devices than, say, the 15-inch MacBook Pro.
That said, as it stands, Lightning charging is no slouch on some models. On the 12.9-inch iPad Pro, the Fresco Logic FL1100SX host controller allows for Apple's 29W USB-C adapter that ships with the 12-inch MacBook to charge the hefty iPad nearly three times faster than the standard iPad adapter.
So, Lightning still works as a charging cable, even on a fancy new phone packed with Apple's best technologies.
More time is probably needed for Apple to do it on its computer that is truly for the rest of us — the iPhone.
This, of course, is mostly irrelevant if Apple has practical wireless charging worked out. And, if that's the case, sheer inertia of the Lightning connector will carry the older connector through to 2017's iPhones.
Transfer speeds
In theory, USB-C wins this — with a notable caveat. Lightning is capable of USB 3 transfer speeds, given the right circumstances.
As of April 27, there is precisely one combination of hardware that allows USB 3 transfer speeds — a 12.9-inch iPad Pro with the Lightning to USB 3 Camera Adapter. When the two are connected, the USB-A connector in the adapter can transfer photos and other data from a compatible device to the larger iPad with no problem.
This capability exists with no other iOS device — largely as a result of the already mentioned Fresco Logic FL1100SX host controller which also grants the 12.9-inch iPad faster charging when connected to Apple's 29W power supply and USB-C to Lightning cable.
So, future iPhones could get the faster data speed as well still using Lightning.
But, Apple has made a big point of wireless everything for the iPhone. Wi-Fi sync, once the forgotten stepchild of a cable connection to a host computer, is primary amongst most users now, with iCloud syncs being secondary.
Given Apple's drive to shift everybody it can to wireless, there's no real need for a USB-C migration.
Physical strength
Using the same testing facility as we used to deeper examine the Wi-Fi interference problems with the LG 5K Ultrafine monitor, we tested a variety of 30-pin cables, in conjunction with MFi-licensed Lightning and a variety of USB-C connectors for break strength.
While results were all over the place for force, the range for Lightning and USB-C breaks in the metal tip were about the same range, way higher than that of a 30-pin connector. A metal tip break isn't good in either case, but Lightning has a slight edge in this regard.
When a Lightning tip breaks off, invariably there's a bit of metal left in the iPhone or iPad — in our case, in already off-service iPhone 5 units. After fishing the tip out, the port still worked fine for both charging and data transfer.
Our USB-C test rig was a little more improvised, as there isn't a steady supply of old devices withthe port yet, so our testers ordered some USB-C receptacles and anchored them in accordance with the USB-C spec. In the test rig, when a USB-C tip broke, in four out of seven cases it deformed the inner male tip prior to deformation of the metal tip, rendering the test port useless.
We can't say with ultimate authority that the same would happen in a USB-C iPhone given the nature of the test gear, but we're also not sure that we'd want to test it with a MacBook Pro or even a Pixel — and certainly not the "iPhone 8" at launch.
No easy way out, no shortcut home
To borrow a phrase from Steve Jobs, USB-C is still a "bucket of hurt" for Apple. If it stays with Lightning, it antagonizes the crowd that wants to see universality. If it shifts, it annoys peripheral owners, even if a low-profile adapter is provided at low cost, like Apple did after the shift to 30-pin.
No doubt, USB-C is solid. The connector itself has about the same resistance to damage as Lightning, and is positioned as a universal, small port for cross-platform use. In our experience with the MacBook Pro and MacBook, the connector succeeds admirably.
The shift to USB-C for the iPhone is inevitable, but it probably still isn't this year. Apple made inroads on the conversion to the port with the 2016 MacBook Pro, but given the hue and cry about it even integrating Thunderbolt 3 on the Mac, more time is probably needed for Apple to do it on its computer that is truly for the rest of us — the iPhone.
In the interest of full disclosure, we at AppleInsider wouldn't mind the shift. So, if we had our way, we'd endorse ripping the band-aid of old connectors completely off and shifting everything we can to USB-C.
While we're at it, how about a more durable Apple-standard iPhone cable, too.