FileMaker 16 brings enhancements to Mac & iOS databases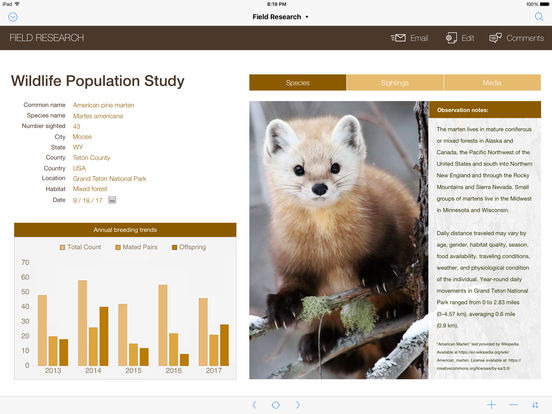 Apple-owned FileMaker on Tuesday launched FileMaker 16, the latest edition of its database platform, including updates for Macs, iPhones, and iPads.
When building databases on a Mac, FileMaker users now have access to features such as a Layout Objects window, which makes it easier to locate items or edit them individually without ungrouping a set. "Cards," meanwhile, are windows that can be made to appear automatically and prompt a choice before people continue on.
PDFs can meanwhile be printed through FileMaker WebDirect, and generated automatically from reports and other information via FileMaker Server.
Databases produced for FileMaker Go on iOS can now use animations and transitions, and offer signature capture in both fullscreen and pop-up windows. Workflows can be set to trigger based on the location of an iOS device, whether a geofence or a nearby iBeacon, and custom paper sizes can be enabled for printing.
FileMaker is also offering improved cURL and JSON integration, and support for external script steps in the FileMaker Plug-in SDK. Security-wise, OAuth 2.0 has been introduced for authenticating with Amazon, Google, and Microsoft accounts.
The standard version of FileMaker Pro 16 costs $329 for an individual, while Advanced is $549. Teams of five or more people must normally turn to a subscription costing at least $888 per year — perpetual licenses start at $2,664 for groups, but don't include upgrades.
FileMaker Go is a free download for devices with iOS 10.2 or later but can only run existing databases made with FileMaker Pro.