First look: Apple's powerful iMac Pro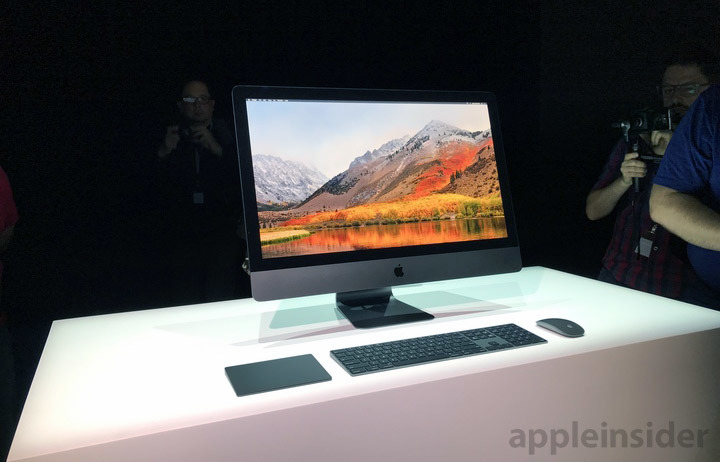 Apple at WWDC 2017 offered a sneak peek of its upcoming iMac Pro, an all-in-one desktop packed with cutting edge components — and a sexy Space Gray finish — worthy of imaging professionals.
While the pictures don't do it justice, the iMac Pro is a beautiful machine in person. The Space Gray aluminum and matching matte wireless keyboard mate well with the special black Magic Mouse 2 and Magic Trackpad 2.
Along with the dark finish, iMac Pro differentiates itself from the regular iMac series with expanded port options. Along with the usual SD card reader and four USB 3.0 ports, the iMac Pro comes with four Thunderbolt 3 ports and 10Gb Ethernet.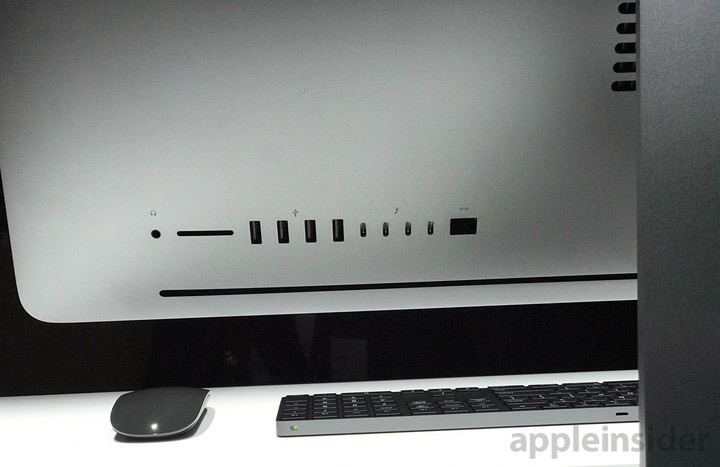 While the chassis remains largely unchanged, Apple did incorporate a long vent on the bottom portion of the rear casing. The slot facilitates airflow from iMac Pro's twin centrifugal fans, which allows for an 80 percent increase in system thermal capacity from past iMac models. This means iMac Pro can handle more power, 500 watts to be exact.
Audio vents aligned along iMac Pro's bottom ledge are identical to past models, providing ample output for new "enhanced" speakers that lie within the computer chassis.
Hidden beneath its aluminum skin iMac Pro boasts Intel Xeon processors with configuration options reaching up to 18 cores. In addition, Radeon Pro Vega GPUs promise to deliver number crunching performance matched only by the fastest dedicated imaging desktops.
Apple expects iMac Pro to go on sale in December for a starting price of $4,999.