Apple partners with Salesforce, Nuance to deliver iMessage Business Chat in iOS 11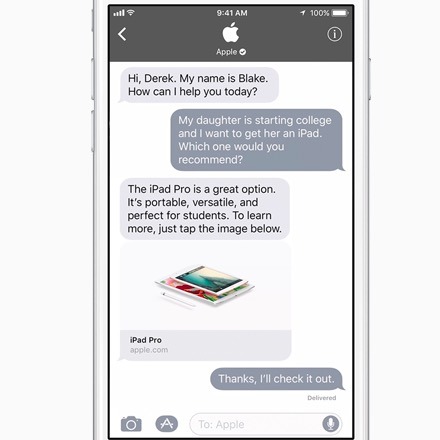 On the last day of WWDC, Apple detailed Business Chat, its new enterprise customer support platform for iOS 11, leveraging iMessage Apps introduced in iOS 10 as well as integration with Maps, Safari and Spotlight search, in partnership with existing Customer Service Platforms (CSP) from Genesys, LivePerson, Nuance and Salesforce.
The IMPhone
Currently released as a Developer Preview, Apple's new Business Chat allows users to initiate live IM conversations with companies for customer service help with orders, troubleshooting and scheduling appointments.
Users can initiate a Business Chat by clicking on a new chat icon associated with location in Maps, suggested by Safari or Spotlight search or appearing on the web, or by pointing their iPhone camera at a QR code, which iOS 11 will recognize, process and use to offer to initiate a chat.
Similar to placing a phone call, the new Business Chat icons or QR codes open a new conversation type in iMessage. A specific chat button or QR code includes a URL payload that can associate the user with a geographic location (such as a local retail store presented in Maps), a specific product configuration they are looking at or have purchased, their language, or a specific team ID (such as order tracking) that identifies what they need help with.
Business Chat connects the incoming IM request to the appropriate response team at a company via a CSP, and the firm's chat agent can then pull up previous conversations with that customer, access the details of the product they want help with, their associated orders or other shipments in progress, and provide authenticated answers.
The customer service agent can also do anything iMessage can do, including sending photos or other attachments, as well as receive photos and other attachments from the customer to troubleshoot a problem. Companies will able be able to send the customer links to download their apps.
Enterprise iMessage Apps
Business Chat also supports iMessage App extensions, introduced in iOS 10. Apple provides a starting set of iMessage App extensions including a List Picker for offering the customer a graphical set of options to choose from (such as a list of product options), a Time Picker (for scheduling appointment times; the user is even presented with potential scheduling conflicts from their local calendar) and an Apple Pay transaction request (for processing orders or other payments within the chat session).
Companies can also build their own custom response app extensions for use with Business Chat. Apple demonstrated an example of an airline seat selector, presenting a user interface the user can interact with to return their choice.
The Business Chat Sandbox
Businesses can already apply to join the program, although the system remains closed to public interaction until all issues are worked out during the developer beta period.
Apple provides a web-based sandbox for testing interactions with Business Chat clients, allowing corporate developers and CSPs to test their interactions and custom iMessage App extensions.
Companies will be able to send response notifications to users who have already initiated Business Chats with them, but the customer will have the power to ignore notifications (and still receive messages), or alternatively delete their conversation entirely and block the company from messaging them at all.
Not a bot
Unlike automated AI support chat systems that only last summer were predicted to wipe out apps (and Apple along with it), Apple's approach to customer service with Business Chat focuses on personal, customized interaction with a real person.
Additionally, the new Business Chat builds upon iOS 10's Messaging Apps by enabling companies to integrate elements of their apps into customer chat interactions.
Apple is uniquely positioned to offer a customer service chat platform because it owns the largest premium mobile platform and controls its own browser, maps, local search, instant messaging and app development services.
Facebook and WeChat host development platforms on top of their messaging platforms, but don't control the maps or search services their users interact with, and only exercise domain over their local applet services, not the other apps on the device.
Google's Android is closest to Apple as a platform vendor, but its larger base of users represent a far less desirable demographic to most companies. Further, Google doesn't control the chat services that most of its Android base actually uses; its efforts last year to duplicate iMessage with Allo largely failed.
Further, Google's increasing inability to update its installed base means that it has far less power to introduce and quickly deploy new services, as Allo demonstrated. Additionally, Android lacks Apple's widespread enterprise support, in large part due to its poor record in security and reliability.
Apple's Business Chat isn't just a theoretical solution to a problem. The company has gained experience in using Twitter and other social networks to interact with its own customers. In November, Apple was even awarded a "Gold #Customer" award from Twitter for its use of the public and direct messaging platform to provide customer assistance.
Apple also provides customer support across a network of its global retail stores, giving it special insight into the needs of other retailers and businesses who want to streamline and enhance their own ability to provide efficient support for users without spending money on insecure phone calls where information has to be repeated and there's no easy way to communicate choice, selection and other customer information.