Google IO17: Android deployment rate continues to slip backward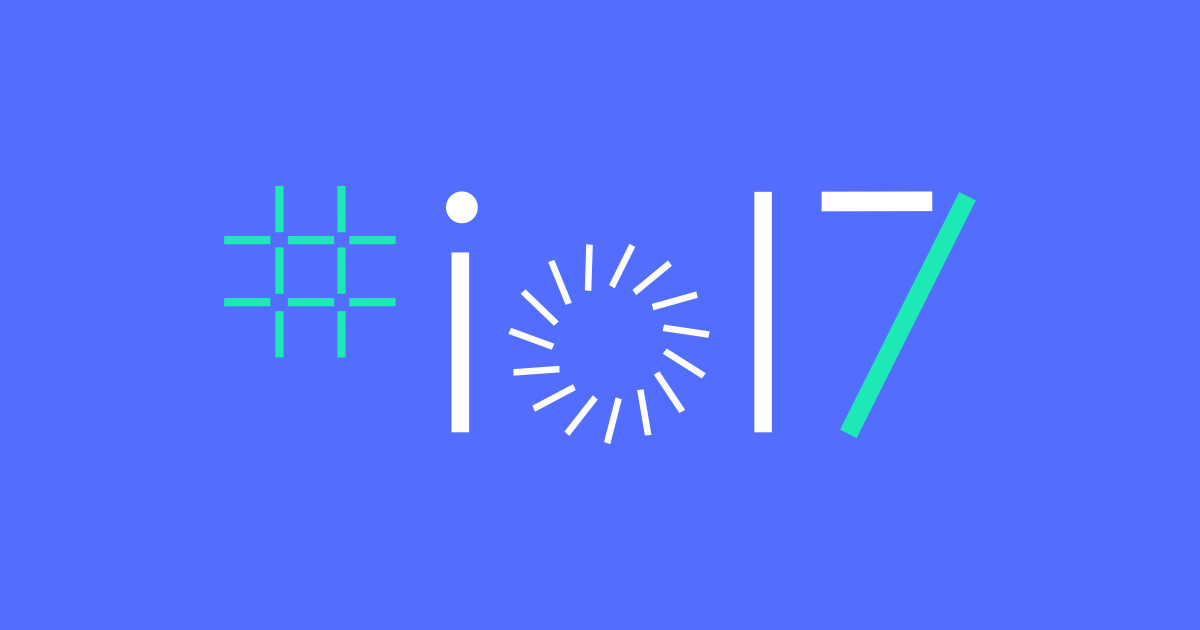 Google has unveiled new versions of Android at its annual I/O developer convention with features often inspired by the previous year's iOS. The main difference: Apple can launch a new version of iOS and broadly distribute it before Google can deploy its copy of last year's iOS across even a third of its installed base. This problem is getting worse each year for Google and its Android partners.
Android's software deployment pace is slipping backward
Two years ago at Google I/O 2015, less than a tenth (9.7 percent, according to Google) of Android's active installed base had upgraded to Android 5.0 Lollipop, which had been introduced the previous year (around the time of iOS 8).
Another 39.8 percent were using 2013's Android 4.4 KitKat, then two years old (comparable to iOS 7), and 39.2 percent were still on some version of Jelly Bean, which dated back to 2012 (like iOS 6). Another eleven percent were stuck using software that was from 2011 or older. Those numbers were so dismal that it looked like Google could only improve on them.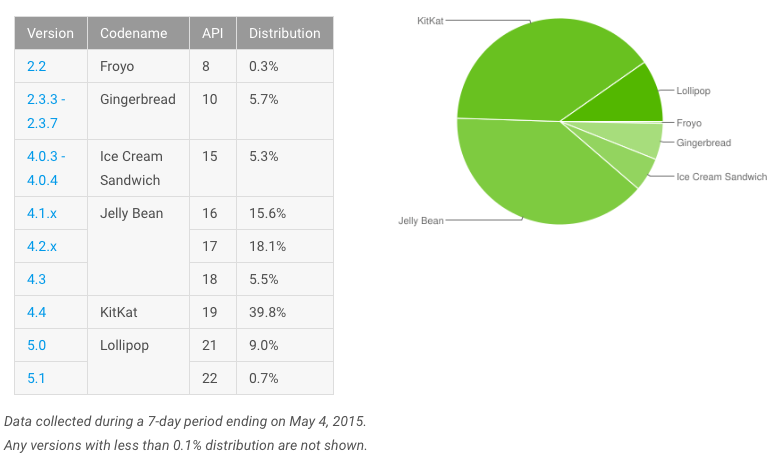 It didn't. Instead, a year later it could only report that 7.5 percent of its active base on Google Play was running its year old Android 6 Marshmallow (a 20 percent decrease in deployment success).
Further, only 35.6 percent were now running a two year old Android (a 10 percent regression) and 32.5 percent were running a three year old Android (17 percent worse). The remaining 24.4 percent were using software four or more years old. That was a 120 percent increase in the number of users running extremely old Android software (at the time on the level of iOS 6 or older).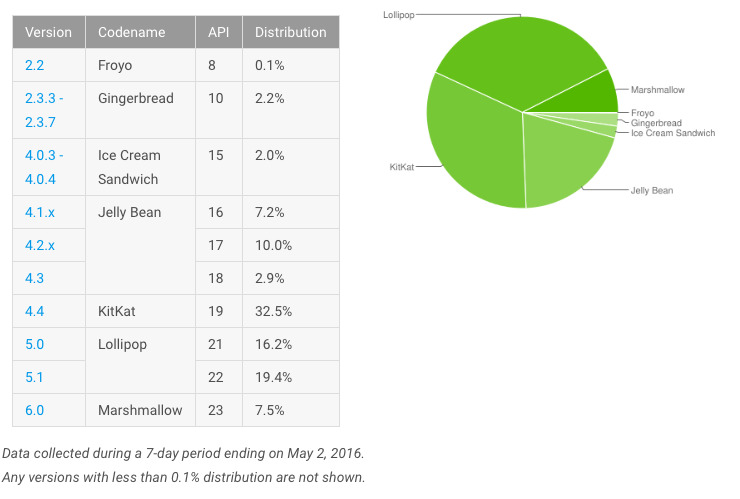 Things haven't improved. Instead, a year later it can now only report that 7.1 percent of its active base using Google Play is running the year old Android 7 Nougat (5.3 percent worse than last year and 26.8 percent worse than 2015).
Further, only 31.2 percent are now running a two year old Android (12 percent worse than last year) and 32 percent are now running a three year old Android. The remaining 29.7 percent are now using software four or more years old. That's a 21.7 percent increase in the number of users running extremely old Android software (on the level of iOS 7 or older) over last year and 170 percent worse than 2015— when the situation was already clearly a problem.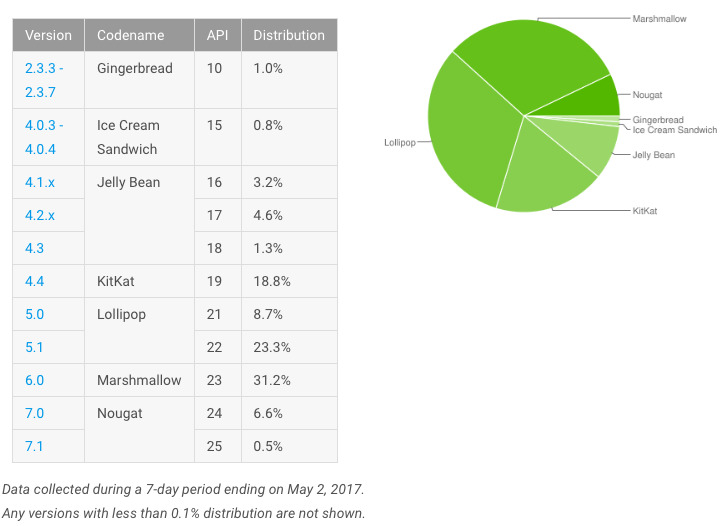 Back in 2013, Apple began charting its own iOS deployment. Today, Apple states that as of February 79 percent of iOS users are on its latest iOS 10.
Four years ago, things looked rough for Android because "only" 33 percent of Google Play users were on Google's latest version of Android. Today Google's ability to keep its platform modern, patched and updated has deteriorated even more dramatically. How is that even possible?
Peak Phone is a big problem for Android
For one thing, growth in the smartphone market has been cooling off, and even disappeared entirely in some markets over the last year. Shipments of all smartphones grew by 282 million in 2014 (growth of nearly 28 percent) but only 131.2 million in 2015 (just ten percent growth). During 2016, overall sales grew by less than 5 percent globally, according to Gartner.
The rapid growth of Android's smartphone unit volumes that was expected to at some point result in a more desirable platform target for app developers compared to iOS is now gone. But it's not just volume growth that's missing. There's also the value of each unit sold.
Since 2010, the average selling price of Apple's iPhones has consistently remained within $50 of $700. In contrast, the ASP of Android phones has plummeted from $441 down below $250. While iPhones used to sell at a $260 premium over the average Android, they're now selling near a $450 premium. To reach that low, corners need to be cut.
Three years of Google aiming at the low end
The price tags of premium Android phones haven't really been going down. Since 2014, Samsung's Galaxy S and Note models have carried retail prices similar to or higher than Apple's newest iPhone. If Android were actually delivering modern phones at lower prices, new users would be cost effectively gaining access to the latest Nougat. They're clearly not
The reason Android's ASP is plummeting is that an increasing proportion of devices are being sold in the mid-grade or low-end tiers. If Android were actually delivering modern phones at lower prices, new users would be cost effectively gaining access to the latest Nougat. They're clearly not. Instead, buyers are frequently getting outdated hardware with outdated versions of Android software to reach down to $100 to $200 price targets.
That's despite the fact that recent Android releases have not been high-powered releases targeting expensive, premium Android phones. In fact, the primary stated focus of recent versions of Android were to enable basic phones for emerging markets to rapidly bring modern Android features to market via low cost hardware, an initiative Google's chief executive Sundar Pichai initially outlined as "Android One" for the "next billion users" back in 2014.
That goal was reiterated last year and again this year for Android O, which even delivers a specially designed Go edition designed to work better on devices with even less memory and processing capacity. The Go release is also intended to run simpler apps for basic phones equipped with less than 1 GB of memory— the kind of anemic specification you'd find on an iPhone 4s dating from 2011.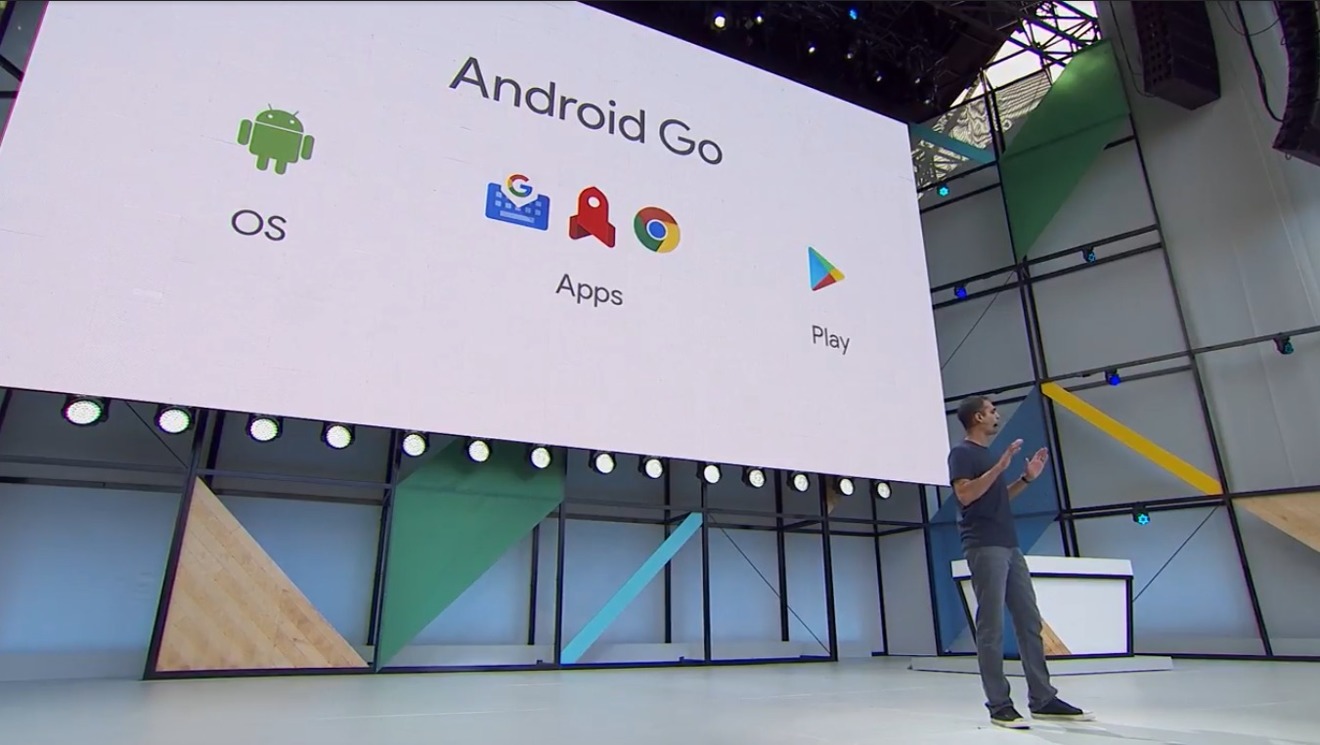 Android One turned out to be a huge flop. The fact that Marshmallow and now Nougat have also reached new lows for penetration in Android releases illustrates how badly Google has failed to achieve its stated objectives.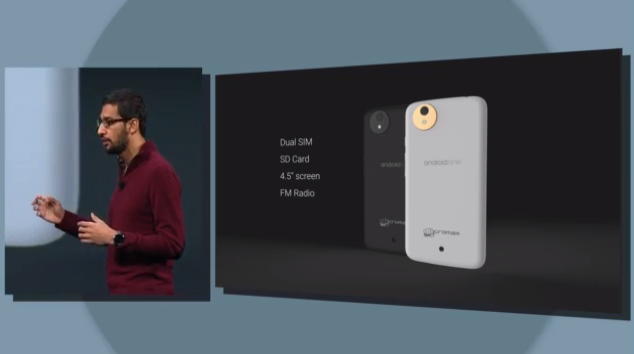 Samsung Galaxy, Google Pixel both aimed at premium, both failed
While Google failed to deploy modern Android via low end devices, Samsung failed in its efforts to expand into the premium tier. During its launch quarter last year, Galaxy S7 reached 9 million shipments, a slim fraction of the company's overall smartphone quarterly shipments of more than 80 million.After the complete flameout of Note 7 last fall, the supposedly pent up demand for the Galaxy S8 failed to materialize in new peak sales
This year, after the complete flameout of Note 7 last fall, the supposedly pent up demand for the Galaxy S8 failed to materialize in new peak sales. Instead, the launch month sales of S8 and S8 Plus has barely surpassed 5 million.
KGI analyst Ming-Chi Kuo expects Samsung to sell significantly fewer of its flagship S8 model this year than last. This year's launch shipments are also down dramatically from 2014, when Samsung announced flagship launch month sales of 10 million.
Outside of its top tier models, Samsung rarely bothers to upgrade many of its other middle tier devices, and mobile carriers often slow down the update cycle even further.
It's not just Samsung that has failed in the premium tier. Particularly starting in 2015, Google itself also attempted to rustle up support for faster Application Processors for its Android partners. However, flagship Android chips continue to lag behind Apple's rapid pace of development.
The oldest A9 chips used in iPhone SE and iPhone 6s models continue to beat the fastest Android chips in single core performance, and Apple's new iPhone 7 shipped last fall with A10 Fusion, a chip that remains faster than the Qualcomm chip in Samsung's most expensive Galaxy S8 phone this year.
In part, that's because Apple can invest more in its custom chips because it makes more money from selling far more high end phones than any other vendor. But it's also due in part to the superior efficiency of iOS, which uses substantially less memory than Android requires. Over the last several years, Apple has been beating the performance of Androids equipped with twice as much memory— an embarrassment for Google's OS-level engineering.
Meanwhile, despite pundit advice that for years demanded Apple release a cheap iPhone, the company instead launched premium, larger devices. And when it refreshed its smaller iPhone SE at a lower entry price, it gave it a fast A9 processor that kept it ahead of premium-priced Androids.
As a result, Apple has the top selling smartphone in the US and Europe and decisively leads the premium price tier even in less affluent countries such as India, China and Russia. That strategy has not only kept iPhone a premium, aspirational brand, but has also resulted in Apple earning virtually all of the available profits in the industry as high volume, lower-end phone makers fight over the scraps.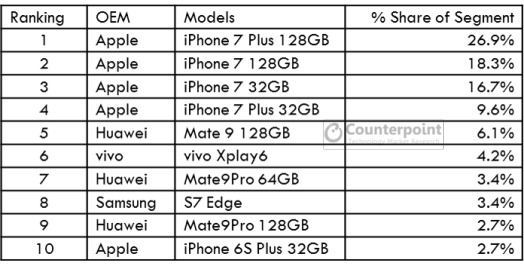 Google's own efforts to turn its spectacularly cheap Nexus phones and tablets into a premium-priced portfolio including the Pixel C tablet and Pixel and Pixel XL phone have sold in very small quantities despite significant advertising and marketing efforts. That's sent Google back into cheap land to try to at least get its partners selling volumes of phones that can run its services, display its ads and collect data from users.
Instant Apps for a lagging OS
Old versions of Android in the installed base also mean that strategic features Google intends rolls out each year are not being broadly deployed. Google has tried to shift more of its new software into Google Play updates and this has helped to deploy some features faster than the full OS which never makes it to most users across its first two years of availability. Google has tried to shift more of its new software into Google Play updates and this has helped to deploy some features faster than the full OS
But Apple does not have this problem at all, enabling it to rapidly shift its users to new services and apps and quickly roll out new API features that its third party developers can immediately use. That helps to attract iOS development and also helps to build Apple's Services growth.
Last year, Google introduced Instant Apps, a mechanism to enable components of apps to launch and run on systems dating back to Jelly Bean, reaching at least 75 percent of Google Play's active users. The primary issue Instant Apps sought to address, however, was the fact that users aren't searching Google on mobile anymore.
This year, Google is doubling down on efforts to roll out Instant Apps by opening up the program to all developers. But it is also increasingly working to get its apps and services on a platform where there's a more attractive demographic of users running modern software on premium hardware: iOS.