Apple now charting App Store iOS fragmentation just like Google's Android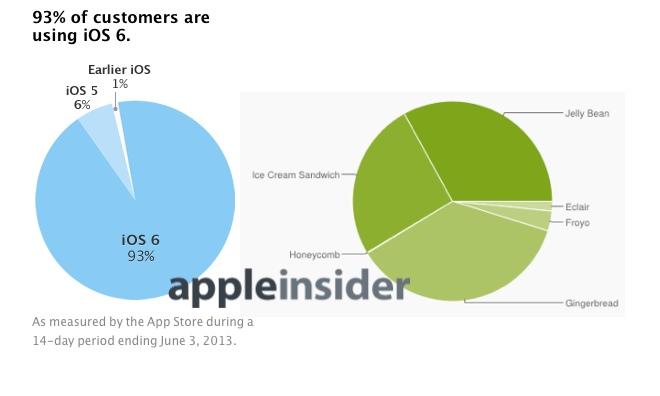 After first announcing that 93 percent of App Store customers are using the latest iOS 6 at WWDC last week, Apple has added the chart to its public developer site, mirroring Google's reporting of Android users in Google Play.
Apple now portrays the data in the same pie chart format at Google, drawing increased attention to the fact that on iOS, developers need only target the latest operating system. Apple also expects that adoption of iOS 7 will follow the rapid pace of previous releases, due in large part to the company's aggressive efforts to upgrade users and to prepare developers for the update.
Just 1 percent of Apple's App Store visitors still use a version older than iOS 5, released in October 2011. And only six percent are still using last year's iOS 5, the last version supported by the original 2010 iPad and 2009 iPod touch.
Google currently reports that as of June, the largest segment of Android devices are still running version 2.3 Gingerbread (36.5 percent), which was released in winter 2010. Another 4.8 percent use even older software.
Another 25.6 percent are still on Android 4.0 Ice Cream Sandwich, which was released the same month as iOS 5. Only 33 percent are running the latest major version, Android 4.1 Jelly Bean, which was announced last summer alongside Apple's debut of iOS 6.
And that's ignoring many Android shipments
Additionally, Google's statistics only look at those Android devices that regularly access Google Play, excluding Android-based products like Amazon's Kindle Fire and the millions of Android devices in China and other regions that don't use Google's services.
Google also began editing its numbers in March in response to comments by Apple's marketing chief Phil Schiller, who pointed out to Reuters that "with their own data, [Google reports] only 16 percent of Android users are on year-old version of the operating system. Over 50 percent are still on software that is two years old. A really big difference."
Two weeks later in its April report, Google made the necessary changes in its reporting to instantly inflate the proportion of its users reported to be using a less than year old version of Android and scale back the number of users reported to be stuck on a version from 2010 to be slightly below the 50 percent mark.
Two thirds of Android users can't use Google Now
Android's advocates have long claimed that fragmentation isn't really a problem, while also trying to claim that Android's large global shipments position it as a larger platform for developers than Apple's iOS.
But even Google has been unable to roll out its apps and services across a significant number of Android users. For example, Google Now requires Android 4.1 Jelly Bean, meaning that 66 percent of active Google Play users can't even install it. "More than six months have passed since Google first introduced its enhanced notifications in Android 4.1. It's disappointing that more apps haven't jumped on the bandwagon.
Adobe's Photoshop Touch requires Android 4.0, meaning only half the users in Google Play can use it.
Google, its hardware partners and the various mobile carriers also make it complex and in many cases impossible for users to obtain Android updates, even months after a new version is "released."
On the other hand, many developers simply ignore new features Google adds to Android. "More than six months have passed since Google first introduced its enhanced notifications in Android 4.1," complained MobileBurn. "It's disappointing that more apps haven't jumped on the bandwagon."
Apple's efforts to keep iOS users up to date have enabled quick developer uptake of new platform features in their apps, ranging from Notification Center to Game Center to Passbook.
New phones, old Android, no updates
Additionally, unlike the Windows PC world, where even users who didn't want to upgrade to the newest OS version essentially had no choice when they bought a new Windows computer, Android licensees are still selling lots of handsets with very old versions of Android on them. Verizon Wireless sells a variety of smartphones on its website that still ship with the ancient 2.3 Gingerbread
Verizon Wireless, for example, sells a variety of smartphones on its website that still ship with the ancient 2.3 Gingerbread, including the HTC Rhyme, LG Lucid and Spectrum, CASIO G'zOne Commando and Samsung Stratosphere. Users have to dig to see the actual specifications, because in many comparisons the OS is only specified as being "Android."
Verizon is not unique. In fact, very few phones ever ship with the latest release of Android installed. Even a year after Jelly Bean was unveiled last summer, many new phones are still shipping with Ice Cream Sandwich.
In stark contrast, Apple not only makes iOS updates immediately available, for free, to all of its users the same day it is released, but also continues to support its hardware with new iOS updates for at least two years after their initial release. And it doesn't sell new devices with outdated software that can't be upgraded.
For example, Apple continues to support iPhone 4, which was released back in 2010 when Android 2.2 was new. The phone will also run iOS 7 when it is launched this fall, giving it more than four years of updates.
In 2011, Google IO rolled out the "Google Update Alliance," a plan to ensure new Android smartphones would get software updates for at least 18 months after going on sale. The plan was declared dead before 2011 even ended.