Big phones, phablets & tablets account for just 10% of Android's installed base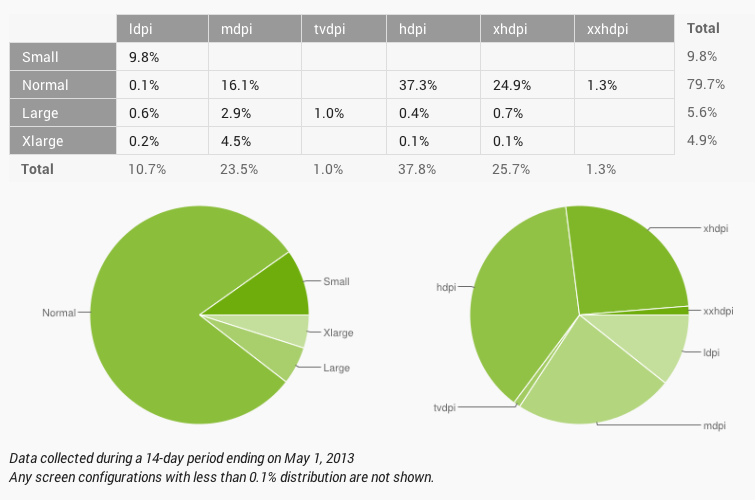 While many pundits insist that Apple must make a larger screen iPhone to keep pace with the offerings from Android licensees, Google's own stats indicate that all big phones, tablets and phablets put together are a tiny 10 percent fraction of active users.
Google's screen size stats
According to the company's latest May 1, 2013 figures on the Android installed base of users accessing the Google Play app market, 80 percent of devices fit into the "Normal" category with screens about the same size as Apple's iPhone 5.
In fact, there are nearly as many devices reported to be in the Small category (9.8 percent are 3.5 inches or less) than in the Large (5.6 percent are greater than 4 inches to about 7 inches) and XLarge (4.9 percent are 7 inches to more than 10 inches) categories put together. Google provides screen size ranges as shown below.
That means that Android phones shaped like the iPhone 3GS are selling about as well as all of the Android-based super-sized smartphones, tablets and "phablet" hybrids put together, data that does not support the idea that most users are shopping for a very big smartphone.
Will Apple go full phablet?
Apple's chief executive Tim Cook refused to issue any definitive plans to make or not make a larger screened iPhone in the future, but did comment, when asked about screen sizes during the company's recent quarterly earnings call, "my view continues to be that iPhone 5 has the absolute best display in the industry and we always strive to create the very best display for our customers."
Cook added that "some customers value large screen size. Others value also other factors such as resolution, color quality, white balance, brightness, reflectivity, screen longevity, power consumption, portability, compatibility with the apps, many things. Our competitors have made some significant trade-offs in many of these areas in order to ship a larger display. We would not ship a larger display iPhone while these trade-offs exist."
Very large screen phones from Samsung and other Android licenses certainly are more profitable, premium models. However, the initial crop of Android phones supporting LTE had to be large to accommodate big batteries and larger chipsets, making it unclear how much of the demand for large phones was an interest in size versus the very real utility and marketing-driven demand for speedy 4G service.
Apple's iPhone 5 introduced a taller, slightly larger screen alongside new support for 4G LTE networks. Critics have worried the premium model hasn't dominated the demand for iPhones in Apple's product mix (iPhone 5 is estimated to account for "only" about half of Apple's sales), leading to widely voiced concerns that its profit margins might suffer as it sells more units of the cheaper iPhone 4 to bargain hunters.
However, the fact that a much smaller minority of Android users have adopted large, high end smartphones or phablets appears to render those concerns pure flawgic.
Google uses "security by obscurity" to address Android fragmentation
Google provides screen size and other installed base statistics for Android developers in order to help them make decisions between supporting specific features (such as devices running a given version of Android or a particular screen size or pixel density) or targeting a lowest common denominator that will work across the most devices.
The company said it introduced plans to change the definition of screen sizes to instead specify a screen width in Android 3.2, but nearly half of the active installed base of Android users are still running a device that's older than Android 3.1 Honeycomb, first released in 2011.
And that's the case even a month after Google changed its platform reporting to exclude active devices that were "activated" and contacting its servers, but not visiting the Google Play store.
That move dumped the reporting of devices that run Android but can't access Google Play, such as Amazon's Kindle Fire and the B&N Nook, both of which also debuted with old versions of Android.
Google's new style of accounting allowed it to claim that 25 percent of "active users" were running the latest "Jelly Bean" version of Android (4.1 or later), a big jump over the previous month's report which indicated only 16.5 percent were. Jelly Bean was released a couple months before Apple's iOS 6.
The accounting move helped to shave off 7 percentage points formerly attributed to very old versions of Android (3.6 from Android 2.2 Froyo and 4 from Android 2.3 Gingerbread, both of which appeared around the same time as iOS 4 in 2010).
Samsung and other Android licenses continue to sell lots of devices that still run these outdated versions of Android, a fact that prompted the American Civil Liberties Union to asked the U.S. Federal Trade Commission to look into the policies of U.S. wireless carriers. The ACLU said carriers are too slow to upgrade the operating systems of the Android phones they support.
Schiller strikes a nerve at Google
Google's move to change how it reports Android's installed base figures appeared to be in response to comments made by Apple's Senior Vice President of Worldwide Marketing Phil Schiller in mid-March, right before Samsung's debut of the Galaxy S4.
Schiller told the Wall Street Journal that fragmentation continued to be a problem for Android developers, and specifically noted to Reuters that "with their own data, [Google reports] only 16 percent of Android users are on year-old version of the operating system. Over 50 percent are still on software that is two years old. A really big difference."
Google made the necessary changes in its reporting two weeks later in its April report, instantly inflating the proportion of its users reported to be using a less than year old version of Android and scaling back the number of users reported to be stuck on a version from 2010 to be slightly below the 50 percent mark.
The company explained "we believe the new data more accurately reflects those users who are most engaged in the Android and Google Play ecosystem," which is the stated purpose of reporting the numbers to developers.
However, the shift also helps hide the fact that the huge shipment numbers of Android devices and "activations" that Google likes to cite when they flatter the platform are not directly comparable to iOS devices, because a significant percentage of the Android installed base is not engaged with Google Play ecosystem, even among devices that are designed to actually use Google Play.