IDC: iPad dipped to 40% of tablet shipments in Q1 2013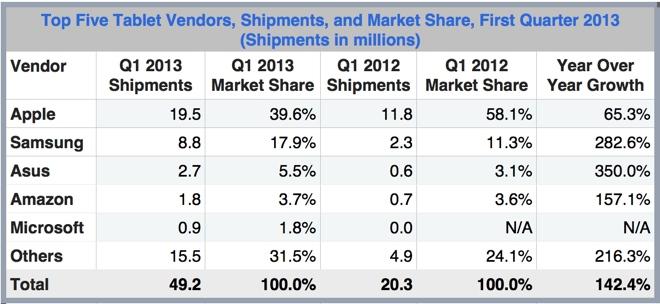 Apple's iPad fell to 39.6 percent of total worldwide tablet shipments in the first quarter of calendar 2013, according to the latest market data from research firm IDC.
The iPad posted year over year growth of 65.3 percent to reach 19.5 million tablets. But Apple still saw its share of the total tablet market drop from nearly 60 percent a year ago to under 40 percent at the start of 2013.
According to IDC, Apple's shipments just didn't grow as fast as the rest of the booming tablet market. On average, the total market grew 142.4 percent, led by Asus which grew it shipments by 350 percent year over year.
Though its market share fell, Apple still exceeded IDC's expectations for the quarter. The firm had projected shipments of 18.7 million units for the three-month frame.
Apple still shipped more than double that of the second-place tablet maker, Samsung, which saw its shipments grow 282.6 percent year over year. The South Korean electronics maker shipped 8.8 million tablets in the quarter, earning it a 17.9 percent slice of the market.
Asus came in third, shipping just 2.7 million units and garnering 5.5 percent. In third was Amazon, which makes the family of Kindle Fire touchscreen tablets, taking 3.7 percent with 1.8 million units shipped.
Finally, in fifth was Microsoft, which is attempting to break in to the tablet market with the Surface. It earned 0.9 million shipments and a 1.8 percent market share.
"Sustained demand for the iPad mini and increasingly strong commercial shipments led to a better-than expected first quarter for Apple," said Tom Mainelli, Research Director, Tablets at IDC. "In addition, by moving the iPad launch to the fourth quarter of 2012, Apple seems to have avoided the typical first-quarter slowdown that traditionally occurred when consumers held off buying in January and February in anticipation of a new product launch in March."