Apple A10 iPhone 7 speeds past Samsung Galaxy S8, Google Pixel, LG G6 & BBK 3T (with 2x RAM)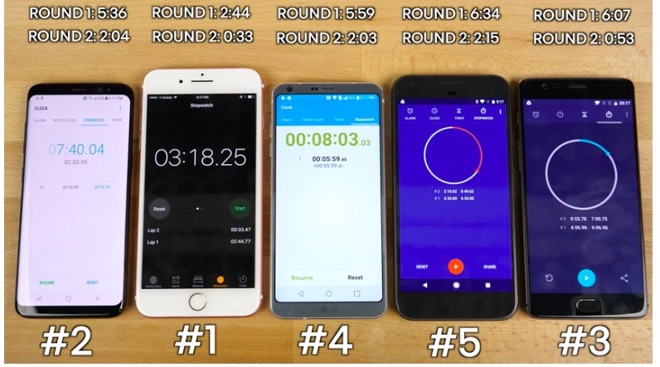 Apple's lead in mobile performance— powered by the efficiency of iOS 10 and the computational speed of its custom A10 Fusion Application Processor— beats the newest, leading premium Androids in a wide range of tests from processor and 3D benchmarks to real-world device startup and app launching and multitasking. Not even 6GB of RAM and the extra cores of Qualcomm's fastest Snapdragon 835 can prop up the laggard, inefficient Android OS.
Faster iOS, faster apps
Apple has maintained a lead in both benchmarks and real world performance through a series of factors, including its more efficient iOS and its custom-optimized A-series chips.
In a video test (pictured above, published to YouTube by EverythingApple) that involved cold launching of a series of apps ("Round 1") followed by switching back through each app ("Round 2"), iPhone 7 Plus opened the suite of games, productivity tools and other apps in just 2:44 minutes, roughly twice as fast as a series of leading Android flagships.
iOS was also able to switch back through all of those open apps in just 33 seconds. Each of the Android phones took either nearly twice as long (the BBK OnePlus 3T) or about 4 times as long (LG G6, Google Pixel and Samsung Galaxy S8). The huge discrepancy between those two indicates that Android itself is not very good at managing apps in RAM. The fastest Android phone packs in a whopping 6GB, making it faster than the rest but still just half as quick at launching apps as an iPhone with half the RAM
While the latter three phones have 4GB of RAM (compared to 3GB in Apple's iPhone 7 Plus), the fastest Android phone packs in a whopping 6GB, making it faster than the rest but still just half as quick at launching apps as an iPhone with half the RAM. In addition to launching apps faster, the iPhone also booted up quicker.
Apart from the $440 3T, built by China's BBK (the same firm that builds Vivo and OPPO branded phones), all of these premium Android flagships are priced essentially in the same tier as Apple's newest iPhone 7 Plus: $720 for the S8, $750 for the G6 and $650 for the Pixel.
Google's Pixel is the worst performing Android flagship
The worst performing Android in both Geekbench and in real world app launching and booting is Google's own Pixel, apparently due to its slightly lower-clocked chip, and despite packing 4GB of RAM and all of the optimization and credibility Google can prop it up with.
Vlad Savov even wrote of the Pixel that "the Google phone is almost as good as the iPhone," again for the Verge— — calling the whole point of Google's years of failed Android attempts with Nexus, Motorola and Pixel into question.
Despite all the glowing accolades from the Android press (and tons of web advertising from the world's top web advertiser), Google's Pixel has seen very limited actual sales. Apple Watch sold a similar number of units in the last quarter (estimates for both are around 4-5 million), and Apple Watch is a premium iPhone accessory, not a must-have smartphone that everyone carries.
Geekbench 4 benchmarks
A similar real-world lag in Android performance is revealed in artificial benchmarks. Using Geekbench 4, iPhone 7 Plus turned in single core scores faster than Androids with faster clocks, more CPU cores and all that additional RAM.
In fact, Apple's 2015 A9-powered iPhone 6s— and even its entry level iPhone SE— had no problem beating the 3T, G6 and Pixel (all running Qualcomm's Snapdragon 821) as well as Samsung's newest Galaxy S8 (powered by the newest Snapdragon 835) in single-core performance.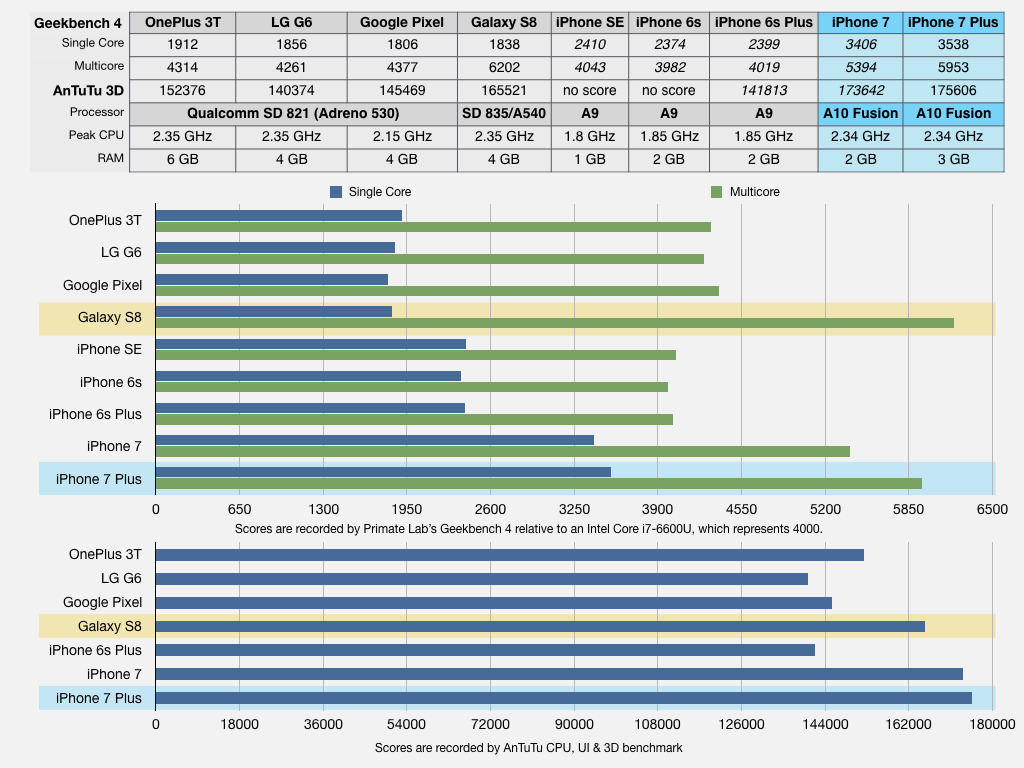 Only the Galaxy S8 was able to produce a multicore benchmark score slightly ahead of Apple's iPhone 7 Plus, but multicore performance is not a reflection of typical performance in real world use. Instead, it shows that the device's processor is tuned to run multiple benchmark threads at once. Few apps can actually make functional use of multiple cores, one of the primary reasons Apple has typically designed its A-series chips to use fewer, more powerful CPU processing cores across several generations of iPhones.
That reality is reflected in the Galaxy S8's inability to launch common apps and then switch between them as rapidly, even with 50 percent more RAM than the iPhone. Samsung's Android Galaxy S8 took 7:40 minutes to follow the iPhone 7 Plus through tasks that took iOS less than 3:20 minutes. Samsung's Android Galaxy S8 took 7:40 minutes to follow the iPhone 7 Plus through tasks that took iOS less than 3:20 minutes
AnTuTu benchmarks
In 3D graphics— which are a heavily-weighted portion of AnTuTu benchmarks— iPhone 7 Plus (as well the standard iPhone 7) also blew past the top Androids.
The tests performed in the YouTube video again show iPhone 7 Plus outpacing all of the newer Androids— including the Galaxy S8. AnTuTu's website shows even higher average scores for iPhone 7 than the video result did, but similarly depicts iPhone 7 leading all other Androids, which collectively (apart from the S8) report scores closer to Apple's previous generation iPhone 6s (which only featured 2GB of RAM, half that of all the Androids in the test).
AnTuTu added iPhones to its formerly Android-only benchmarks for the first time last year, offering an additional way to look at the performance gap that Apple's iOS and its A-series chips have over Android's best-performing phones.
Antutu's benchmarks are so closely watched by enthusiasts that in previous years, Samsung and other companies have deliberately worked to cheat the company's benchmarks to achieve a phony ranking, simply for bragging rights.
In 2013, Antutu changed its benchmarks specifically to block cheating, after Samsung along with Asus, HTC and LG, were repeatedly caught fudging their performance rankings.
"With the exception of Apple and [Google subsidiary] Motorola," AnandTech observed, "literally every single OEM we've worked with ships (or has shipped) at least one device" that has cheated in benchmarks.
Apple's 2017 iPhones faster yet
Samsung's Galaxy S8— and other Androids— have a limited window to ship before Apple unveils its anticipated iPhone 7s and iPhone 8 models this fall.
In addition to a faster version of its existing A10 Fusion, Apple may unveil its rumored new in-house GPU, as well as other enhancements incorporated in the upcoming iOS 11. Apple is expected to reveal more about its latest mobile OS release in June at its Worldwide Developer Conference, to be held this year in San Jose.