Antutu: iPhone 6s performance thrashes high-spec Androids Huawei Mate 8, Samsung Note 5 & Nexus 6p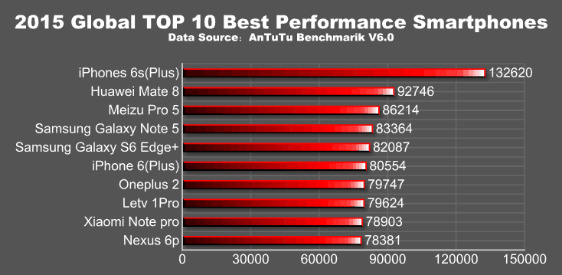 AppleInsider is supported by its audience and may earn commission as an Amazon Associate and affiliate partner on qualifying purchases. These affiliate partnerships do not influence our editorial content.
Performance benchmark vendor Antutu presented iPhone 6s as the best performing smartphone of the year, despite being compared against high end Androids with more RAM and faster CPU clocks driving four times as many cores.
The company added Apple to its annual Performance Ranking Report for the first time this year, following the cross platform release of its Antutu 6.0 benchmark in 2015.
iPhone 6s, powered by Apple's custom dual core A9 chip with 2GB of RAM, debuted with a score 41 percent higher than the next fastest phone, Huawei's Mate 8, a phone that uses Huawei's internally designed octa-core Kirin 950 with 3 or 4GB of RAM (Antutu didn't specify which model it tested).
Apple's flagship score was 59 percent faster than Samsung's best ranking model, the Galaxy Note 5, a fablet powered by a higher-clocked Samsung Exynos 7420 Octa chip with 4GB of RAM.
iPhone 6s also scored 69 percent better than the Google-branded Nexus 6p, which uses a Qualcomm Snapdragon 810 octa-core chip and 3GB or RAM.
Apple advancing its 64-bit lead through profitability
Since delivering its first generation 64-bit A7 powering iPhone 5s in 2013, Apple has remained ahead of more experienced mobile chipmakers in both performance and energy efficiency. Qualcomm, once a differentiated leader in mobile chips, struggled to deliver its first 64-bit chip last year, contributing to problems for Android licensees using its chips, including Xiaomi.
Qualcomm's missteps have also forced smartphone makers to develop their own chips, as Samsung, LG and Huawei have, albeit based largely upon generic designs drafted by ARM.
However, iOS also continues to be more efficient than Android in delivering performance from available hardware resources, and doing so with less RAM. Less installed system RAM helps contribute to longer battery life.
It also results in a device that's less expensive to build, contributing to overall profitability. Those profits are driving Apple to invest in advanced custom processor design, even as its rivals continue to largely use off the shelf core designs published by ARM in an effort to keep prices low.
Rather than being a "halo" high-end model, Apple's fastest iPhone models make up the vast majority of its sales, contributing to an iPhone Average Selling Price of $670. Other vendors of high end Androids primarily sell low end or mid grade budget smartphones, resulting in an ASP for Android closer to $250.
That perpetuates a cycle of profitably for Apple, while driving premium buyers to iOS. Apple has benefitted from a regular influx of switchers, with its chief executive Tim Cook noting in September that switchers from Android had reached 30 percent of its sales.
Cheating didn't win
Antutu's benchmarks are so closely watched by enthusiasts that in previous years, Samsung and other companies have deliberately worked to cheat the company's benchmarks to achieve a phony ranking, simply for bragging rights.
In 2013, Antutu changed its benchmarks specifically to block cheating, after Samsung along with Asus, HTC and LG, were repeatedly caught fudging their performance rankings.
"With the exception of Apple and [Google subsiderary] Motorola," AnandTech observed, "literally every single OEM we've worked with ships (or has shipped) at least one device" that has cheated in benchmarks.