E3 2017: Mac games 'Fortnite,' 'Railway Empire,' 'Tropico 6,' 'Unto The End,' 'Tunic' announced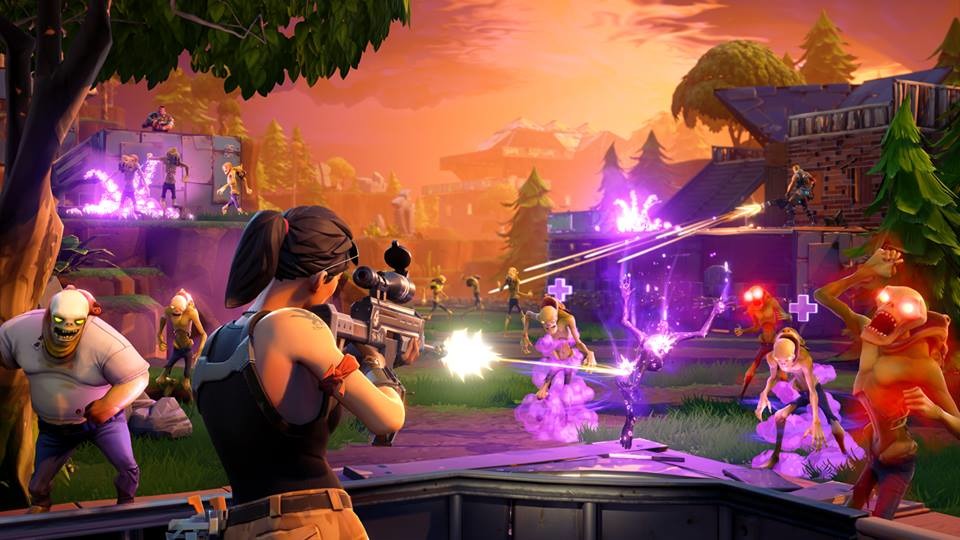 This year's E3 conference included a number of Mac-related gaming announcements, including highly anticipated titles "Fortnite," "Railway Empire," "Tropico 6," "Unto The End," and "Tunic."
Epic Games is finally preparing to allow gamers to play the long-delayed "Fortnite", with the studio opening up the free-to-play title to the public in July, albeit with a cost. While it will be a free-to-play release in 2018, it will be possible to play the game in its Early Access season from July 25 starting from $40, or from July 21 when pre-ordered.
In development for over five years, including an appearance during the 2015 Apple Worldwide Developer Conference to demonstrate Metal, "Fortnite" is a co-operative shooter where players must fend off waves of enemies from their fort. The notable difference in "Fortnite" is that players must harvest materials to build up their fort.
Collecting wood, stone, and metal as resources, players can create structures and traps that they can use to defend against the incoming hordes. This is similar to tower defense games, where mazes take the enemies on long paths to maximize damage, but players have an unlimited amount of time to make adjustments before summoning the next wave.
"Fortnite" will be available to play on Mac, PC, Xbox One, and PlayStation 4. Notably, Epic Games has included cross-platform progression between the Mac, PC, and PlayStation 4 versions, allowing players to level up the same characters on all three platforms, with the Xbox One edition not supporting the feature.
The minimum requirements state Mac users need to be running macOS Sierra with a 2.4GHz Core i3 processor, 4GB of RAM, and Intel HD 4000 graphics to play the game.
The latest in the city simulation franchise, "Tropico 6" adds new features to the game, where players must build their island nation to be as powerful as possible. The game's biggest change is the ability to play on large archipelagos, making the first time the series has allowed players to manage multiple islands at the same time.
Bridges between islands must be constructed, with new forms of transportation and infrastructure needing to be considered, taking into account the larger land mass. Tunnels and aerial cable cars can be installed, with taxis and buses also able to transport tourists and citizens around the state.
There is now a greater focus on the political aspects of being a dictator in "Tropico 6," with a revised research system and the return of election speeches. Agents can be sent to raid the rest of the world for its wonders, including the Statue of Liberty and the Eiffel Tower to decorate the landscape, with the player's palace also able to be customized.
While it has a singleplayer mode, multiplayer is also available for up to four players, with cooperative and competitive games available.
Shipping in 2018, "Tropico 6" will be available on Mac, PC, PlayStation 4, and Xbox One.
"Tunic" is an isometric-style action adventure where a fox explores a foreign land. The brief description from the game's Steam page teases players will be able to "explore the wilderness, discover spooky ruins, and fight terrible creatures from long ago."
Formerly known as "Secret Legend" and initially shown in early 2015, "Tunic" is being developed by a single person. Andrew Shouldice, based in Nova Scotia, Canada, is working with publisher Finji to produce the game, with an anticipated launch sometime in 2018 on Mac, PC, and consoles.
"Tunic" will require macOS 10.8 or later, a quad-core Intel Core i5 processor, 4GB of RAM, and at least 1GB of available storage. Due to the long lead time before its release, these minimum requirements may change.
Gaming Minds and publisher Kalypso are working together on "Railway Empire," a tycoon simulation game about the industrialization of America. By connecting towns together by rail, players can create an elaborate and wide-ranging rail network that services the country.
Stations, maintenance buildings, factories, and tourist attractions can be bought for each town to keep the network running, as well as over 40 different historically accurate trains and more than 30 different wagons. Managing the workforce is also required to keep trains in operation, along with developing over 300 technologies to progress over five eras of innovation.
Players are not alone in their quest for transport domination, with up to three other moguls competing for the same routes and customers. Rivals can compete using legitimate and underhanded tactics, with the option of performing raids and industrial espionage against opponents to gain the upper hand.
Planned to arrive in the first quarter of 2018, "Railway Empire" will ship on Mac as well as on PC, Linux, PlayStation 4, and Xbox One.
A cinematic two-dimensional exploration and fighting game, "Unto The End" from developer 2 Ton and publisher Digital Uppercut puts players in a Viking-inspired world. Trudging through the landscape, players follow a story of loss and vengeance, with the protagonist seeking revenge for the death of his family.
Promising skillful sword-based combat with multi-faceted opponents, an unforgiving but beautiful wilderness, and a rewarding single-player experience, "Unto The End" will be shipping next year on Steam, as well as the Xbox One and PlayStation 4 consoles. The Steam listing notes that it will be available on both PC and Mac, requiring macOS 10.8 or later.