AMD Vega 56 and Vega 64 GPUs destined for iMac Pro detailed in Linux driver

The GPUs that will be in the iMac Pro — the Vega 56 and Vega 64 — have been detailed by an AMD-provided driver update for Linux, with the cards able to utilize much as twice as a much data in each register as previous cards when 32 bits of precision aren't needed.
The data was collected from the flagship graphic chipset's drivers for Linux's Direct Rendering Manager, and collated by enthusiast site Wccftech and others.
The Vega Pro 56 has 56 compute units, with 3584 stream processors, and 8GB of HBM2 RAM pushing 400 GB/s of data. While single-precision (FP32) calculations are 11 tflop roughly analagous to the Nvidia GTX 1080ti , half-precision 16-bit calculations (FP16) such as that used for image and graphic processing, ray tracing, artificial intelligence, and game rendering hit a peak of 22 tflops.
Actual task-related benchmarking after iMac Pro release will ultimately tell the tale.
A configurable upgrade for the iMac Pro, the Vega Pro 64, has 64 compute units, with 4096 stream processors, and 16GB of HBM2 RAM — but no declared bandwidth as of yet. The gleaned information concludes that the Vega Pro 64 has FP32 single-precision calculations at 13 tflop, with FP16 at 25 tflop.
Pricing on either chipset has not yet been announced, or can be determined from the drivers, obviously.
Not just for the iMac Pro
A a pair of Vega-powered PCI-E cards were also announced in conjunction with the Vega Pro 56 and Pro 64 chipsets. The Radeon RX Vega Frontier edition is in essence a Radeon Vega Pro 64 in a PCi-E card, and the RX Vega gaming card has very few specifications known at this time. It is unclear if macOS will see drivers for either card.
Pre-orders for the RX Vega Frontier card have started for either $1200 for an air-cooled version or $1800 for a water-cooled one, but how accurate these prices are is not yet known. The card intended for workstations, with a similar market segment to the iMac Pro, and is scheduled to ship on June 27, according to AMD CEO Lisa Su.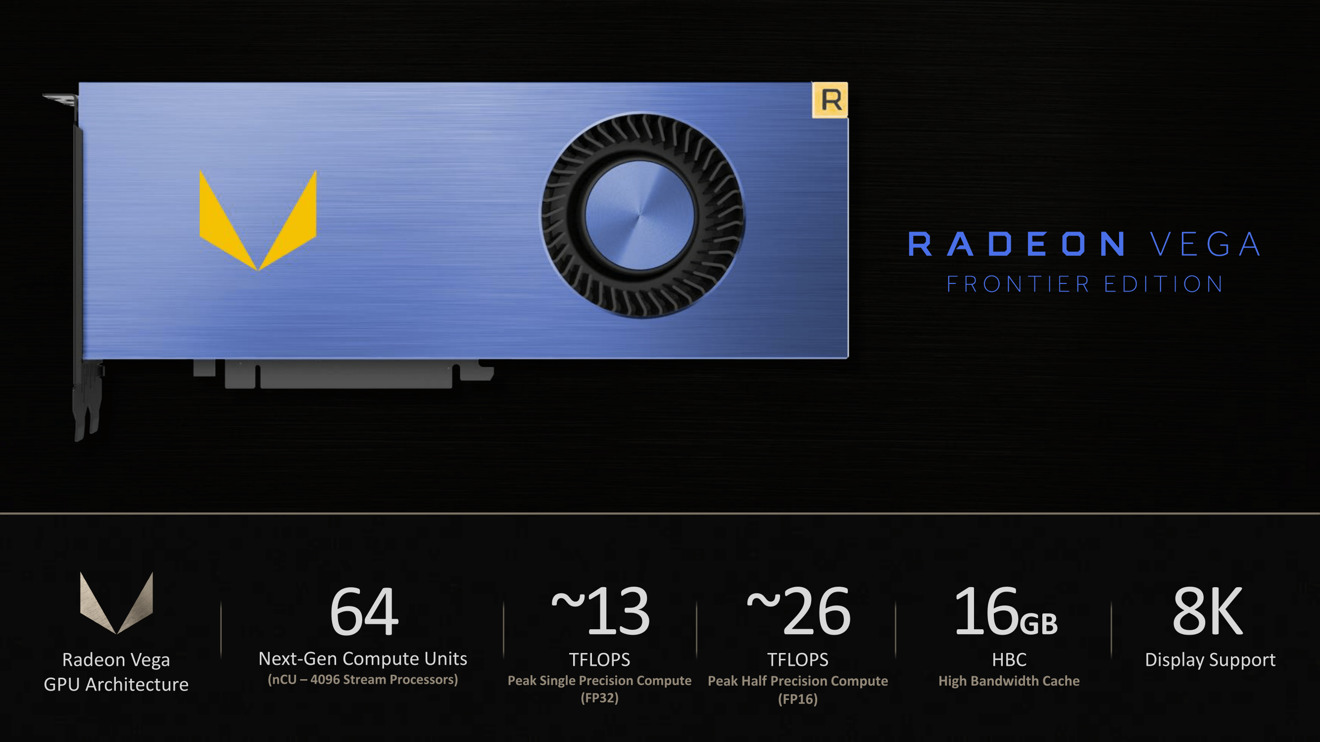 The official launch of the line beyond marketing information, or information gleaned from previously accurate driver updates is expected at the SIGGRAPH trade show in July.
Explaining FP16 and FP32
The Nvidia GTX 1080ti has around 11 tflop of FP32 performance, but it is short on FP16 cores with one per streaming multiprocessor — and FP32 cores can't do FP16 calculations. Previous testing with eGPUs have listed cards performances when doing FP32 calculations, for simplicity.
The advantages of FP16 for the consumer aren't quite clear, or easily comparable, to Nvidia cards as of yet. The Vega card with its new architecture doubles FP16 performance, giving calculations that rely on it a big boost over older generations of Radeon cards, and Nvidia ones.
Some modern Nvidia cards have equivalent FP16 performance to FP32, and some have notably poorer FP16 performance than FP32. The new Nvidia 1080ti card, often used in builds attempting to match the iMac Pro by enthusiasts, delivers less than a teraflop of FP16 performance.
The Nintendo Switch and PlayStation 4 Pro operating systems take full advantage of FP16 calculations to boost performance when possible, as does Metal when developers choose to implement it.
Geometry and heavy scientific calculations are better performed on FP32, and the even more complex FP64, for the higher precision allowed. Dynamic lighting and image editing will see a boost with FP16, as will gaming, and machine learning tasks.
Real-world tasks will be a mix of FP16 and FP32. Actual task-related benchmarking after iMac Pro release will ultimately tell the tale.
Grain of salt
Previous versions of cards, including the Nvidia 10-series and Radeon 500-series cards had specifications leak from vendor-supplied drivers for Linux.
However, the possibility remains that the numbers aren't accurate. But, given the announced RX Vega Frontier cards, it seems fairly likely to be correct.