Wearables market may top 125M units in 2017, helped by Apple Watch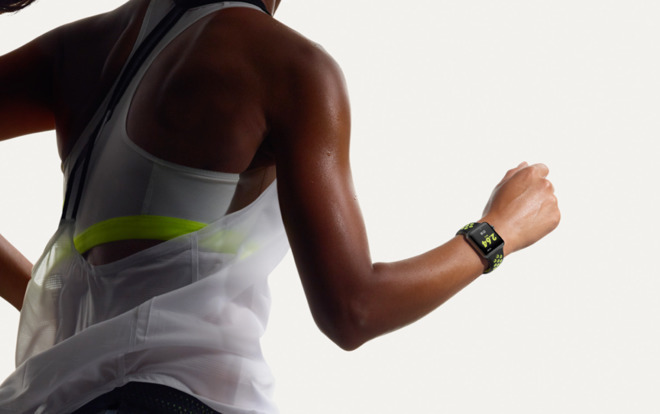 The global wearables market is likely to hit 125.5 million devices this year, according to new research data, with the Apple Watch's share getting a small boost from an unusually strong region — the Middle East and Africa.
The 2017 forecast points to a 20.4 percent rise over the 104.3 million units estimated to have shipped in 2016, International Data Corporation said this week. Ramon Llamas, a research manager with IDC's Wearables team, suggested that the market is "entering a new phase" in which device makers are trying to refine hardware and software. The types of devices will diversify, he said, and also improve their usefulness with functions like 4G cellular. Cellular support has been rumored for the third-generation Apple Watch, along with features such as "smart" bands.
Most of the year's wearable sales are expected to stem from "basic" watches, defined as ones that don't run third-party apps, including fitness/GPS watches from the likes of Fitbit and Garmin. Smartwatches — such as the Apple Watch and Android Wear products — will probably surge in 2019, according to IDC, as cellular support becomes more commonplace.
Contrary to overall trends, the Middle East and Africa (MEA) region saw smart wearables grow much faster than basic ones in the first quarter, up 64.9 percent year-over-year versus basic devices' 16.8 percent. The Samsung Gear S3 and Series 1 and 2 Apple Watches were "particularly well received," IDC said. The S3 is already available in an 4G version.
Samsung is estimated to have captured 13.4 percent of Q1 MEA sales, beating Apple's 12.7 percent. Fitbit — typically a commanding presence in the wearables market — managed only 10.9 percent.
Apple hasn't officially disclosed Watch sales however, making those numbers uncertain. Instead the company has only made broad claims, for instance saying that March quarter sales doubled year-over-year.
The MEA region is moreover a minor contributor in the wearables arena, as even a forecast annual growth of 20.9 percent in 2017 would still result in 2.9 million units.